presents
Majoring in Life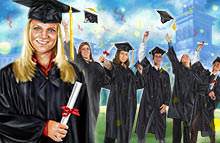 As you leave high school and head out to college or into a career, be assured that Christ can answer your uncertainties, guide you into true freedom, alleviate the pain of separation, make the most of your opportunities, and tranquilize your fears.

presents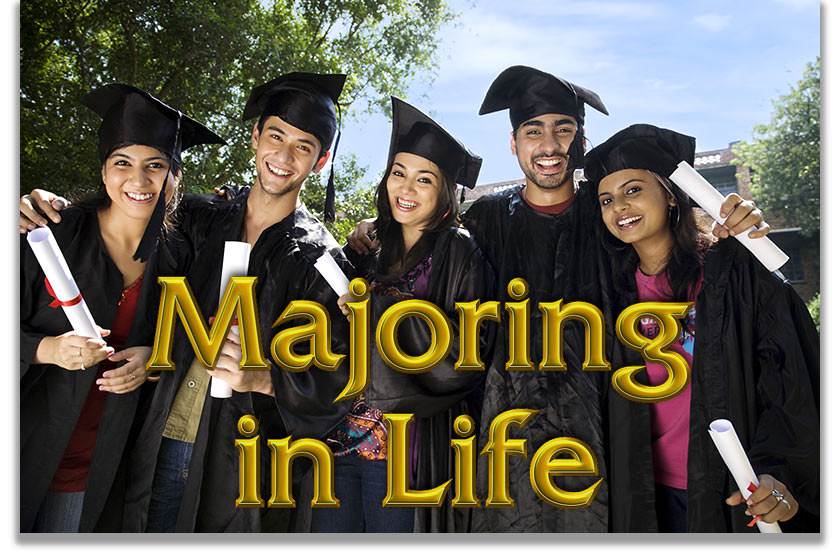 Lesson 1: Seeing Jesus at your Graduation
Counting on Christ to be there Tomorrow
Text written and copyrighted © 2002 by Manfred Koehler. Used by permission. All rights reserved.)
---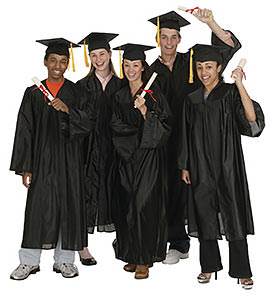 Nervous smiles gave them away.
They stood in royal blue gowns, grad caps neatly donned, gold tassels swinging circles by each right ear. Friends and family from all over the United States and Canada fanned out before them, eager to watch the ceremony. Graduate scrolls lay in a tidy row on an oak table beside the podium. Principal, master of ceremonies, and graduation speaker had arrived on time. The five soon-to-be graduates stood tall, cool, and collected. Finely brushed teeth gleamed under the platform lights.
But those smiles looked just a little forced.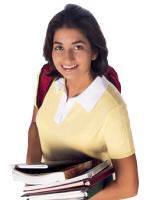 Stefanie was thinking about a career in journalism, but she wondered if she had the wherewithal to pull it off as a writer. She had applied to Columbia Bible College, never having had a chance to set foot on campus. Her boyfriend was way off in Oregon, so she had no idea where that relationship was going. And Mom and Dad were missionaries—they'd be an expensive phone call away.
For Stefanie, high school graduation spelled uncertainty.
Kyle looked forward to a simple job and no responsibility. He had vague dreams of forming a band and hanging out with friends in some bachelor apartment in northern Manitoba. Mostly he just wanted to be away from home, to make some of his own decisions for a while. He didn't have a clue what God wanted.
All Kyle knew was that, right now, graduation meant freedom.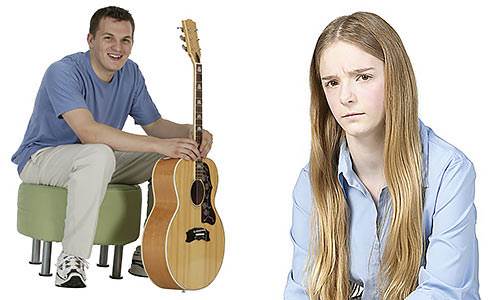 Claire groaned at the core every time she thought of her family. Her best friends were her kid sister, Mom, and Dad. Her first step after graduation would be Nepal—a summer missions trip. After that, she was enrolled in a photography program in Vermont. But her "best friends" were a long way from Vermont, let alone Nepal. May as well have been Venus or Neptune.
To Claire, graduation would cost her dearly in terms of separation.
Darren loved people—especially girls. And people, especially the girls, loved Darren. He couldn't believe he'd come to the end of his high school years without a serious girlfriend. Nor could any of the girls. Darren wasn't a playboy; he just wanted to be loved, get married, and have a family. Yesterday.
Darren hoped that after graduation he'd find some new opportunities.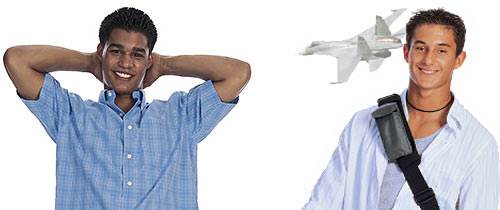 Rob's dream was to fly. He'd filled in his Air Force Academy applications, visions of Top Gun buzzing through his cranium at Mach 2, but he still hadn't heard. He was afraid his eyesight might be a factor. Money scared him, too—or the lack of it. His parents didn't have much, so he'd have to fend for himself financially. How much could a high school escapee make in a summer, anyway?
Rob was certain graduation went hand in hand with fear.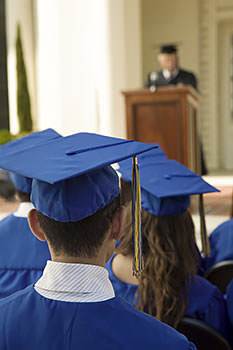 Fighting through the fog of surreal thoughts the occasion forced on them, the five looked up as the graduation speaker rose. Ears perked, they waited, hoping he had something relevant to say.
You've come to the end of a long road, the speaker began. It's had happy times and hard times. Your parents have prayed you through the pilgrimage, your teachers have walked beside you, and your friends have shared the adventures. Now, one more step and you're done. The cameras will flash. Your parents will cry. Your teachers will smile. Your friends will say a sad good-bye.
Claire glanced over at her family, heart lurching.
But your last step in this journey is only the first in your next. The sky of opportunity spreads cloudless before you. Adulthood awaits your direction, your choices, your ambition.
And life is about to become more complicated.
Stefanie shook her head. This was not what she wanted to hear.
Enemies lurk ahead. Satan prowls like a lion, hungry for your youth, your potential, your very life. The world seeks to snag you in its claws and transfix your mind in its grip. And the enemy you've already long fought—yourself, your flesh—will continue its feverish battle to the death.
Your parents' love, your teachers' prayers, and your friends' care will follow as you face this scary unknown. Each of those is an incredibly valuable gift. But you need someone else, someone greater, someone who's always there.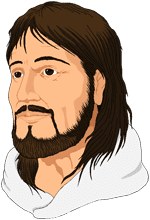 That someone is Jesus.
He is your Savior, Friend, Counselor, and King. He craves to be your all in all. He's much more than your ticket to paradise. He's your very life.
It's his wisdom that will guide you through the caverns of this world. It's his hand you'll fall into when temptation trips you up. It's his patience that will endure when you've given up on yourself. It's his faithfulness that will stand tall when disappointment surrounds you. It's his strength that will uphold your soul when all else tumbles down.
Sure, great. Darren wondered if Jesus could just find him a girlfriend.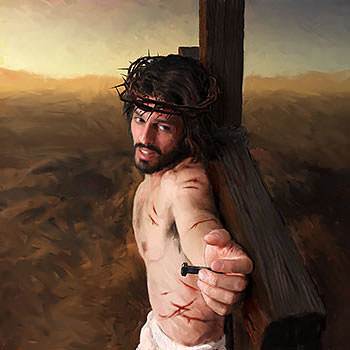 Remember. He walked Calvary's lonely trail so you would never walk alone. He poured out his life so yours could be full. He was wounded so you could be whole. His blood is your forgiveness. His cross is your freedom. He still bears the scars. Run your finger along the rough rim of each nail-pierced hole. Stick a hand in his side. Don't ever forget.
Set your eyes on Jesus.
You need him more than you know. Look at him; he's altogether lovely. Study him; you'll find his face in Scripture's every page. Cling to him; he cannot be moved. Listen to his voice; the universe knows none sweeter. Jesus is your light; stand in his glow. He's your resurrection; live in his hope. He's your bread; feast heartily at his table. He's your truth; look no further. He's your life; live him to the full. He's your way; enjoy the breathtaking tour.
Fix your heart on Jesus.
He's your gentle Shepherd, the Door to safety, your Entrance to the fold. Run to him when no one else understands. Hide in him when everything seems horrible. Warm your soul in him when all goes cold. Whatever your need, he'll be there. He always delivers, right on time.
Rob smiled, imagining Jesus running deliveries to him in a UPS truck. Better still, a Brink's armored car.
God's Son is your love. Jesus is your joy. Emmanuel is your peace. The Son of Man is patience, kindness, goodness. The Alpha and Omega is faithfulness, gentleness, and self-control. By enjoying Christ, you are all of these. When your soul lacks such beauty, ask for more of Jesus. Own him. Embrace him. Then stand to one side, so he can live.
Build your future on Jesus.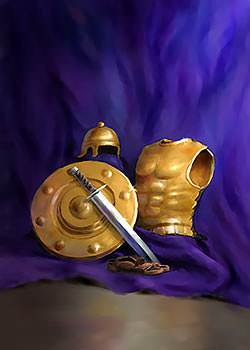 Christ, your Captain, has given you his armor. Cinch truth firmly to your soul. He's fitted you with a breastplate. Let his righteousness protect your heart from the evil one's accusations. Jesus has shod you with his shoes. Take each step in peace. Walk the Good News wherever you go. He's assigned you a shield, forged by your faith. Bear it courageously, consistently, and watch it quench the devil's darts. Christ has handed you a helmet. Allow his salvation to fill and protect your mind. He's armed you with a sword. Learn to wield it like a master, like your Master.
Kyle wrestled with the concept. He liked the idea of battle, but he wasn't sure he wanted a master—not even one as friendly as Jesus.
Having equipped you, your Commander sends you out as a soldier. Discover your mission soon. Join the ranks. Fight a good fight. And acknowledge your Captain's close presence at every step in the battle, with every stroke of your sword, and after every victory he grants you.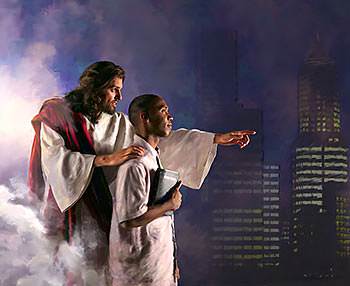 Go forward in Jesus.
Greatest of all, Christ's blood has provided you a telephone called prayer. The hotline to headquarters is always open. No operator, no answering machine, no long-distance static. Reinforcement is yours for the calling. God himself hears on the first ring.
In fact, Jesus is praying for you. He runs this race with you. He stands over, under, and around you. He lives within. He walks beside. He goes before. He's waiting, his arms open wide. He yearns to greet you with the words, "Well done, you good and faithful servant." That's a welcome you don't want to miss.
Congratulations. Your graduation is here. Your friends and family are proud of you, and they love you dearly.
But remember, Jesus loves you infinitely more. Go—and grow—in his grace.
With an encouraging nod and a smile, the speaker sat down. The five grads weren't sure what to think. The words sounded true, but they didn't know what to do with them. Jesus was their Savior—all five were sure of that—but would he really be there in the challenges that now faced them? Was Jesus relevant in the adult world that waited? Was Jesus really all they needed?
That graduation speaker and this series of lessons make the same assumption: Yes, Jesus is relevant. And yes, he is all you need. Christ can answer your uncertainties, guide you into true freedom, alleviate the pain of separation, make the most of your opportunities, and tranquilize your fears. Jesus is not only about heaven in the distant hereafter; Jesus is about your future on earth here and now.
Congratulations. You're a graduate. But you're not ready to face the world on your own. You need Jesus. More.
---