presents
Majoring in Life
Get on the right track to knowing God's will for you and avoid some of the wrong tracks. Find out what 95% of God's will normally involves.
---
Scripture passages in this lesson are linked to this page for easy access.

presents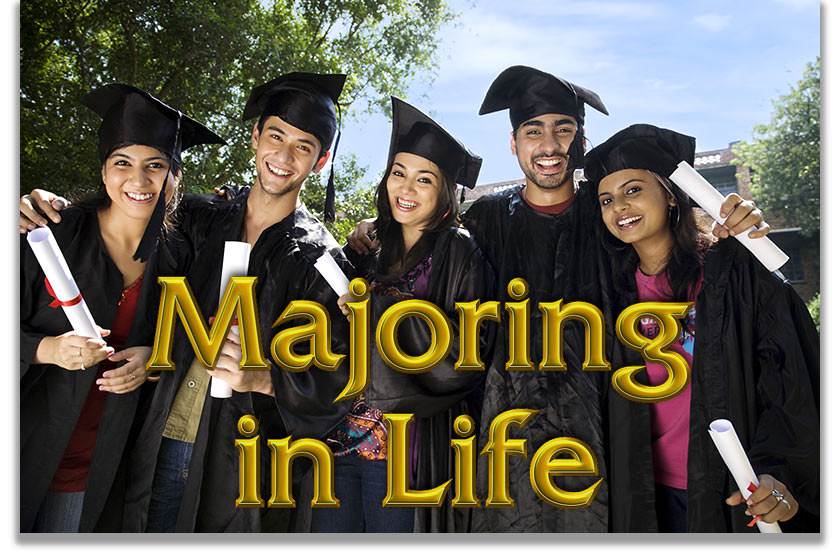 Lesson 2: A FedEx from Heaven
(a fresh look at knowing God's will)
Text written and copyrighted © 2002 by Manfred Koehler. Used by permission. All rights reserved.)
---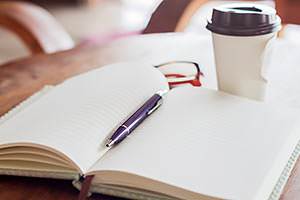 Stan sat staring into an empty Starbucks cup. His pencil, gnawed down to half its original length, spun absently between three fingers. A pad of paper lay before him, several words scratched haphazardly across its face: University of Waterloo? Trinity College? Diane? Carol?
Do you even care, God? The anguished prayer screamed silently upward. Couldn't you just FedEx me from heaven so I'll know what you want?
A burst of hard laughter filled the coffee shop. Cringing, Stan recognized several guys from his youth group. So much for sorting out his future in privacy. He closed his eyes, hoping it would make him invisible. The pencil stopped spinning.
"Yo, Stan, doing homework?" That had to be Ken Billings, the chunky, overblown comedian. "Get a clue, man. It's July. You've graduated. Homework is history."
Stan nodded, eyes still closed. He could hear the rustle of bodies around him, followed by the scrape of a chair. Suddenly, the midget pencil was torn from his fingers. Stan's eyes snapped open. Ken had the pencil in his mouth, chomping away where Stan had left off.
And the pad was in Ken's hands.
"Well, what do we have here?"
Stan tensed, stretching across the table to snatch back his pad, but Ken held it out of his reach.
"Whoa, not so fast. 'University of Waterloo'? Where's that?"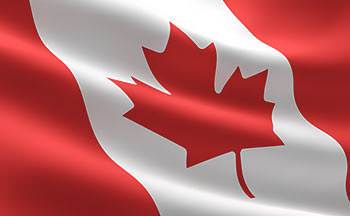 There was the temptation to say nothing, but Ken could badger a guy to death. "Canada."
Ken began humming "O Canada," pencil bobbing inside a greasy smile, fat hand holding the pad for all to see.
"Check this out, guys: 'Diane and Carol'. Heh-heh. I think we know who Carol is. Isn't she going to Trinity College?"
Several heads nodded.
"But who's this Diane?" Ken leered across the table. Stan clamped his mouth shut.
"She wouldn't be that sweet girl you met in Canada, would she?"
Stan stared into the empty Starbucks cup, shrinking under curious grins.
"She wouldn't be going to Water-the-loo University?" Several chuckles.
Stan picked up the cup, ready to ram it down a great big hole.
The greasy smile disappeared. "Sorry, pal. I'm being juvenile." Ken pointed at the surrounding chairs with the chewed off pencil. "Sit down, guys. Looks like our friend is facing some big decisions."
Stan blinked.
"Wanna talk?" Ken held his big hands wide. "We might not have any answers, but we can listen."
Relief washing over him like warm water, Stan smiled. This was no FedEx, but the gang just might do.
So You're Asking the Questions
Concerned about what God wants? Desperate to know what he has lined up for your future? Wishing he would just tell you? If so, you're on the right track. Don't stop asking. Life can take a million directions. Many of them are wrong, taking you places you never wanted to be.
"There is a way that seems right to a man, but in the end it leads to death." (Proverbs 14:12)
Wrong Track #1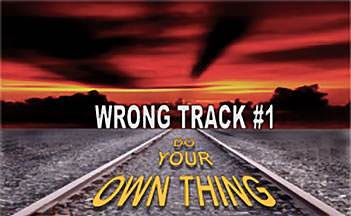 Many believers at your stage in life don't even ask the questions, let alone find the answers. Some assume their existence is their own, to be spent however they please. They've heeded Satan's whisper: Do whatever you want. It's your life.
That's simply not true. The truth is,
"He died for all, that those who live should no longer live for themselves but for him who died for them and was raised again" (2 Corinthians 5:15).
Your life is not your own. Not physically, not spiritually. Every breath you take should remind you of the One who keeps those lungs pumping. Every cross you see should bring to mind the Savior who died so your spirit could live. Jesus not only built you, he bought you (Colossians 1:15-16; 1 Corinthians 6:20).
Yes, Christ has dibs on your life. All of it.
Wrong Track #2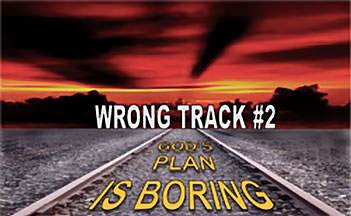 Other Christians are aware God has a plan, but Satan has convinced them that life according to God's plan will be boring, miserable, and otherwise undesirable. Another lie. In truth, God's will is good, pleasing and perfect (Romans 12:2). That's what God says. To believe otherwise is to call him a liar.
You want something good? You want to be pleased? You want what's perfect for you? Don't miss it. Discover and live the adventure of God's will for your life.
Wrong Track #3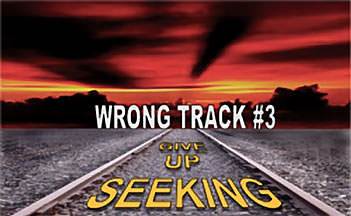 Many believers have become so frustrated trying to find God's will, they've quit asking the questions. They know it's out there, they assume it's good, but they can't figure out what it is.
Been there?
Here's a sneak peek into the journal of a young lady named Karen, a student in her first year at George Fox University:
God, I'm clueless about what you're doing in my life. I don't know my purpose anymore. I just totally bombed a chemistry test. Are you trying to show me that chemistry isn't for me? I don't get your point right now.
What should my major be? Do you care about my career? Will I ever marry? Who?
God, I'm asking all these questions, yet you seem to respond with silence. I don't understand.
Is that where you're squirming? Not knowing what God wants can get very uncomfortable. No guarantees, but the following principles may relieve some of your discomfort.
Ninety-five percent of God's will is found in the little things.
Many believers are fooled into thinking that God only cares about the gorilla-sized issues of life:
What career should I pursue?
Whom should I marry?
Where does he want me to live?
How many kids should I have—assuming I find a job, get married, and locate a place to live?
That's sad. God doesn't want to share only the big decisions with you; he wants to be a part of the little ones, too. That's why he gave you his Spirit. As the Father's child, you have a built-in Guide to God's will (Romans 8:14).
Learning to be led by that Guide is a lifelong assignment.
As desirable as a FedEx from heaven might seem, Christ prefers dealing with you more personally via his Spirit. This thing between you and Jesus is a relationship, remember? The sooner you learn to hear his still, small voice, the sweeter that relationship will be.
Don't get hung up on whether you should brush with Colgate or Crest tomorrow morning. But do allow yourself to be sensitive to God's Spirit nudging your heart with the things he'd love to have a say in:
Your roommate could use a break. Why don't you do her laundry?
Those sunglasses are too expensive. You'd be wiser to go no-name.
See that guy sitting alone? How about eating lunch with him?
Sorry but that movie will trash your mind. Find something else.
God's Spirit is trying to communicate with you 24/7. If you hear him on the many little things that compose most of life (Proverbs 3:5-6), you'll find the Spirit's voice easier to recognize when the big decisions make their presence felt (Luke 16:10).
Ninety-five percent of God's will is clearly taught in Scripture.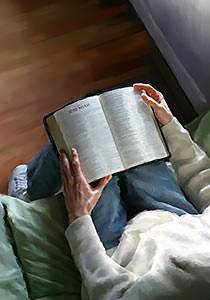 Though God's Word may not say, "Sammy Sutherland should marry Wendy Winterburn," its principles cover the vast majority of the decisions that come your way. And although some portions are admittedly obscure, many of the Bible's directives for your day-to-day existence are absolutely transparent lights that clearly mark the path God would have you travel (Psalm 119:105).
Consider this verse:
"Give thanks in all circumstances, for this is God's will for you in Christ Jesus" (1 Thessalonians 5:18).
How much clearer can God get? Thankfulness is his will for you. If you're struggling with not knowing whom you'll marry, this verse translates into something like: "Don't mope. For now, be thankful for the freedom of singlehood."
If you pursue a growing knowledge—and application—of Scripture, you'll find much of God's will is not difficult to interpret.
Ninety-five percent of God's will can be discovered through good counsel.
Trying to wrestle out the pros and cons of a big decision on paper? While you're writing, take the time to list a few people you should get input from. Then seek them out. Lay out your options, your interests, your current leanings. Then listen. Listen closely. You may get conflicting counsel. Don't worry about it. One of those people may say something God's Spirit will use, something so crystal clear it drowns out all the other clashing messages. One phrase is often all it takes for God to unveil the door to his will. By looking for help from godly people, you can't go too far wrong.
"In the multitude of counselors there is safety" (Proverbs 11:14, KJV).
Ninety-five percent of God's will is accompanied by his peace.
Let's begin with the exceptions. Occasionally life on planet Earth will throw decisions at you that are extremely difficult. A situation can be so complex that whatever direction you consider, you'll find doubt and turmoil lurking. Yes, that happens. Find comfort in knowing that Jesus faced history's most heart-rending decision, in a garden called Gethsemane, coming to grips with God's will in the form of a cruel cross. Jesus' turmoil was so great, he sweat blood.
Thankfully, most of life doesn't present such blood-sweating choices.

For all those other, relatively mundane decisions—choices which are still important to both you and God—there is a Spirit-given indicator light that assures you you're on the right track: the peace of God.
When you find yourself worrying about God's will, consider this promise from him:
The Lord is near. Do not be anxious about anything, but in everything, by prayer and petition, with thanksgiving, present your requests to God. And the peace of God, which transcends all understanding, will guard your hearts and your minds in Christ Jesus. (Philippians 4:5-7)
As you pray over your decisions, expect God to grant peace when the right option presents itself. Don't move until that peace is yours. Take your time. Not every choice has to be made the instant it comes up. I repeat, not every decision needs immediate attention. God reveals his will at the very best time, no sooner. Sometimes it is God's will for you to be still and wait (Psalm 46:10). Keep praying and seeking until the peace comes.
Peace can help you discern God's will in two ways, by both its coming and its going. If you're enjoying a busy-but-peaceful day, and suddenly that peace disappears, take it as a warning. A red light is flashing in your soul. Stop and reevaluate whatever course you were about to take. Consider the consequences. Find a new direction. Let peace rule again (Colossians 3:15).
Ninety-five percent of God's will is found in the willingness to obey it.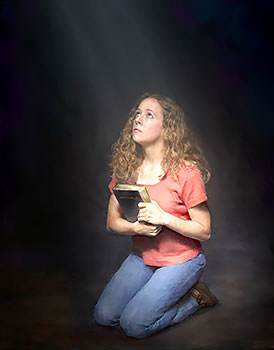 Here's an amazing passage on the subject of discerning God's will:
"If any of you lacks wisdom, he should ask God, who gives generously to all without finding fault, and it will be given to him" (James 1:5).
God is not stingy in his desire to reveal his will to you. He wants you to know. Really.
But check out the verses that follow:
"But when he asks, he must believe and not doubt, because he who doubts is like a wave of the sea, blown and tossed by the wind. That man should not think he will receive anything from the Lord" (James 1:6-7).
In other words, if you have any doubts about your willingness to obey God's will once it's presented to you, he will likely remain silent. God is not in the habit of dispensing the knowledge of his will, only to have it thrown back in his face: Naw, sorry, God. Nice to know your take on things, but I've got a better idea. Thanks anyway.
Hungry to know God's will? Starving enough to obey it no matter what? Good for you. You've got the same outlook Jesus had:
"My food is to do the will of him who sent me and to finish his work" (John 4:34).
With that attitude burning in your soul, rest easy. You're on the right track. God will make his perfect will clear in good time.
---