About UB David & I'll B Jonathan
---
Our Mission
"Developing young people after God's own heart"
Our Vision...
is to see Jesus seated on the throne of every 'David' and ruling over all the aspects of their life:
"He shall be great, and will be called the Son of the Highest; and the Lord God will give Him the throne of His father David. And He will reign over the house of Jacob forever, and of His kingdom there will be no end." (Luke 1:32-33)
Our Method
Jonathans building up Davids
"And it came to pass, when he had made an end of speaking with Saul, that the soul of Jonathan was knit with the soul of David, and Jonathan loved him as his own soul." (1 Samuel 18:1)
Our Goal...
is to assist you to do lessons, read books, and attend camps, youth retreats and special events, and become involved in a local community of believers so that you will grow to be just like David.
For more details about our ministry philosophy, see the "All About Me—the Big #1" series.
---
Who are we?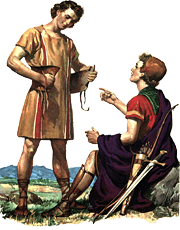 We are a non-denominational, non-profit, co-mission Christian organization offering a free, long-term program consisting of Bible-based correspondence lessons and books linked to incentives which encourage young people to continue doing lessons.
These systematic Bible studies develop mature Christian disciples and leaders for the future.
Our unusual name is basic to our organizational identity and tells a lot about what we are trying to achieve. Please see the "name" section for this important background information.
If you would like to hear how this ministry got started, you can listen to our President/Founder, Vaughan Durston, tell the story himself in "The Boy and the Cabin". Also see this "Power for Living" publication with the story behind the vision.
U.B. David & I'll B. Jonathan, Inc. makes this program and materials available not only to individuals but also to like-minded evangelical organizations to assist them in their discipleship objectives. Contact our Head Office for more information.
---
Personnel
Head Office
President: Jerry Durston
(Box 236, Sedley, Saskatchewan, Canada)
Jerry Durston (President/Chairman), Jeremy Johnsrude, Berneda Nation and Doug Winquist.
Online lessons website: Contact our WebServant
Alberta/B.C. Office
Closed permanently
Saskatchewan Office
Executive Director: Charlene Ramstead
Club DJ Director: Jerry Durston
U.S.A. Office
Texas: Debbie Acuna (paper lessons)
Email: U.S.A. Office for mail lessons
John and Marion Tibberts; Email: Online lessons (USA)