Used with permission: Character by Character compiled by Selwyn Hughes and Trevor Partridge. Copyright © CWR (www.cwr.org.uk).
---
Scripture passages referenced and linked in this lesson are written out for your convenience on this page.

presents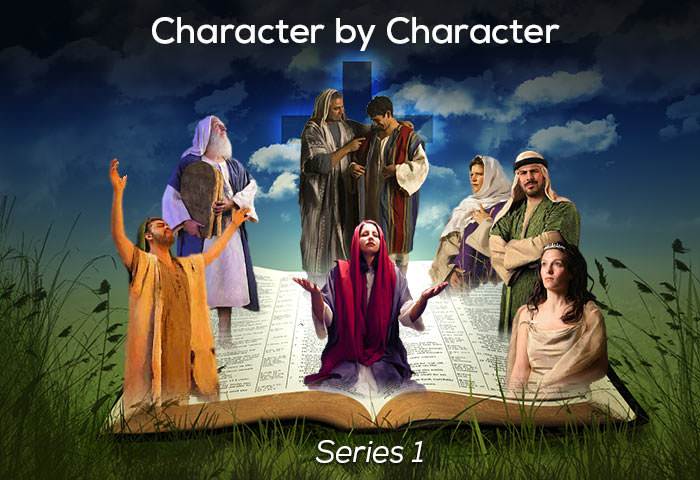 Lesson 11: Ruth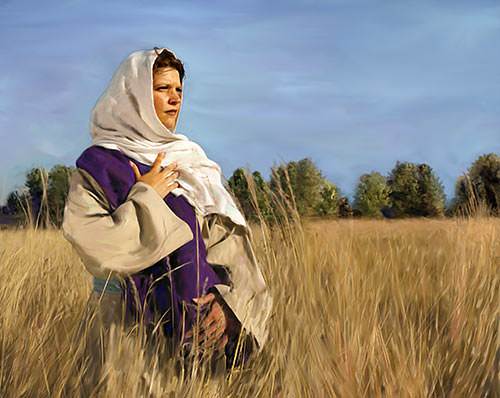 Scripture passages referenced and linked in this lesson are written out for your convenience on this page.
Ruth renounces
Ruth 1:1-17 (click the link to read the passages)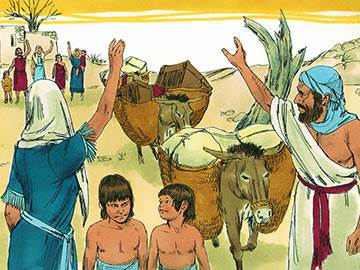 Bethlehem being in the grip of famine, Elimelech, Naomi, and their two sons cross the Jordan into the land of Moab in search of food. After a period of time in the new country, Elimelech dies and his sons, Mahlon and Chilion, who had married two local girls, also die. Destitute and helpless, the three childless widows set out for Bethlehem, but on the way Naomi decides that it would be more prudent for her two daughters-in-law to return to their childhood homes and find new husbands.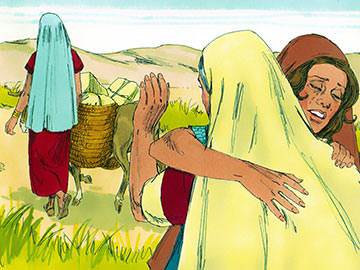 One of them, Orpah, responds to Naomi's suggestion, bids her mother-in-law farewell, and returns to her native people. Ruth, however, refuses to return, preferring to stay with Naomi—expressing her devotion in words of matchless beauty.
For thought and contemplation:
What a magnificent picture this is of true conversion. Orpah draws back to end her days in idolatry; Ruth moves on to become part of the line from which Jesus Himself descended. How sad that some can travel for a time with God's people, yet fail to make that 'leap of faith' that entrusts all to the Saviour. Are you such a one?
"Jesus replied, 'No-one who puts his hand to the plough and looks back is fit for service in the kingdom of God.'" (Luke 9:62, NIV)
Ruth resolves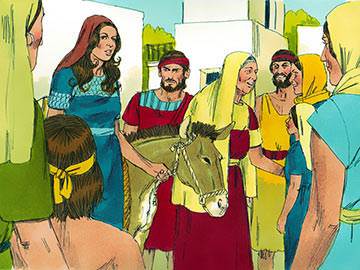 Ruth not only renounces her heathen past, but embraces her new future with a firm faith in the God of Israel, in whom, under Naomi's instruction, she had come to trust. When Naomi sees the depth of her resolve, she gives up trying to persuade Ruth to return to her native land and allows her to accompany her to Bethlehem. They arrive in the little town at the time of harvest, and their presence causes quite a stir. Many old friends and acquaintances of Naomi greet her by name. Naomi feels that God has brought calamity upon her (v. 21) and that her name should no longer be Naomi ("pleasant"), but Mara ("bitter"), because of the tragic experiences she had gone through while in the land of Moab. In Bible days, remember, names were not just designations, but definitions.
For thought and contemplation:
Naomi's judgment on herself, though understandable, seems punitive and harsh. Had she known the truth of Romans 8:28-29—that God takes all things and works them for good—she might have viewed things differently. Through God, negative experiences work to make us not bitter—but better.
"And we know that in all things God works for the good of those who love him, who have been called according to his purpose." (Rom. 8:28, NIV)
Ruth's redeemer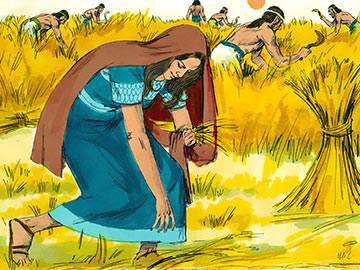 Ruth had no difficulty in finding a task to gainfully occupy her attention. At harvest time there was always work to be found in the fields clearing up after the reapers.
Ruth decides on a certain field, not by chance, but under the direct guidance of the Lord. There she meets for the first time the owner of the field, Boaz—a relative of her late father-in-law and the man who would later redeem her and become her husband.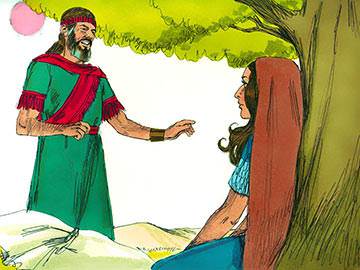 When Boaz discovers who Ruth really is, he shows a personal interest in her and says: "Don't go and glean in another field… Stay here with my servant girls" (v. 8, NIV). His protective care and concern prompts Ruth to ask: why are you doing this for me? He explains that the story of her devotion to Naomi has touched him deeply, and this is his way of showing appreciation.
For thought and contemplation:
Did Ruth find herself in the field owned by Boaz just by chance? Hardly. She might not have been conscious of divine guidance—but it was there nevertheless. How thrilling it is to know that God is working for our highest good—even when we are not conscious of it!
"Trust in the Lord with all your heart and lean not on your own understanding; in all your ways acknowledge him, and he will make your paths straight." (Prov. 3:5-6, NIV)
Ruth reaps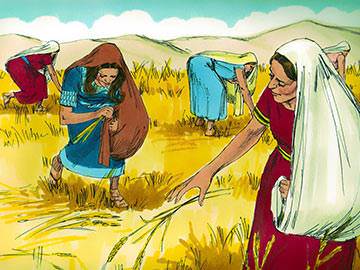 Although Ruth was involved in the overall task of reaping, her specific work was that of gleaning. When the reapers worked their way through the fields, they would, because of the speed at which they worked, leave some parts of the field unreaped. This was then picked up by people called 'gleaners' who came behind them, picking up the grain that was still standing, which then became their own property under Jewish law (see Lev. 19:9-10 and Deut. 24:19).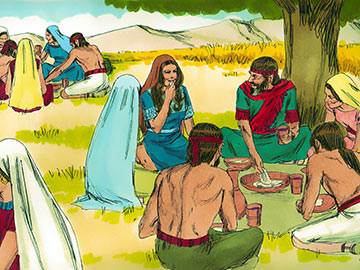 Boaz, obviously greatly attracted to Ruth, sets about doing everything possible to help her. He invites Ruth to join him in a meal and afterwards, sensing her need of encouragement, instructs his workers to "purposely pull out for her some grain from the bundles" (v. 16, NASB) and leave it for her to glean.
For thought and contemplation:
Has there not also been a time in your life when, deeply discouraged and about to give up, God has let drop some 'handfuls on purpose' for you? Perhaps it was a word in a sermon, a smile, a gift of money arriving at the right time. Thank Him now for the many encouragements He places across your path.
"A bruised reed he will not break, and a smouldering wick he will not snuff out, till he leads justice to victory." (Matt. 12:20, NIV)
Ruth rests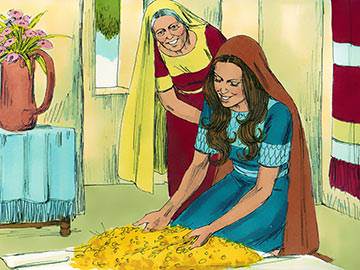 When Ruth returns to Naomi with a large quantity of grain and some roasted barley, Naomi realises that her daughter-in-law has been the recipient of special privileges and enquires: "Where did you glean today?" (2:19, NIV). Ruth replies that she has been working in Boaz's field, whereupon Naomi, recognising the Lord's guidance and direction, praises Him for His goodness. Naomi explains that Boaz is a close relative and, as such, can redeem the family inheritance by marrying Ruth, as required by the laws of Israel (see Deut. 25:5-6).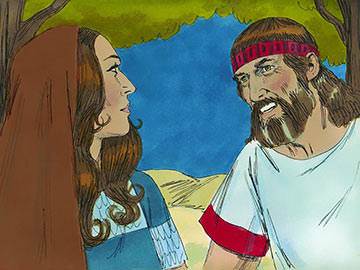 Naomi instructs her to claim the right of redemption in a tactful and seemly manner, and Ruth dutifully complies. Boaz commends her for her action, and promises to marry her if a closer relative's claim is not taken up. Ruth rests in this glad assurance.
For thought and contemplation:
How often do our lives become tangled by precipitate and premature action. Naomi's advice to "sit still" (v. 18) may well be God's word for you today. "Sit still"—for a higher hand than yours is leading, and a purpose far more wonderful than you can ever conceive will open up in the days that lie ahead.
"Be still, and know that I am God; I will be exalted among the nations, I will be exalted in the earth." (Psa. 46:10, NIV)
Ruth rewarded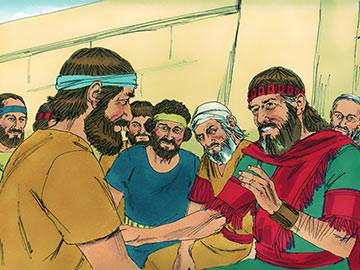 As Naomi had predicted, Boaz moves swiftly to settle the matter of Ruth's redemption. He hurries to the city gate—the place where legal matters were transacted—and waits for the next-of-kin to appear. There, in the presence of the elders of Bethlehem, Boaz asks him if he proposes to purchase Elimelech's inheritance, and hears that this is his intention. However, when Boaz tells the next-of-kin that he must also marry Ruth the Moabitess, he changes his mind and renounces his prior claim, which then devolves upon Boaz.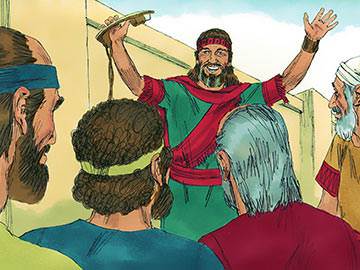 The agreement is ratified publicly, and the way is now open for Boaz to announce his forthcoming marriage to Ruth. When he does this, he is showered with the good wishes of all present.
For thought and contemplation:
A redeemer in ancient Israel had to fulfil three conditions: (1) he must be a close relative; (2) he must be able to pay the redemption price; (3) he must do it willingly. Pause for a few moments and think how beautifully our Saviour, the Lord Jesus Christ, meets these conditions as the Redeemer of the human race.
"It is because of him that you are in Christ Jesus, who has become for us wisdom from God—that is, our righteousness, holiness and redemption." (1 Cor. 1:30, NIV)
Ruth rejoices
Remember that when Boaz first met Ruth, he prayed that she should be recompensed by the God of Israel for her care and concern for Naomi? (2:11-12) This prayer, it seems, is abundantly answered, for now Ruth not only becomes Boaz's wife, but she is rewarded with a son, whose name was Obed—an ancestor of David, on whose throne Jesus the Messiah will one day sit (Luke 1:26-33). It is worthy of note, too, that the day came, hundreds of years later, when the little town of Bethlehem displayed greater wonders than those which appeared in the story of Ruth, when the outcast babe of another forlorn woman appeared, who drew princes and wise men from the east to place treasures at His feet. And in that Seed shall all the nations of the earth be blessed.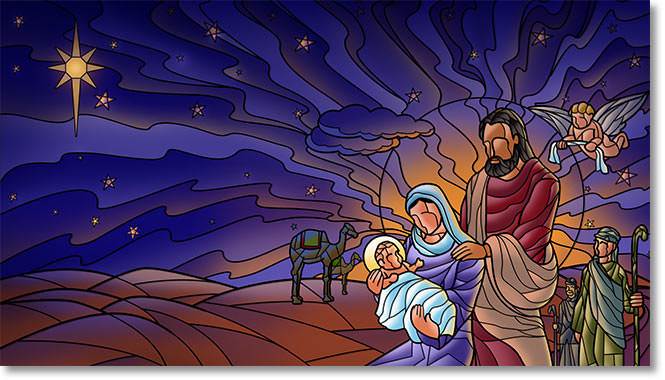 For thought and contemplation:
One thing, and one thing only, brought Ruth into the position of blessing which she enjoyed: her redemption by Boaz. Remember that the next time you are tempted to think that you are accepted by God because of your own virtue. You are what you are because Jesus is what He is.
"Rejoice in the Lord always. I will say it again: Rejoice!" (Phil. 4:4, NIV)
---

Piety – 1:16 — Strong – 3:8-11
Industry – 2:6-7 — Loving – 4:13
Constancy – 1:14 — Provider – 3:15
Obedience – 3:5 — Righteous – 3:14
Purity – 3:11 — Redeemer – 3:13
Ruth 4:21-22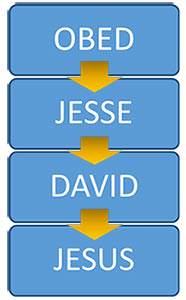 Matt. 1:5
The lesson to be learned from Ruth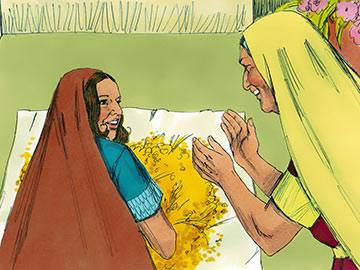 One commentator points out that the book of Ruth—coming, as it does, between Judges and 1 Samuel, books which are full of wars, violence and intrigue—is like "a beautiful valley full of flowers and fertile fields set between two rugged mountain ranges". There can be little doubt that the story of Ruth brings to this part of the Old Testament a beauty and a fragrance which is greatly needed. Ruth is the kind of woman who draws the world after her, not just because of her beauty but by the lasting qualities of unselfish devotion and lowly service. The main lesson we learn from Ruth's life is the importance and value of disinterestedness. Ruth's concern was for others more than for herself, and as a result she experienced great rewards, one of which was being part of the genealogy of none other than our Lord Jesus Christ. The less of bargain or condition we put into our service for God, the more likely we are to come out with special rewards in the end.
---
Used with permission: Character by Character compiled by Selwyn Hughes and Trevor Partridge. Copyright © CWR (www.cwr.org.uk).