Used with permission: Character by Character compiled by Selwyn Hughes and Trevor Partridge. Copyright © CWR (www.cwr.org.uk).
For a more in-depth study of Deborah, Gideon, Samson and the other judges, see "Faith, Failure and a Phenomenal God: the Book of Judges".
---
Scripture passages referenced and linked in this lesson are written out for your convenience on this page.

presents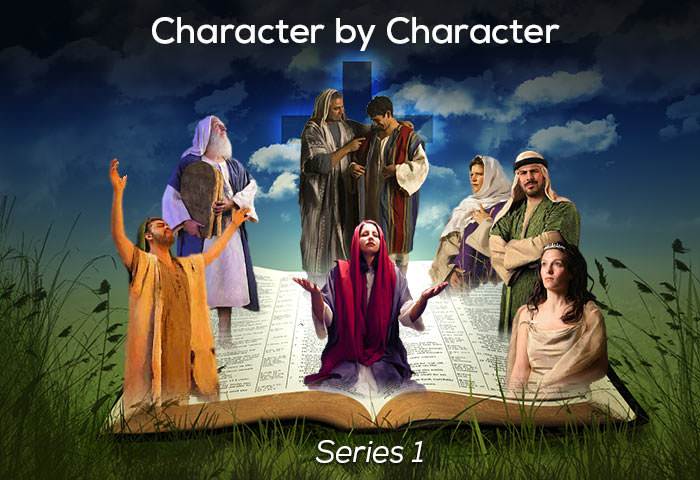 Lesson 12: Samson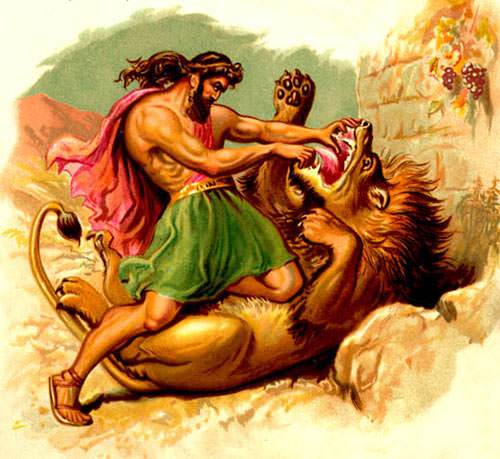 Scripture passages referenced and linked in this lesson are written out for your convenience on this page.
Selected in birth
Judges chapter 13 (click the link to read the passages)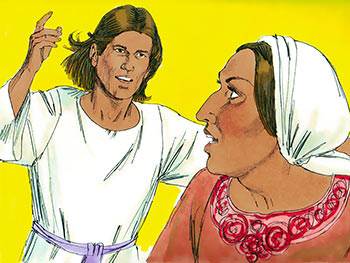 Like Isaac, Samuel and John the Baptist, Samson was a special gift of God to a barren woman. The angel of the Lord appears to the wife of Manoah, a Danite of Zorah in Judah, promising that, though barren, she will conceive and bear a son who must be set apart to God from the moment of his birth. A person who was set apart in this way was called a Nazirite—"one separated to the Lord". When Manoah's wife informs him of the appearance of the angel, he prays that the angel will appear to them both—a request which God answers.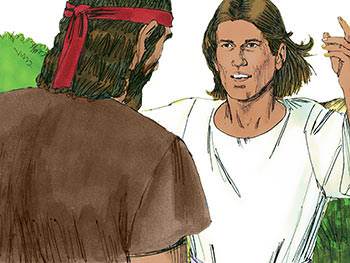 The angel repeats the instructions given to Manoah's wife that the child that will be born must be separated to God from birth, abstain from wine and refrain from having his hair cut. Manoah and his wife offer a burnt offering to the Lord and bow down in reverence and worship.
For thought and contemplation:
Did you notice how, when Manoah asked for instruction in his duty, he was readily told (v. 12), but when he sought to gratify his curiosity (v. 17), his request was denied? God pledges to tell us all we need to know to perform our Christian duty, but He never promises to satisfy our curiosity.
"For my thoughts are not your thoughts, neither are your ways my ways… As the heavens are higher than the earth, so are my ways higher than your ways and my thoughts than your thoughts." (Isa. 55:8-9, NIV)
Foolish in choice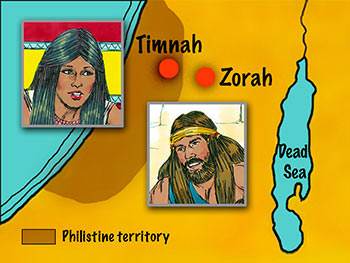 Samson grew up in the belief that he was consecrated to God and that there was a definite, God-appointed work for him to do. He experienced great movings of the Holy Spirit in his life, at which time he became conscious of having unusual physical strength. Attracted by a Philistine woman at Timnah, he insists on his parents obtaining her as his wife. They protest, but Samson will not be thwarted and goes to Timnah with them to arrange the marriage.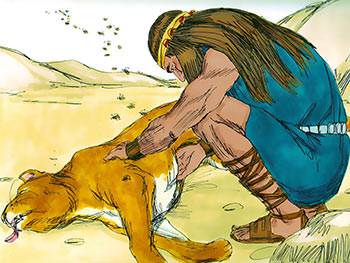 On the way there, Samson meets a young lion and promptly proceeds to demonstrate his supernatural strength by killing the lion and tearing it apart. When he later returns to Timnah, he discovers a swarm of bees have taken possession of the lion's carcase, prompting Samson to devise his famous riddle.
For thought and contemplation:
Have you ever considered that the ministry of the Holy Spirit in Old Testament days was temporary and occasional: the Spirit of God moved Samson "at times in the camp of Dan" (13:25, AV). How reassuring that in the New Testament times, His ministry is not temporary but permanent, not occasional but continuous. Hallelujah!
"And I will ask the Father, and he will give you another Counsellor to be with you for ever—the Spirit of truth…" (John 14:16-17, NIV)
Deceived in love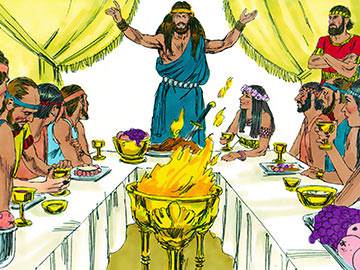 The feast which accompanied Samson's marriage lasted seven days, during which he put before his guests the riddle which he had devised. The riddle proved impossible to answer, but the Philistine guests, by the use of intimidation and threats, persuaded Samson's bride to extract the answer from her husband. Samson, unaware of the evil plan that lay behind his wife's deception, finally gave in to her pleadings and revealed the answer to the riddle which she, in turn, passed on to the guests. When they reveal that they know the answer, Samson realises he has been tricked.
In anger he goes to the town of Ashkelon, 23 miles away, where he slaughters thirty Philistines, taking their robes with which he redeems his pledge. Later, in a further burst of anger, Samson sets the Philistine crops and olive orchards ablaze.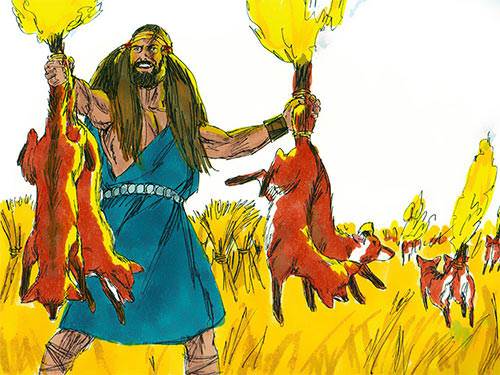 For thought and contemplation:
Have you ever been deceived by someone whom you thought really loved you? It hurts, doesn't it? How refreshing it is to know, however, that in the love relationship that exists between a believer and Christ, our Lord will never deceive us.
"Do not be yoked together with unbelievers. For what do righteousness and wickedness have in common? Or what fellowship can light have with darkness?" (2 Cor. 6:14, NIV)
Mighty in strength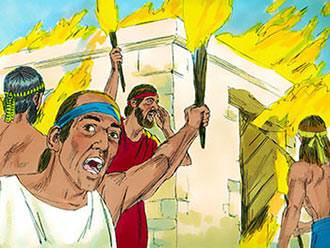 The Philistines react to Samson's destruction of their crops in an extremely gruesome fashion – by burning his former bride and her father. Samson retaliates by viciously attacking and slaughtering many of them, and then goes to ground at Etam, a natural rock fortress in Judah.
The conflict between Samson and his enemies escalates further when a band of the Philistines storm the fortress where Samson is hiding and demand his surrender.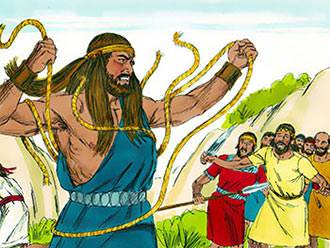 The men of Judah are deeply afraid of the Philistines, and persuade Samson to give himself up. Samson is bound with two new ropes and taken to his captors, but the Spirit of God falls upon him and he breaks the ropes that hold him.
Then, seizing an ass's jawbone, he kills a thousand Philistines single-handed.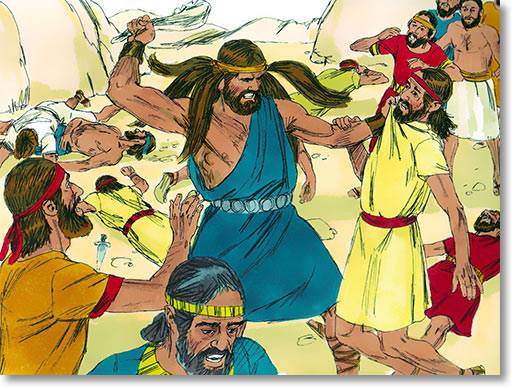 For thought and contemplation:
It's quite amazing what a small and seemingly insignificant item like a jawbone can achieve when it is taken up and used for a divine purpose and in the power of the Holy Spirit. Take your own jawbone, for example. Ever thought what miracles of speech and witness come forth from it when it is surrendered to the Holy Spirit?
"…This is the word of the Lord to Zerubbabel: 'Not by might nor by power, but by my Spirit,' says the Lord Almighty." (Zech. 4:6, NIV)
Weak in temptation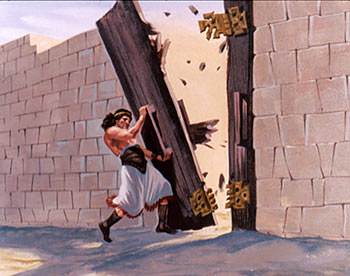 Although endued with great physical strength, it is obvious that Samson is morally and spiritually weak. When visiting a prostitute in Gaza, he is surrounded by hostile Philistine and escapes at night by uprooting the heavy iron gates which bar his way out of the city.
Once again he falls in love with a Philistine woman—Delilah. She, too, is persuaded to extract from Samson the secret of his strength, although at first her wiles were unavailing.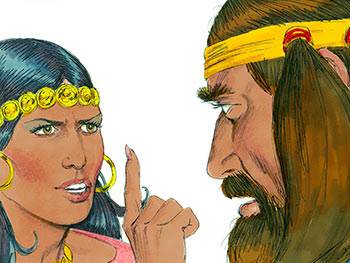 Three times she pleads with Samson to reveal the secret of his strength, and three times he resists her temptations by telling her a lie. With unholy persistence, Delilah makes a supreme attempt to accomplish her ends, and after wearing down Samson's resistance, finally learns the secret of his great strength.
For thought and contemplation:
Want a challenging thought with which to come to grips during the day that lies ahead? Then consider this: in the day of his power Samson first became prayerless, then careless, then powerless. Take steps now to make sure that same deterioration doesn't happen in your life.
"No temptation has seized you except what is common to man. And God is faithful; he will not let you be tempted beyond what you can bear. But when you are tempted, he will also provide a way out so that you can stand up under it." (1 Cor. 10:13, NIV)
Fettered in failure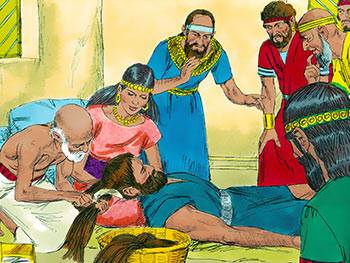 In response to Delilah's persistent nagging, Samson reveals that the secret of his supernatural strength lies in his Nazirite vow, and explains that if his hair is cut he will be no different from any other man. The secret gained by deceit is then sold to the Philistines and, lulling Samson to sleep, Delilah gives orders for his hair to be shaved off. Samson awakes, expecting to shake himself free from the restraints put on him by Delilah, but he discovers that his strength has gone and thus he becomes an easy prey for the Philistines.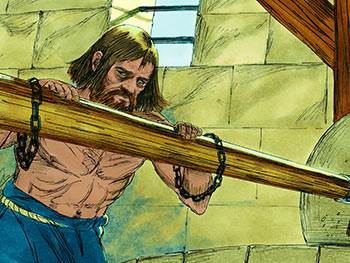 He handles himself as at other times but nothing comes of it. Cruelly, the Philistines gouge out Samson's eyes, and he is imprisoned at Gaza and made to grind corn like an ox.
For thought and contemplation:
All who indulge their appetites in ways which God prohibits will see themselves surrounded and waylaid by their spiritual enemies. If we fall asleep in the lap of Delilah, then we must not complain if we wake in the hands of the Philistines.
"Be self-controlled and alert. Your enemy the devil prowls around like a roaring lion looking for someone to devour." (1 Peter 5:8, NIV)
Retribution in death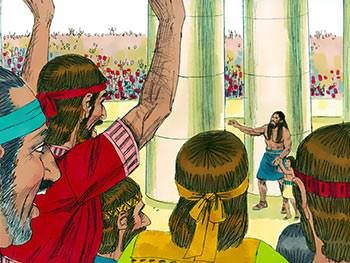 The Philistines attribute Samson's capture to the intervention of their god, Dagon, and hold a great sacrifice in his honour. Prior to this, however, Samson's hair has started to grow again, and at the time of the festivities his strength has partly returned. The temple of Dagon is filled to capacity with three thousand people on the roof who have come not only to celebrate their victory over Samson, but to make sport of him in his weakness.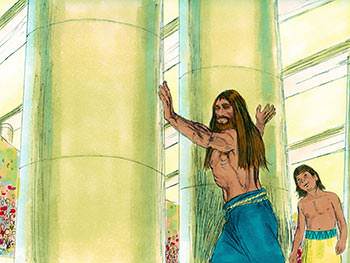 Samson prays that God will give him back the fullness of his supernatural strength so that he can bring retribution on the Philistines.
His prayer is answered, and he is able to pull down the support pillars of the temple, bringing about not only his own death, but the deaths of thousands of his enemies.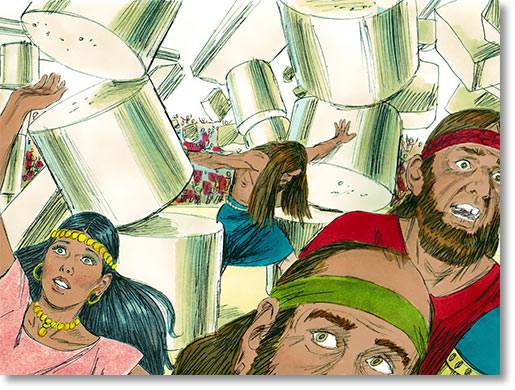 For thought and contemplation:
Samson's afflictions were the means of bringing him to deep repentance; through the loss of his physical sight, the eyes of his understanding were opened. How sad however, that sometimes God has to allow us to be overtaken by tragedy in order that we might really 'see'.
"So I say, live by the Spirit and you will not gratify the desires of the sinful nature." (Ga. 5:16, NIV)
---

NAZARITE VOW — BROKEN
Not to touch wine Num. 6:2-3 — Drank wine Judges 14:10
Hair to remain untouched by razor Num. 6:5 — His hair was cut Judges 16:19
Not to touch a dead body Num. 6:6 — He touched the carcase of a lion Judges 14:8-9
The lesson to be learned from Samson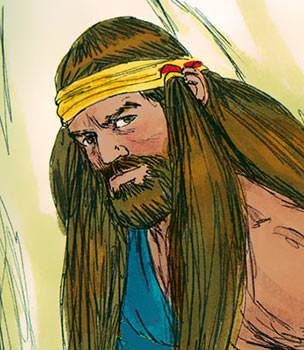 The story of Samson is one of the most pathetic accounts in the whole of God's Word. One commentator says of him, "The sight of Samson, fighting himself, putting his defunct forces into line only to find himself utterly beaten and wholly ruined is a sight to stir the pity of God and men." Some believe that the meaning of Samson's name—"sunny"—indicated that he had a bright and attractive temperament—a man of wit, charm, humour, faith and deep spiritual insight who could impress and control others by his disposition and brilliance. Unfortunately, though Samson could master others, he never learned how to master himself.
This leads us to the conclusion that the main lesson to be learned from his life is that gifts and talents without self-discipline amount to very little. Samson controlled part of his nature but not the whole; while going about the task of overcoming the enemies without, he never learned how to conquer the enemy within. What good is it if we focus on outward victories yet, in the meantime, allow the enemy to creep in and take the citadel?
---
Used with permission: Character by Character compiled by Selwyn Hughes and Trevor Partridge. Copyright © CWR (www.cwr.org.uk).