under a special agreement with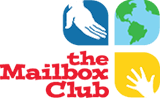 presents "New Life in Christ" Course 3

under a special agreement with



---
In our last lesson we learned how to lead others to Christ. Soul-winning is thrilling work, but it brings us into direct conflict with Satan and the powers of darkness. Every soul won to Christ is a soul snatched out of the hand of Satan. This will cause Satan to war against us.
We will never understand what the Christian life is all about until we see that it involves spiritual warfare. Two kingdoms are at war—God's kingdom and Satan's kingdom. The battle is for the souls of men!
Do we have a part in this warfare? Yes, we do. Our part is to be soldiers that God can use in the battle against Satan.
What kind of weapons do we use in the warfare with Satan? We use spiritual weapons. The greatest weapon God has given us is prayer. Why? Because prayer releases God's power. When we pray, God acts! God says,
"Call on me in prayer and I will answer you. I will show you great and mysterious things which you still do not know about." Jeremiah 33:3
We must pray! We simply cannot live the Christian life without prayer. It is through prayer that we commune with God; it is through prayer that we obtain the things we need; it is through prayer that we intercede for others; and it is through prayer that we bind the power of Satan.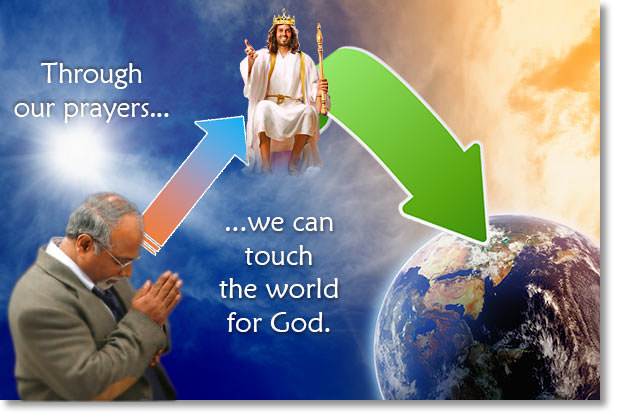 In this lesson we are going to see how God uses our prayers in the battle against Satan, but first, let us consider some important things about prayer.
What Is Prayer?
Prayer is talking with God. Prayer is not a ritual or a public performance—it is a personal matter between you and God. The Lord Jesus said, "When you pray, enter into your closet, and when you have shut the door, pray to your Father in secret." The Lord Jesus told us not to use "vain repetitions"—saying the same things over and over. Our prayers must be sincere and from the heart.
To Whom Do We Pray?
We pray to the Father. The Lord Jesus said,
"So pray this way: Our Father in heaven…" Matthew 6:9
Can everyone pray to God as Father? No, only those who are in God's family can call Him "Father."
There is only one prayer that God will hear from an unsaved person—the prayer asking for forgiveness. God always hears this prayer from an unsaved person.
We Must Pray in Jesus' Name
If we want God to answer our prayers, we must pray in Jesus' name. The Lord Jesus said,
"whatever you ask the Father in my name he will give you." John 16:23
The Lord Jesus is our great Intercessor in Heaven. We pray to the Father in His name. It is because of who Jesus is and what He has done that God hears and answers our prayers.
The Holy Spirit Helps Us Pray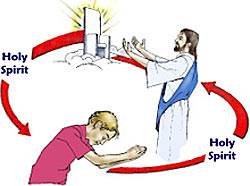 We not only have an intercessor in Heaven, but we also have an intercessor in our heart—the Holy Spirit. He helps us to pray. Many times we do not know God's will about a matter, and therefore we do not know how to pray about it. But the Holy Spirit knows the mind of God, and He helps us to pray according to God's will. The Bible says,
"In the same way, the Spirit helps us in our weakness, for we do not know how we should pray, but the Spirit himself intercedes for us…" Romans 8:26 (NET Bible)
Does prayer really influence God's actions? Yes, it does! How do we know? Because God says so. The Lord Jesus said,
"If you ask anything in My name, I will do it." John 14:14
In this verse, the Lord tells us plainly that His doing depends upon our asking.
God is omnipotent—He can do anything He chooses to do. But God has chosen to use our prayers in accomplishing His work here on this earth. Do you see now why prayer is so important?
Three Forms of Prayer
Prayer is not just asking God for things. There are three main forms of prayer: (1) communion, (2) petition, and (3) intercession. Let us consider these.
1. Communion.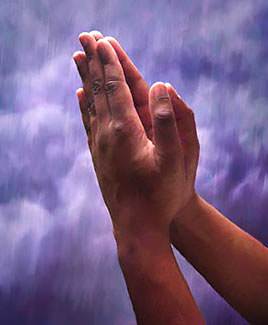 This is fellowship with God. We read God's Word so that He can speak to us; then we go to Him in prayer. We worship Him, we adore Him, we praise Him, we thank Him for His blessings, we tell Him how much we love Him.
Communion also includes confession, for we cannot commune with God if we have unconfessed sin in our life.
Communion with God is absolutely essential. It is through communion with God that we come to know Him and experience His power. The Bible says,
"the people that do know their God shall be strong and do exploits."
2. Petition.
This is asking God for what we need. We need many things. We need strength to overcome temptation. We need wisdom. We need power to serve God effectively. We need guidance in making decisions. We need food, clothes, and other necessities.
Where should we look for the supply of our needs? We should look to God! He is our Heavenly Father. He loves us, and He delights to have us come to Him with our needs. The Lord Jesus said,
"If you then, although you are evil, know how to give good gifts to your children, how much more will your Father in heaven give good gifts to those who ask him!" Matthew 7:11 (NET Bible)
When you need something, ask God for it. Keep on asking. Often we lack things simply because we have not asked God. The Bible says,
"You do not have because you do not ask." James 4:2 (NET Bible)
Does God Always Answer Prayer?
No, God does not always answer our prayers. There are two conditions which we must meet if we want God to answer our prayers:

We must pray in the will of God.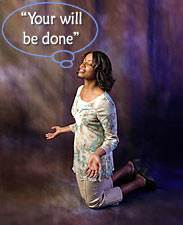 If we ask God for something that is not in accord with His will, He will not give it to us. We should be very grateful for this, because we do not always know what is best for us. A little boy might ask his father for a razor or a sharp knife, but the father loves his child and he knows that this would bring suffering to him, so he does not grant his child's request.
The greatest prayer we can pray to God is, "Your will be done." This shows that we are trusting God's love and His wisdom. We can ask for the things we want, but in all of our prayers we should pray, "Your will be done."

We must be "on praying ground."
This means that our life must be pleasing to God. God does not answer the prayers of worldly and disobedient Christians. But He delights to answer the prayers of those whose lives are pleasing to Him. The Bible says,
"…if our conscience does not condemn us, we have confidence in the presence of God, and whatever we ask we receive from him, because we keep his commandments and do the things that are pleasing to him." 1 John 3:21-22 (NET Bible)
When our prayers are not answered, we should ask ourselves, "Is there anything in my life that is hindering God from answering my prayers?"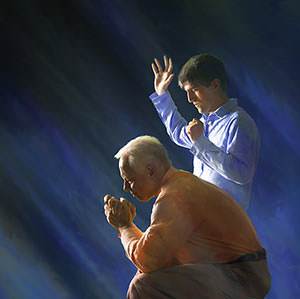 The great hindrances to prayer are: (1) sin, (2) selfishness, (3) unforgiveness, and (4) unbelief. These things give Satan a foothold in our life, and God will not hear our prayers.
"If I regard iniquity in my heart, the Lord will not hear me." Psalm 66:18
3. Intercession.
This is prayer for others. Communion and petition are mainly for our needs, but intercession reaches out to help others. We pray for our unsaved friends and relatives; we pray for those who preach the gospel; we pray for our leaders; we pray for those who are sick. This form of prayer helps God in His great love-plan to bring men back to Himself.
One form of intercession is prayer warfare. This is prayer against Satan.
Warfare with Satan
When we have learned how to keep in touch with God through prayer and the reading of His Word, then God can use us in the battle against Satan. Now let's review some facts concerning the warfare between God and Satan.

First, God created this earth. It belongs to Him. The Bible says,
"The earth is the Lord's, and all its fullness." Psalm 24:1

Second, God gave the rulership of this earth to man. God gave Adam dominion over all the earth.

Third, Adam rebelled against God. He took sides with Satan and came under the power of Satan. Thus Adam lost the rulership of the world, and Satan took it over. It was through sin that Satan gained control of the world.

Fourth, God wanted to bring this world back to Himself, and He wanted to do it through a man. So God sent His Son, the Lord Jesus Christ, into the world as His second Man.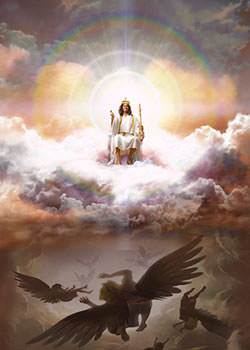 Fifth, a great battle raged between Satan and the Lord Jesus, God's second Man. The Lord Jesus was tempted as no man was ever tempted, but He was victorious over all the temptations of Satan. Finally, in desperation, Satan stirred up people to crucify Jesus.
When the Lord Jesus lay in the tomb, Satan thought he had won the victory. But on the third day, the Lord Jesus arose—Victor over all the powers of darkness. Satan knew then that he was defeated.
The Lord Jesus was given all authority in heaven and in earth. Satan and his forces of darkness were stripped of their authority. The Lord Jesus ascended back into Heaven, where He is seated at the right hand of the Father "far above all principality, and power, and might, and dominion."
Satan is Defeated!
The great thing to remember in our warfare with Satan is this: SATAN IS DEFEATED! We don't have to defeat Satan—Christ has already defeated him at Calvary.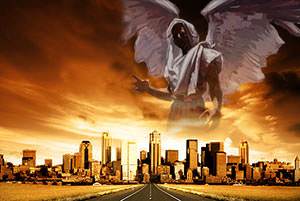 Though Satan is defeated, he has not yet been cast into the lake of fire. For the time being, he is free, and he is working as hard as ever to keep unsaved people in his kingdom.
As God's servants, you and I are to proclaim the gospel to the unsaved and to deliver them from Satan's power.
The Lord Jesus said that, if you want to take goods from the house of a strong man, you must first bind the strong man. Satan is "the strong man," and his "goods" are the people he holds in his power. If we are to deliver people from Satan's power, we must first "bind" his power.
How do we "bind" Satan's power? We bind Satan's power by claiming Christ's victory of Calvary.
How to Claim Christ's Victory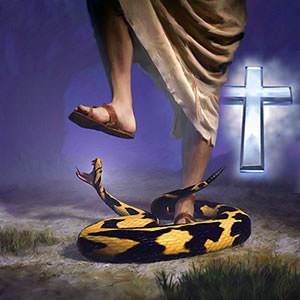 Now we come to a very important question: How do we make Christ's victory our victory? We make His victory our victory by CLAIMING IT!
Christ paid for your sins on the cross, but you were not saved until you claimed it. Just so, you must claim Christ's victory over Satan. You can do this by praying: "All that Calvary means, Lord! All the mighty victory of Calvary!"
When you pray this prayer, you are saying, "Lord, I can't deal with this situation, but You can. You are victorious over all the power of Satan, and I am claiming Your victory in this matter." As we claim the victory of Calvary, Christ binds the power of Satan.
Use the Weapon God Has Given You
God has given you a mighty weapon to use against Satan, but a weapon is no good unless you use it. So claim the victory of Calvary.
Suppose Satan attacks your home. There are hard words and bitter feelings. What should you do? Claim the victory of Calvary! Christ says to you, "Bind the strong man, Satan, in My name."
Often, when we have problems we try to deal with the people we think are causing the problems, but the Bible says that the real difficulty is with the powers of darkness who stir up these matters. The Apostle Paul said,
"For our struggle is not against flesh and blood, but against the rulers, against the powers, against the world rulers of this darkness, against the spiritual forces of evil in the heavens." Ephesians 6:12
How do we deal with the powers of darkness? We deal with them by claiming Christ's victory of Calvary. "All the mighty power of Calvary. Victory in Jesus' name."
Pray About All Things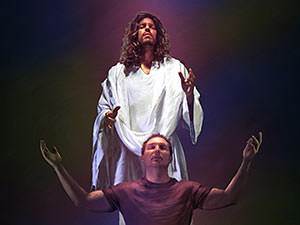 When you understand that we are at war with Satan, you will pray about everything. This is the greatest thing you can do for God or man.
Pray about problems in your home and in your church. Pray for Christians. Pray for your unsaved friends and relatives. Pray for those who are preaching the gospel. Pray in Jesus' name. Pray earnestly. Pray believingly. Pray in the victory of Calvary.
Don't Give Up!
The winning quality in prayer is persistence. This means DON'T GIVE UP. Keep praying until the answer comes.
It takes time for God to deal with human wills. It takes time to change situations. God wants us to hold on in prayer, claiming the victory of Calvary. The Lord Jesus said, "Men should always pray, and not faint."
Remember God's promise: