under a special agreement with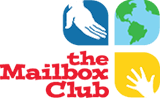 presents "New Life in Christ" Course 3

under a special agreement with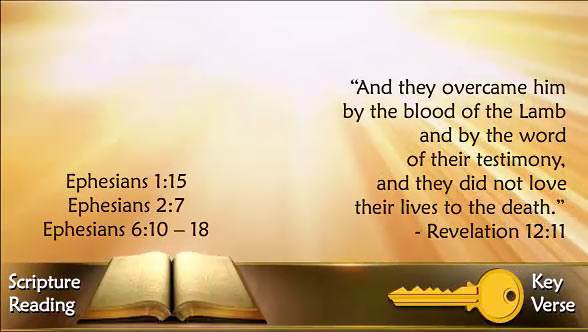 ---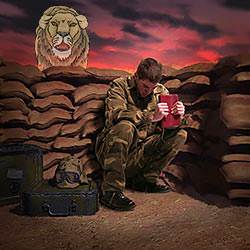 The Christian life is a life of WARFARE. We are called to be good soldiers of the Lord Jesus Christ and "to war a good warfare."
The reason why the Christian life is a warfare is that we have a terrible enemy who seeks to destroy us. That enemy is Satan. The Bible warns us,
"Be sober, be vigilant; because your adversary the devil, as a roaring lion, walks about, seeking whom he may devour." 1 Peter 5:8
Our Enemy—SATAN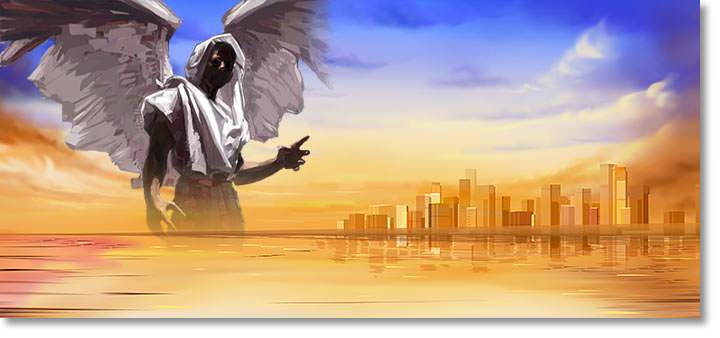 Satan was originally created as a beautiful and wise angel named Lucifer, but pride entered his heart and he rebelled against God. Many of the angels of Heaven followed Satan in his rebellion against God.
Satan is called "the prince of the power of the air" because he and his fallen angels now inhabit the atmosphere above the earth. Though we cannot see them, Satan and his fallen angels are the real enemies of the child of God. The Bible says,
"For we wrestle not against flesh and blood, but against principalities, against powers, against the rulers of the darkness of this world, against spiritual wickedness in high places." Ephesians 6:12
How Satan Works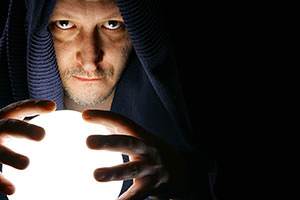 Satan's object is to destroy people. The Lord Jesus said that he was "a murderer from the beginning." Satan has many ways of destroying people, but his main weapons are deceit and lies.
Satan deceives people by making them think that all supernatural occurrences come from God. But all "miracles" do not come from God. Satan and his evil spirits can do many miraculous things that are beyond the power of men. Jesus said that false prophets will come in the last days and deceive many people with "great signs and wonders."

WARNING: Have nothing to do with Ouija boards, table lifting, seances, fortune tellers, astrology, witchcraft; these things belong to the kingdom of darkness. The Bible says,
"Have no fellowship with the unfruitful works of darkness…" Ephesians 5:11
Satan hinders the work of God. When the gospel is preached, Satan is there to spread doubt and unbelief in the minds of those who hear it.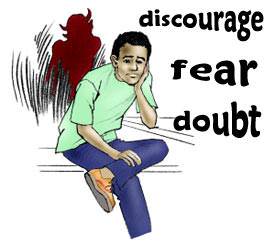 Satan oppresses Christians. He puts thoughts of doubt, fear, and discouragement into their minds. He tries to discourage them so they will not live for God.
Satan tempts Christians to commit terrible sins. He tries to deceive them into thinking that it would not be wrong for them to do these things. He uses the things of the world to turn their hearts away from God and from doing His will. He tries to keep them from making a full surrender of their lives to God.
In this lesson we are going to consider Christ's mighty victory over this terrible enemy, Satan. We are going to see how Christ's victory is also our victory.
Why CHRIST Came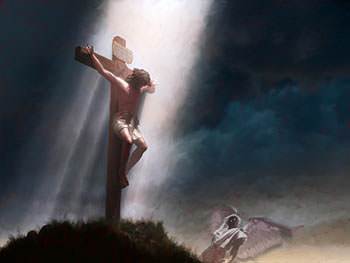 The Lord Jesus Christ came into the world to destroy the works of the devil. The Bible says,
"For this purpose the Son of God was manifested, that He might destroy the works of the devil." 1 John 3:8
The cross is the place where Christ redeemed men from the power of Satan. Satan held men captive because of sin; but on the cross the Lord Jesus paid for our sins. He ended all of Satan's rights over us. Men can now choose who they will serve. Those who choose Jesus Christ as their Lord are delivered from the power of Satan. The Bible says,
"Giving thanks unto the Father…who has delivered us from the power of darkness, and brought us into the kingdom of His dear Son." Colossians 1:12-13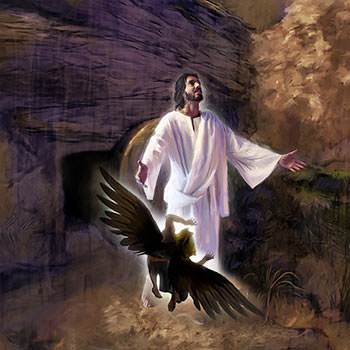 The cross is also the place where Satan was defeated. The Bible says that the Lord Jesus took our nature upon Him that…
"through death He might destroy him that had the power of death, that is, the devil."
When the Lord Jesus died on the cross, it seemed as though the powers of darkness were victorious over Him. But on the third day He arose from the grave with a mighty triumph over Satan and the powers of darkness.
The Lord Jesus appeared on the earth for a period of 40 days after His resurrection. Before He ascended back into Heaven, He said,
"ALL POWER is given unto Me in Heaven and in earth." Matthew 28:18
The powers of darkness were defeated!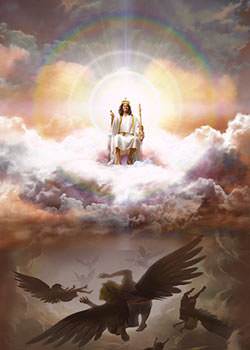 Satan and his evil spirits were stripped of all their authority. The Lord Jesus ascended back into Heaven as Victor over all the powers of darkness. He made a show of them openly. The Bible says,
"And having spoiled (defeated) principalities and powers, He made a show of them openly, triumphing over them…" Colossians 2:15
What an amazing sight this must have been in the unseen spirit world as the Lord Jesus returned to Heaven as the mighty Victor over Satan and the powers of darkness.
Christ was Exalted
The Father welcomed His beloved Son home to glory and gave Him the place of greatest honour and power. Jesus Christ was seated on the very throne of Heaven—far above all the powers of darkness. The Bible says,
"…He (God) raised Him from the dead, and set Him at His own right hand in the heavenly places, Far above all principality, and power, and might, and dominion." Ephesians 1:20-21
Christ's Victory is our Victory
Now here is an amazing truth: CHRIST'S VICTORY OVER THE POWERS OF DARKNESS IS OUR VICTORY! What Christ did, He did as our Representative. We shared in His death, we shared in His burial, we shared in His resurrection, and we share also in His victory over Satan! God raised Christ up and seated Him at His own right hand, and He raised us up with Him. The Bible says,
"(God) has raised us up together, and made us sit together in heavenly places in Christ Jesus." Ephesians 2:6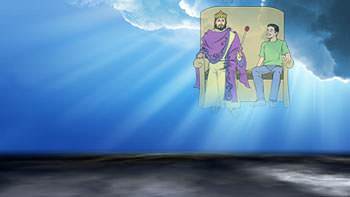 What is our new spiritual position? WE ARE SEATED WITH CHRIST FAR ABOVE THE POWERS OF DARKNESS. We who are in Christ are seated with Him in that position of power and victory "far above all." We share His throne! To share Christ's throne means to share His authority. We have been given authority over all the power of the enemy. The Lord Jesus said to His disciples,
"Behold, I give you authority…over all the power of the enemy…" Luke 10:19 (NKJB)
To have authority from Christ means that we have the right to act as His representatives. We can speak and act in His name.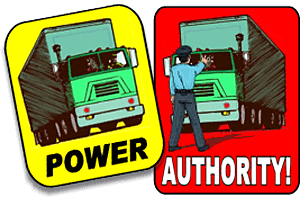 There is a difference between "power" and "authority." A truck has power, but a policeman has authority. Back of the policeman is the authority of the city government, and the driver of the truck recognizes this and obeys him.
Satan and his evil spirits have power, but Christ has given us authority. If we are abiding in Christ, we can speak in His name, and the powers of darkness must obey us. They recognize that back of us is the authority of Christ Himself.
The Battle is Not Over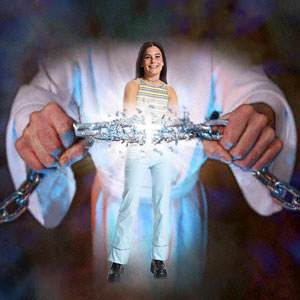 Satan is a defeated foe. One day, he and his evil spirits will be cast into the lake of fire, and they will never again cause trouble. But meanwhile, he is very active. Satan goes about "as a roaring lion" tempting, deceiving, destroying. No child of God is able in himself to cope with this terrible foe. Only through Christ can we overcome him. God's Word tells us,
"Be strong in the Lord, and in the power of His might." Ephesians 6:10
We are not to be strong in ourselves, but we are to be strong in the Lord. Christ is the Victor over Satan, and we are to be strong in Him.
God's Overcomers
The Book of Revelation speaks of "overcomers"—those who overcame Satan. The Bible tells us the secret of how they overcame him. It is a three-fold secret: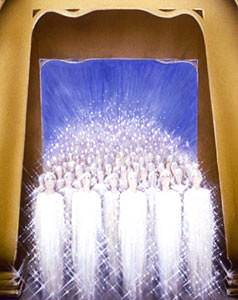 "And they overcame him (Satan)
(1) by the blood of the Lamb,
(2) and by the word of their testimony;
(3) and they loved not their lives unto the death."
Revelation 12:11
Let us consider each of these three things and see how we can use them to overcome Satan.
The Blood of the Lamb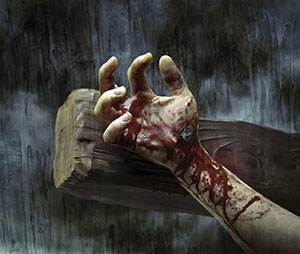 Satan is a deceiver and a murderer, but one of his main attacks against Christians is accusing them. He is called "the accuser of the brethren." He accuses us before God, and he accuses us in our minds. He tells us that we are no good. He tells us that we are weak and sinful and that we will always be this way.
What is our defense against Satan's accusations?
Our defense is "the blood of the Lamb." Through the blood of the Lord Jesus we can overcome Satan's accusations. We can say to Satan, "Yes, I am sinful, but the blood of Jesus Christ, God's Son, cleanses me from all sin."
The word of their testimony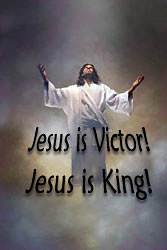 God has given us "the blood of the Lamb" as our defense against Satan's accusations. He has also given us a weapon to use against Satan himself. That weapon is "the word of our testimony." This means that we can declare to Satan the great facts of Christ's victory over him.
We can say to Satan, "You are defeated! Jesus Christ is Lord! Jesus is Victor! Jesus is King! I am one with Him." These are great facts, and Satan cannot dispute them. He knows they are true.
They loved not their lives
If we are to overcome Satan, we must not love ourselves. If we love ourselves, we will be defeated. But we don't have to let Self rule over us. We were crucified with Christ that we might no longer live unto ourselves but unto Him who died for us. We can say with the Apostle Paul,
"I have been crucified with Christ; it is no longer I who lives, but Christ lives in me…" Galatians 2:20 (NKJB)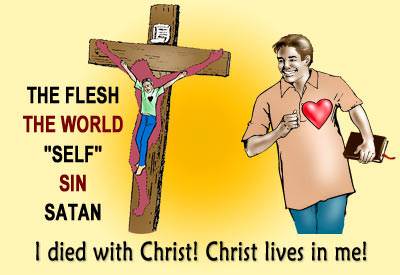 Through our death, burial, and resurrection with Christ, we have been delivered from the power of every enemy. We can say "No!" to sin, to Self, to the flesh, to the world, and to Satan himself.
Not only has the Lord Jesus delivered us from the power of our enemies, but the victorious, risen Christ Himself lives in us.
We can be overcomers! The Bible says,
"You are of God, little children, and have overcome them: because greater is He (Christ) that is in you, than he (Satan) that is in the world." 1 John 4:4
---