under a special agreement with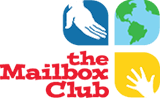 Winners Series 2

under a special agreement with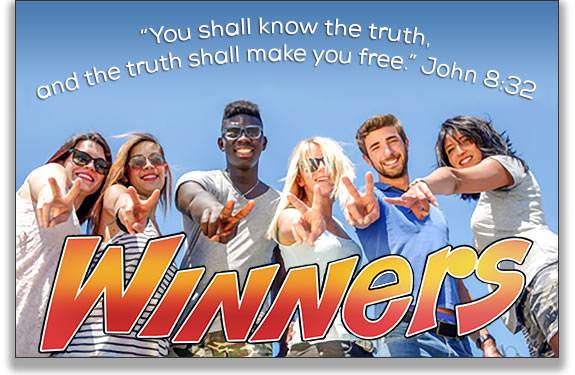 Series 2
Lesson 17: Get Your Tools Ready!
Dear Friend,
Before He ascended back into Heaven, the Lord Jesus commanded His disciples, "Go into all the world and preach the gospel to every creature" (Mark 16:15). God has done something in Christ upon which the salvation of every person depends, and every person needs to hear about it.
Who is going to take the gospel to the world? The believers are to do this. Every Christian is called to serve God and have a part in taking the gospel to every person. We ourselves were once lost, separated from the life of God. Someone shared Christ with us. Now we must share Christ with others that they may hear and believe on Him.
Sinner...son...servant!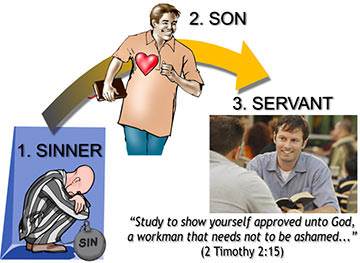 These are the vital links in God's plan for getting the gospel to the world. Sinners hear the gospel, believe on the Lord Jesus, and become sons. In time, they become son-servants of God to take the gospel to others.
In this lesson we are going to learn how we can begin preparing ourselves to be effective servants of God.
To be an effective servant of God, two things are absolutely necessary:
1) A working knowledge of the Bible, and
2) daily fellowship with the Lord Jesus Christ.
To become a teacher, a doctor, or a lawyer, one must spend many, many hours preparing himself. To become an effective servant of God requires diligent preparation. The Bible says,
"Study to show yourself approved unto God, a workman that needs not to be ashamed, rightly dividing the word of truth" (2 Timothy 2:15).
How do we obtain a working knowledge of the Bible?
We gain a working knowledge of the Bible by reading it, studying it, and by memorizing portions of it. The Bible is the most important book in all the world; yet, sad to say, many Christians do not take time to read the Bible and become familiar with it.
As we read the Bible, we must depend on the Holy Spirit to reveal its truths to us. The Bible is different from all other books in that it cannot be understood without the illumination of the Holy Spirit. This explains why an unsaved person cannot understand the Bible. The Bible says,
"The natural man [the unsaved man] receives not the things of the Spirit of God: for they are foolishness unto him: neither can he know them, because they are spiritually discerned" (1 Corinthians 2:14).
We who have been born again spiritually have the Holy Spirit dwelling in us; therefore we can understand the things of God. The Bible says,
"Now we have received, not the spirit of the world, but the Spirit which is of God; that we might know the things that are freely given to us of God" (1 Corinthians 2:12).
Every time we read or study God's Word, let us pause a moment to pray and ask the Holy Spirit to reveal its truths to us. David's prayer is a good one for us:
"Open my eyes that I might behold wondrous things out of Your law" (Psalm 119:18).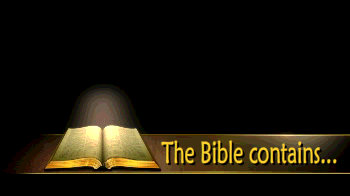 We grow by obeying God's Word.
We come into the family of God as a tiny baby. To grow spiritually, we must have food. What is our spiritual food? Our spiritual food is the Word of God. The Bible says,
"As newborn babes, desire the pure milk of the word, that you may grow thereby" (1 Peter 2:2).
When we eat, we take food into our bodies. It becomes part of us. We must likewise take God's Word into our lives—it must become a part of us.
We take God's Word into our life by obeying it. The Bible says, "Be doers of the word, and not hearers only, deceiving yourselves" (James 1:22). As we read God's Word, we grow by believing its truths, claiming its promises, and obeying its commands.
Begin today!
Begin systematically reading God's Word today. Start with the Gospel of John. Ask the Holy Spirit to help you understand it. Mark the verses that seem to speak especially to your heart. This will make your Bible more valuable to you. A colored pencil and a short ruler are best for this. Do not use a ball point or ink pen. These will "bleed" through the paper of most Bibles.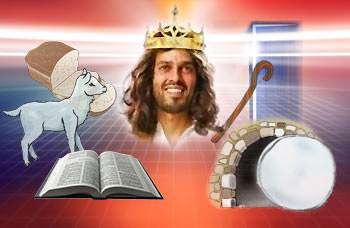 In the Gospel of John you will discover that Jesus is the living Word of God; He is the Lamb of God who takes away the sin of the world; He is the living Bread which came down from Heaven; He is the Way, the Truth, and the Life; He is the Good Shepherd; He is the Resurrection and the Life; He is the true Vine; He is the One who died for our sins; and He is the living, resurrected Christ.
After you have read the Gospel of John, read the book of Acts. This book tells about the early days of the church. Then beginning with Matthew, read the entire New Testament; and finally, read the Old Testament.
As you read the Bible, you will come across things that you do not understand. Someone has said that reading the Bible is like eating fish. When you are eating fish, you come across bones. What do you do with a bone? You simply lay it aside and continue eating the fish.
Likewise, when you come across something in the Bible that you do not understand, just say, "There is a bone—something I do not understand. I will lay it aside for now, and keep on reading the Bible. God may explain this to me later."
Do not allow your faith to be shaken by those who claim to find contradictions in the Bible. For hundreds of years, unbelieving men have tried to discredit the Bible, yet it still stands today as the infallible Word of the living God, and it will endure forever.
Memorize scripture.
The quickest and most effective way to gain a working knowledge of the Bible is to memorize Scripture verses. Often when witnessing to others, we do not know what to say. If you have memorized Scripture, you can quote it with confidence because it is God's Word.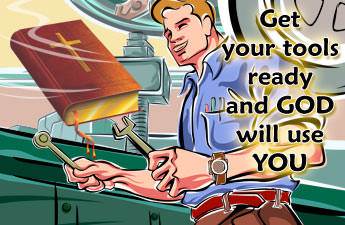 Always remember that it is not our word, but the Word of God, which the Holy Spirit uses in the salvation of others. The Bible says,
"Being born again, not of corruptible seed, but of incorruptible, by the word of God, which lives and abides forever" (1 Peter 1:23).
A young Christian asked an older man of God how he could serve the Lord. The man said, "Get your tools ready, and God will use you!"
"How do I get my tools ready?" asked the young Christian. The older man said, "Memorize Scripture! Memorize Scripture! Memorize Scripture!"
This is true. Every time you memorize a portion of God's Word, you are equipping yourself with another tool to use in serving God.
How do you memorize Scripture?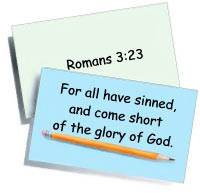 The secret of memorizing is repetition. If you say something over and over enough times, you will memorize it. The best and simplest way to memorize verses is through the use of index cards. Purchase some 3 x 5 index cards. On one side of a card, write the verse you want to memorize; on the other side, write the reference. It is very important to learn the reference when you learn a verse. Be sure to copy the verses and references correctly.
Carry the cards with you and go through them as often as you can during the day. Look at the reference on each card and see if you can quote the verse. Then check yourself by turning the card over and reading it correctly. Do this over and over again. Do not be satisfied until you can quote the verses perfectly, with the references. Soon you will discover that you have memorized these verses, and then you add more verses or start a new pack.
How do you remember what you have learned? To remember the verses you have learned, you must review them from time to time. You can add new verses each week, but be sure to review the ones you have already learned. Review! Review! REVIEW!
You can memorize Scripture. Do not excuse yourself by saying that you have a poor memory until you have honestly tried the above plan. You can memorize. The verses you memorize are the tools you will use as a servant of God, so begin to memorize Scripture now. Here are some verses to get you started.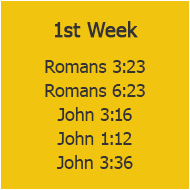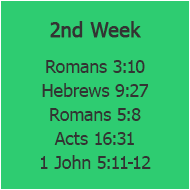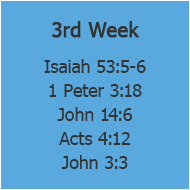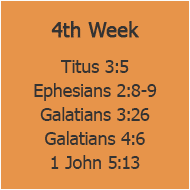 Daily fellowship with the Lord.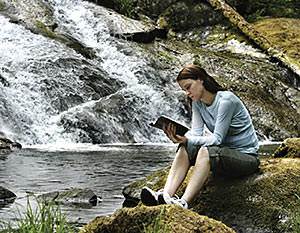 If you want to become an effective servant of God, you must not only have a working knowledge of the Bible, but you must also have daily fellowship with the Lord Jesus.
The secret of a strong Christian life is a daily Quiet Time. What is a Quiet Time? It is time spent alone with the Lord each day in the study of His Word and in prayer. Many wonderful blessings will come to us if we establish a Quiet Time and keep it faithfully:

We will become more like Christ.
It is by beholding the glory of the Lord Jesus that we are made like Him. Of course, we cannot see Jesus in person at this time, but we can behold His glory by reading about Him in the Bible.
"But we all…beholding…the glory of the Lord are being transformed into the same image from glory to glory, even as by the Spirit of the Lord" (2 Corinthians 3:18).
God reveals His will to us.
Usually, it is when we are alone with the Lord that He speaks to us through His Word and reveals His will to us. God's Word is our final authority. The Holy Spirit will never lead you to do something that is contrary to what God says in His Word.
We get to know the Lord.
This is the greatest blessing of all. There is no other way to get to know God. We must spend time alone with God to know Him and to become conscious of His presence and to be filled with His power. God says, "Be still, and know that I am God…" (Psalm 46:10).
How do you establish a Quiet Time?
Your relationship with God is the most important relationship in your life. To have a meaningful relationship with God, you must spend time with Him—much time alone with Him, reading and meditating on His Word. If you do not spend time with God each day, you do not love Him very much.
To establish a Quiet Time, three things are necessary—a definite place, a definite time, and a definite plan.
1. Find a place where you can be alone with the Lord. You need a place with a good light and a table where you can lay your Bible and write notes.
2. Decide on a definite time. For most people the best time is the first thing in the morning. Great musicians always tune their instruments before a concert—not after it. It is much better to meet with the Lord the first thing in the morning, and let Him tune our hearts, than to come to Him at the end of the day with a long list of failures to confess.
The importance of spending the first hour of each day with the Lord cannot be overemphasized. The Bible says of the Lord Jesus, "And in the morning, rising up a great while before day, He went out, and departed into a solitary place, and there prayed."
If the sinless Lord Jesus found it necessary to spend time alone with His Father each day, how much more should we!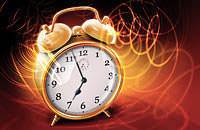 Are you serious about preparing yourself to serve God? If so, you must get up in the morning to meet with Him. Get a good alarm clock and use it. Decide when you want to get up, and then get up! This is one practical way in which you can show the Lord how much you love Him.
3. Have a definite plan. Begin your Quiet Time with a short prayer to the Lord asking Him to speak to your heart through His Word. Then open the Bible and begin reading. Do not hurry. Take time to think about what you are reading. Talk to God about what you are reading. Often a particular verse will be especially meaningful to you. Write it on a card and memorize it.
"How much time should I spend?"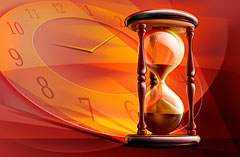 This is up to you. A half hour is a minimum. There are 24 hours in each day, and every serious-minded Christian should be able to set aside a half hour or more for God.
Spend the first part of your time reading the Bible; then turn to the Lord in prayer. Confess your sins to Him. Praise Him for all that He is to you. Thank Him for His blessings. Pray for those whom He brings to your mind. Ask for His guidance throughout the day. Tell Him that you love Him.
Stick to it!
Once you have established your place, time, and plan, stick to it! If you allow everything that comes along to disrupt your Quiet Time, soon you will have no Quiet Time.
Warning: Be prepared for all kinds of opposition to your establishing a Quiet Time. Satan knows what a daily Quiet Time does in bringing power into the life of a child of God. Satan will do all he can to prevent your establishing this habit in your life.
Are you willing to pay the price?
There is a price to pay in becoming an effective servant of God. You must spend time learning God's Word. You must spend time memorizing Scripture verses. You must spend time alone with the Lord. An honored servant of the Lord, S. D. Gordon, said,
"A life of victory hinges on three things: an initial act, a fixed purpose, and a daily habit.
"The initial act is that of surrender to the Lord Jesus as Master. The fixed purpose is that of doing what will please Him, and only that, at every turn, in every matter, regardless of the consequences. The daily habit is that of spending a Quiet Time in prayer alone with the Lord over His Word.
"After the initial act of surrender, the secret of a strong, winsome Christian life is in spending time daily alone with God over His Word in prayer."
There is no use talking about how much you love the Lord and how much you want to serve Him if you do not have time for Him and for His Word. God is not impressed with our words; He looks at our actions. The Bible says,
"…for the Lord is a God of knowledge, and by Him actions are weighed" (1 Samuel 2:3).
Do you want to know the key to success for a Christian? It is simply this: Put God first. God says,
"…them that honor Me I will honor, and they that despise Me shall be lightly esteemed" (1 Samuel 2:30).
The Lord Jesus said if we put God first, He will take care of the other things.
"Seek first the kingdom of God and His righteousness; and all these things shall be added unto you" (Matthew 6:33).
Do you want your life to count for God? Then begin reading God's Word daily. Start memorizing Scripture. Establish your Quiet Time and keep it faithfully. BEGIN NOW.
---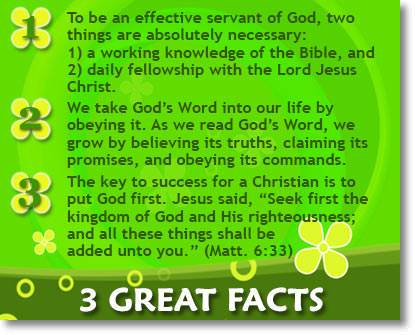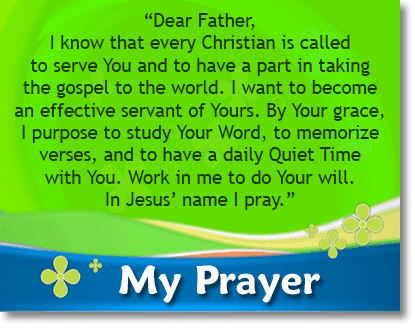 ---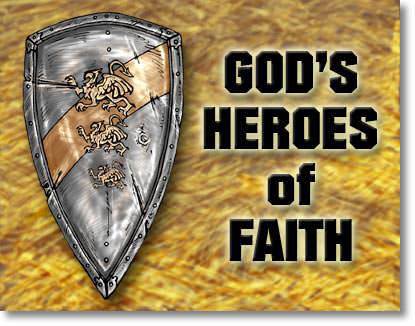 Esther risked her life
"…I will go in to the king, which is not according to the law: and if I perish, I perish." Esther 4:16
The people of Israel had been disobedient to God and were now under the rule of the Persian king, Ahasuerus. The queen, Vashti, had displeased the king so he was seeking a new queen.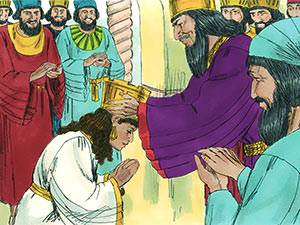 Among those under the king's rule was a Jewish man named Mordecai. He had a young orphaned niece named Esther, whom he had adopted as his daughter. She was very beautiful and eventually was taken by King Ahasuerus to be his queen.
Haman, the king's leading officer, hated Mordecai and all the Jewish refugees. He persuaded the king to sign a decree that all Jews in his kingdom be exterminated. The king did not realize that his own queen was a Jew.
When Mordecai heard of this decree, he tore his clothes, put on sackcloth and ashes, and went out into the city crying bitterly. Mordecai sent word to Esther to go before the king and plead for the lives of her people.
Esther knew that there was a royal law that anyone who approached the king without being called by him, would be put to death unless the king lifted his royal scepter. Esther knew that the lives of her people were at stake. She sent word to Mordecai,
"Go, gather together all the Jews…and fast [refrain from eating] for me, and neither eat nor drink three days…I also and my maidens will fast likewise; and so will I go in to the king, which is not according to the law: and if I perish, I perish" (Esther 4:16).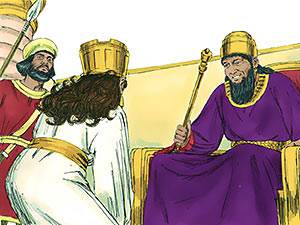 Esther did not know what the outcome of her act would be. But she made her decision and left the results to God. When she came before the king, he raised his golden scepter.
When the king learned of Haman's wicked scheme to kill all the Jews, he was enraged. Haman had prepared gallows on which to hang his enemy, Mordecai. The king ordered that Haman be hanged on the gallows he had prepared for Mordecai.
The Jews were not only spared from death, but they were allowed to take vengeance on their enemies. Mordecai, Esther's uncle, was made ruler of all the kingdom of Persia under King Ahasuerus.
The Jews ordained that these two days in which they were delivered be called Purim, and that Purim be remembered as a memorial throughout every generation.
Esther stands out as one of God's chosen ones. She was a sweet, winsome, courageous person. For the sake of her people, she took her life in her hands and went before the king. She said, "If I perish, I perish." The great lesson from Esther is: Do what is right and leave the result to God.
---