under a special agreement with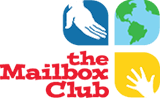 Winners Series 2

under a special agreement with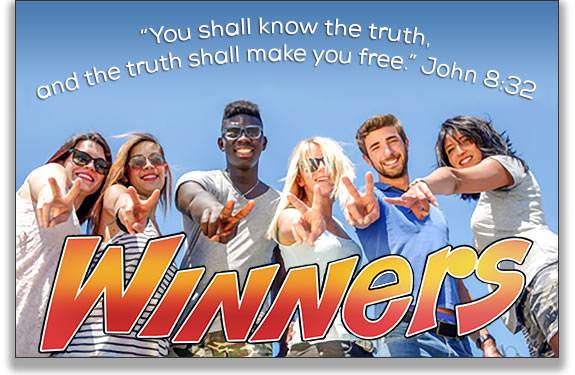 Series 2
Lesson 1: Forgiven and Loved
Dear Friend,
God loves us with all His heart, and He has wonderful gifts that He wants to give us. Four things are essential if we are to receive the things God has for us.

The work of Christ.
The Lord Jesus died on the cross for our sins and He rose again to be our great Savior. His work is perfect and complete.

The Word of God.
In the Bible, God tells us what Christ has done for us.

My belief.
My part is to believe God's Word and receive His Son as my Savior.

The work of the Holy Spirit.
When I believe God's Word, the Holy Spirit makes real in me what Christ has done for me. This is the way we receive things from God.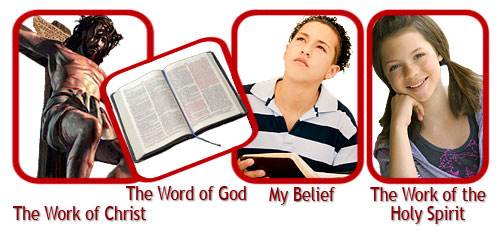 We need the gift of forgiveness.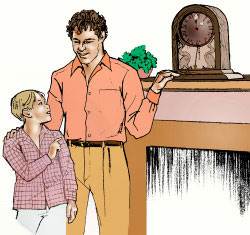 Our first great need when we come to God is the gift of forgiveness.
Let us think about a father who has a little son whom he loves very much. The father has a valuable clock and he tells his son, "Don't play with my clock. You might break it."
The father goes away. The son looks at his father's clock and decides that he will play with it anyway. And, sure enough, he breaks the clock.
When the father returns, he finds that his son has broken the clock. He says to his son, "You have disobeyed me. You will have to go to your room and stay there until the clock is fixed."
The son is not happy at all. He knows that he was wrong to disobey his father. Meanwhile, the father is not very happy either. He loves his son and does not want to be separated from him. But he must deal with his son's disobedience.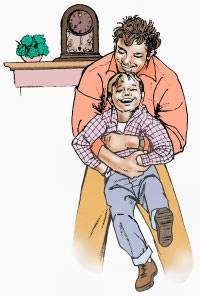 What does the father do? He says, "I will fix the clock myself." He fixes the clock perfectly. Then he goes to his son. When the son sees his father, he bursts into tears and says, "Daddy, I'm sorry I broke your clock. I don't know how to fix it."
The father takes his son into his arms, hugs and kisses him, and says, "I forgive you, son. I fixed the clock myself."
How God forgives us.
In the story we saw how the father loved his son and how he dealt with his son's disobedience. This illustrates how God forgives us. We have sinned against God, but in the Person of His Son, God paid the penalty for our sins.
In the Old Testament, God told His people to bring an animal, usually a lamb, as a sacrifice for their sins. A man would bring the lamb to the priest.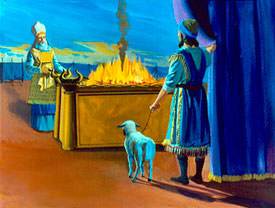 Then he would lay his hand on the head of the lamb and say something like this, "I have sinned, but God has allowed this lamb to die for my sins." Then the lamb was killed, and its blood was poured out on the altar.
When Jesus came, John the Baptist said,
"Behold [look at] the Lamb of God, who takes away the sin of the world!" (John 1:25).
It is as though God were saying, "For thousands of years you have been bringing your lambs to Me. Now I will provide My Lamb for you. I am giving My Son to you to be your 'Lamb.'"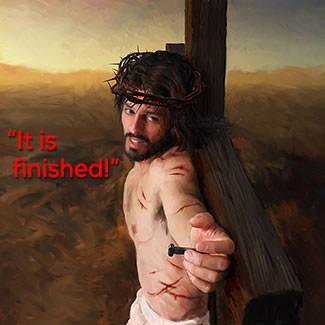 The Lord Jesus came to be the perfect sacrifice for all the sins of all people. Did He finish the work He came to do? Yes, He finished it perfectly when He died on the cross. Just before He died, He cried out, "It is finished!" He had finished the work He came to do.
God is perfectly satisfied with the Lamb which He Himself provided. He does not overlook our sins, but He forgives them because He sees the blood of His Son which was shed for our sins.
God gives us eternal forgiveness.
God forgives us of our sins, not because of what we do for Him, but because of what Christ has done for us. God says to us, "If you trust My Son as your Savior, your 'Lamb,' I will forgive all your sins forever!" Speaking of the Lord Jesus, the Bible says,
"To Him [Jesus] give all the prophets witness, that through His name whosoever believes in Him shall receive remission [forgiveness] of sins" (Acts 10:43).
"Remission of sins" means that God forgives all my sins forever! The forgiveness which God gives to me when I receive the Lord Jesus as my Savior is an eternal forgiveness. It is forgiveness of all my sins—past, present, and future.
You may wonder, "I can see how God can forgive my past sins and my present sins, but how can God forgive me of future sins—sins which I have not yet done?"
God knows everything—past, present, and future. He sees my whole life, from beginning to end. God gave His Son to die for my sins. At the time when Christ died, how many of my sins were in the future? All of them! God saw all of them, and Christ died for all of them.
God does not just forgive us our past sins and start a new list. God forgives us of all our sins—past, present, and future. He does not hold a single thing against His born-again children. He says,
"Their sins and iniquities will I remember no more" (Hebrews 10:17).
Two kinds of forgiveness.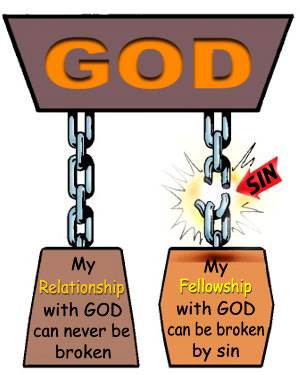 The moment I received Jesus as my Savior, God gave me eternal forgiveness. God never takes this back. But when I sin after I am saved, I need another kind of forgiveness which we call "fellowship forgiveness."
Once I have been born again into the family of God, I am always His child. I can never lose my relationship with God. But sin breaks my fellowship with God.
My heavenly Father has told me what I need to do to make things right with Him again. I must confess my sins to Him. The Bible says,
"If we confess our sins, He is faithful and just to forgives us our sins, and to cleanse us from all unrighteousness" (1 John 1:9).
When should I confess my sin to God? I should confess my sin as soon as I know that I have sinned. I should not put it off until some later time. I should go to my Father immediately and confess my sin to Him. When I do, He forgives me.
God has great joy in forgiving us.
People have all kinds of wrong ideas about God, which Satan puts in their minds. Jesus used stories called "parables" to help us understand the truth about God.
A parable is "an earthly story with a heavenly meaning." The Lord Jesus used many parables to teach Bible truths. The most beautiful of all the parables is the story of "the prodigal son" in Luke, chapter 15.
Jesus used this parable to teach us how God receives us when we turn from our sins and turn to Him. In this story, "the prodigal son" represents you and me, and "the father" represents God the Father.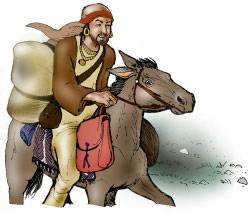 In this parable a certain man, apparently a wealthy farmer, had two sons. The younger son became dissatisfied and wanted to leave home.
He asked his father to give him his share of the family wealth. No doubt the father begged his son to stay with him, but the son was determined to have his own way. The father divided his wealth with his sons, and the younger son took all that he had and left home.
The son went into a far country and made friends with the wrong crowd. He wasted all the money his father had given him doing wrong things with the wrong kind of "friends."
Soon all his money was gone. He had no money, not even to buy some food. Futhermore, there was a famine in the land. There had been no rain for a long time, and the farmers had not been able to grow their crops. Food was scarce and expensive.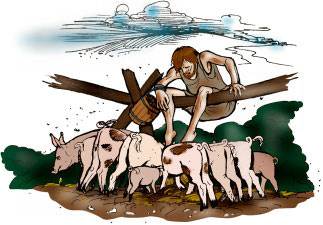 The son was desperate! The only job he could find was taking care of some filthy pigs. He was dirty, hungry, and in rags, but no man gave him anything. He was so hungry that he wanted to eat the husks he was feeding to the hogs.
One day the son began to think about his father's house and all the good things there. He said, "How many hired servants of my father's have bread enough and to spare, and I perish with hunger!"
The son decided that he would do something about his condition. He said, "I will arise and go to my father. I will say to him, 'Father, I have sinned against heaven, and before you. I am no more worthy to be called your son. Make me one of your hired servants.'"
He got up and started back to his father. This is what the Bible calls "repentance." Repentance means turning around. When you see that you have been going the wrong way, and you turn around and go to God, that is repentance.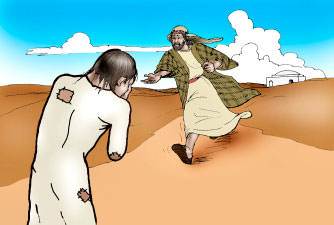 On his long way back home, no doubt the son wondered how his father would receive him. Would he be angry? Would he tell him that he could not come back after what he had done?
How did the father receive him? Here are the words of Jesus: "When he was yet a great way off, his father saw him, and had compassion, and ran, and fell on his neck [hugged], and kissed him." This shows me the love that God has in His heart for me.
How does God receive us?
Perhaps you think you are saved, but you are not really sure. Do not go on doubting. Settle the matter now, once for all. Say to the Lord, "Lord Jesus, if I have never really trusted You as my 'Lamb,' the One who died for all my sins, I am doing so now. I am taking You as my Savior right now!"
Maybe you trusted Christ as your Savior some time ago, but you have not been living for Him. You want to come back to God, but you wonder how He will receive you.
Don't wait any longer. Come to Him now. Come just as you are. You will discover that God is much kinder and much more loving than you could ever imagine. He will welcome you with joy. This is the kind of love God has in His heart for you.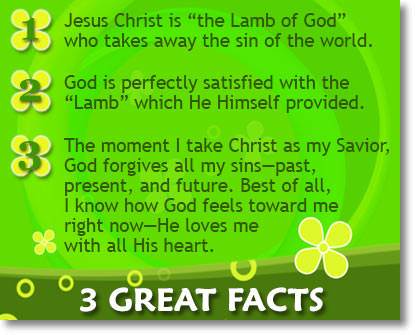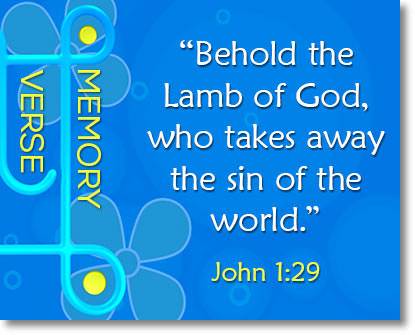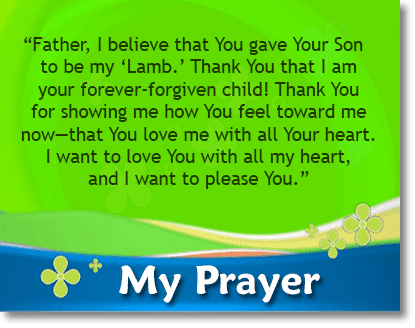 ---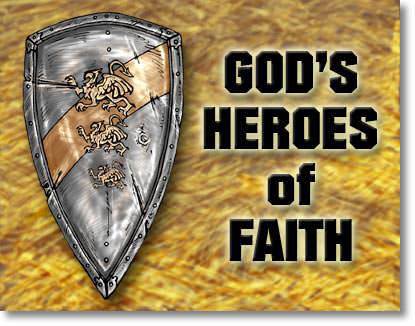 Moses—the great deliverer
"The Lord spoke unto Moses, Go to Pharaoh, and say to him, Thus says the Lord, Let My people go, that they may serve Me." Exodus 8:1
Abraham is called "the father of the faithful." God made a covenant with Abraham which contained three great promises:
A great nation.
God promised to make the descendants of Abraham a great nation. The great nation which came from Abraham is Israel, God's chosen people.
A promised land.
God had a special land for His chosen people—the land of Canaan. It was God's purpose that His people should possess this land and enjoy its riches.
A promised Savior.
This was the greatest honor of all. From Abraham's descendants would come the promised Savior—Jesus Christ.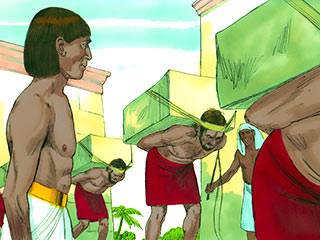 The second book in the Bible is Exodus, which means "going out." The children of Israel had become slaves in the land of Egypt. Egypt is a type of the world-system. Pharaoh is a type of Satan, the real ruler of the world-system. Slaves in Egypt are a type of unsaved people—slaves of Satan in his world-system. It is a "picture" of our redemption from the bondage of sin.
God called Moses to deliver the children of Israel out of bondage in Egypt. Pharaoh was determined not to let his slaves go, but after ten terrible plagues, he told them to get out of Egypt.
In the last plague, the death angel passed over the land killing all the firstborn sons. Even Pharaoh's eldest son was killed. But in the homes of the children of Israel, the firstborn sons were spared.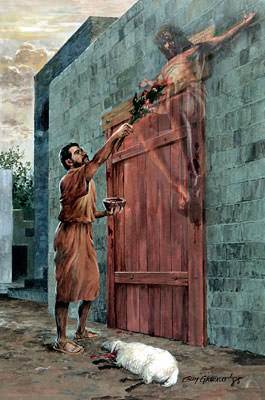 What saved Israel's firstborn sons on that awful night? It was the blood of the lamb on the doorposts of their houses. What saves us? The blood of Christ—the Lamb of God.
The Egyptian people were so terrified by the plagues which God sent, that they begged the Israelites to leave and they gave them much silver, gold, and precious stones. The children of Israel also took all their flocks of sheep and herds of cattle.
God did not forget the promise which he made to Abraham—"I will make of you a great nation." There were only 70 people in the family of Jacob when they went down into Egypt. When they left 400 years later, the people had grown into a nation of three million people!
God did not forget the promise He made to Abraham concerning the land of Canaan. In time God brought the children of Israel into the promised land.
And God did not forget the promise of a Savior. The first verse in the New Testament says,
"The book of the generation of Jesus Christ, the Son of David, the son of Abraham" (Matthew 1:1).
---