presents
The Boy & the Cabin series 2
To read about Vaughan's boyhood, go to this earlier set of lessons: The Boy and the Cabin, Series 1.

presents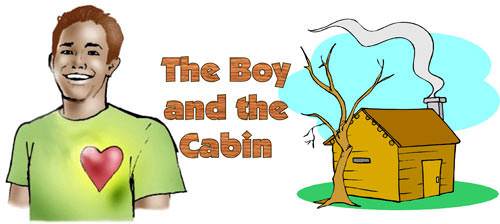 Series 2
A true story—the boy in the cabin becomes a teenager.
Written by Vaughan Durston, Founder of U.B. David & I'll B. Jonathan Inc.
Lesson 1: Finding the Mirror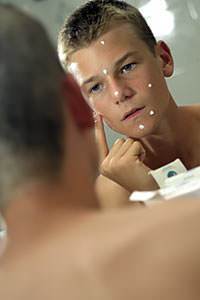 One Friday night when we went to the cabin we found that Mr. Campbell had a mirror on the kitchen table. It wasn't very fancy and only ten inches by twelve inches with a small white wooden frame around it. He said that he noticed that some of us had discovered the mirror. I immediately thought of my oldest brother who was a teenager by now. He didn't use to worry too much about what his hair looked like (we left that to our mom), but suddenly he seemed to be spending quite a bit of time looking in the mirror and fussing over his looks. Mr. & Mrs. Campbell knew that that could mean that we were becoming teenagers and that probably we were beginning to think about girls.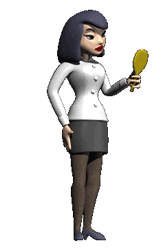 If you are a teenager or been one you probably know about becoming self conscious. You look at the size of your nose, ears, height, if you are fat or skinny, and a hundred other things and begin to feel good or bad about yourself. Until I became a teenager I didn't spend much time on this subject. Con, my twin, told me one day that a person came to him and said that one of us was good looking. Which one of us would it be? Then he said, "I guess both of us can feel good because we look alike."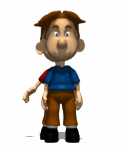 Twins can see themselves in the mirror every day. Ha! How would you like that? If you didn't like the mirror you could spend your time trying to look different or not worry about it by wearing the same hat etc.
Our mother must have liked what she saw because she was always trying to get us to dress alike. When we became teenagers we decided that we wanted to be different. I wonder why.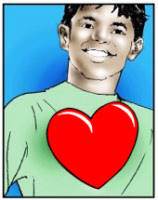 Hugh Campbell had been spending a lot of time getting us to learn about God and who He was and reminded us that "man looks on the outward appearance, but the Lord looks at the heart", according to 1 Samuel 16:7. Looking on the outward appearance is natural, he said, but the heart was the most important. The heart God is referring to is that very important part of man that causes him to love, hate, choose, and desire. God wants us to love the things He loves, hate the things that He hates, choose the things that He would choose, and desire the things that He would desire. I was soon to find out that this lesson would become a very important lesson for me as a teenager.
If you have been following my story you will know that we went to the cabin for many Friday nights to be with the Campbells and to learn about God. Someone asked me recently how many times we went to the cabin on Friday nights. I could have said about as many times as they have come to this "cabin." Since you get 100 points for each lesson completed you could quickly give me the answer, but then I would be teasing because all of you have not come here an equal number of times. Actually my twin Con and my two older brothers and several others went to the cabin for about four years. Wow! Have you got 20,000 points? We didn't get points but we did get to know many things about God.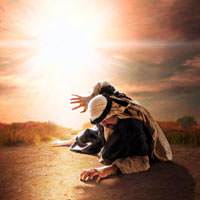 One Friday night after hearing the story of Saul on the Damascus road and how he became a Christian, Mr. Campbell asked us if we could see ourselves in the Bible stories.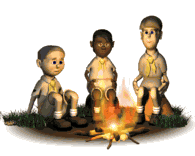 I thought I could because I knew exactly where I became a Christian. It was at a Bible camp and at a camp fire. We were told that God loved us, but also that we had sinned, and I certainly knew that I had. We heard that Jesus died for our sins and that we needed to receive Him if we wanted to go to heaven when it was our turn. We were to stand to our feet if we wanted to do this, and it was one of the hardest things I ever did. Satan was telling me not to do it because someone might see me. I should wait until tomorrow. But I knew that God was telling me to do something good. It was such an important decision and one that changed my life, and I'm still telling others about it.
If you receive Christ you will remember it the rest of your life and God will remember it for all eternity. Mr. Campbell gave us John 3:16 to memorize:
"For God so loved the world that He gave His only begotten Son, that whoever believes in Him should not perish but have everlasting life."
Then he told us if Satan ever tried to tell us we were not saved by accepting Christ, we should quote him the Bible verses we were memorizing.
Have you become a teenager yet? If you have I hope you will be choosing to live for God during these years. Don't get overly anxious about the outward appearance, but keep concerned about the heart. Probably many of you didn't go to the cabin—a place to learn about God—when you were young and therefore you need to come often to this site, our cyberspace cabin, to catch up on God. If you are not putting God first as a teenager you could make some wrong decisions and regret them the rest of your life.
I had some challenges as a teenager that I want to tell you about. It was only by knowing God and the grace of God that He kept me from some bad decisions.
---