Camp Discipleship (in Canada)

Camps are one of the best ways to reach needy young people in our country. The adventure of being in a camp setting is exciting and often opens hearts to God's voice. But what happens to these campers during the other 51 weeks when they are not at camp?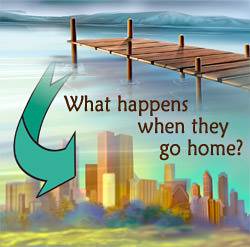 This is our concern, and probably yours too if you're a camp director. This is why camps are also one of the best situations for introducing D&J lessons. When campers return home they will have an ongoing means to feed themselves spiritually, consolidating the good work that was done at camp.
D&J has developed a free, well-rounded Christian discipleship program which will help you develop and nurture adults, teens and children year round. Over the past 30 years, well over one million lessons have been completed and approximately 14,000 students are currently doing D&J lessons.
85 camps and related organizations are currently involved with us at various levels (see the listing of current affiliated camps here.)
Gord Russell, a veteran camp director in Alberta, explains in this brief video clip why he uses D&J lessons in his camps. Check it out!
And if you're planning to be a Camp Counsellor in the coming camp season, take a look at this special note for you.
How do you get started?
Order 7-day lesson booklets for use at camp. Or order one lesson to mail home after camp to each camper (for this option, enter your lesson(s) required in the "Comments" section of the order form). (See the Agreement Form and lessons order form.)

If you send lessons home to campers, include your own letter of encouragement and endorsement.

It's so easy—complete the online order form and ensure that your campers get some extra spiritual input.
---
You can also encourage the ongoing nurture and growth of your campers through your participation in one of two options:
Option #1: Honoring Camp Cards
Simply by honoring the camp cards which students earn doing D&J lessons you can encourage campers to:
continue their spiritual development through the David & Jonathan program
attend 

your

 camp for a week-long spiritual impact.
Option #2: Adopting the D&J Followup Program
By adopting the David & Jonathan program as your camp's followup program you can monitor the progress of your campers. You can also improve your camp's recruiting through use of the program. Some camps choose to give a lesson to each camper who makes a decision, thereby giving the camper the opportunity to grow when they go home.
Please see the camp agreement form that outlines the Camp's role and David & Jonathan's role in the process of following up and discipling campers. Your signature gives D&J permission to advertise your camp name to our students and assures us that you do indeed intend to use the David & Jonathan program.