presents "Know Your Bible" Level 4
Originally published by Ernest Manning's Radio Sunday School Mission
All the lessons in this series are based on Bible passages but with some imaginative scenarios added.
This lesson is based on the Scripture passage on this linked page.

presents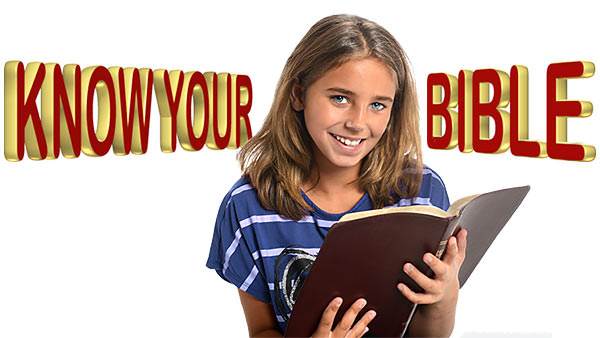 Level 4
Lesson 17: Jesus and the Nobleman's Son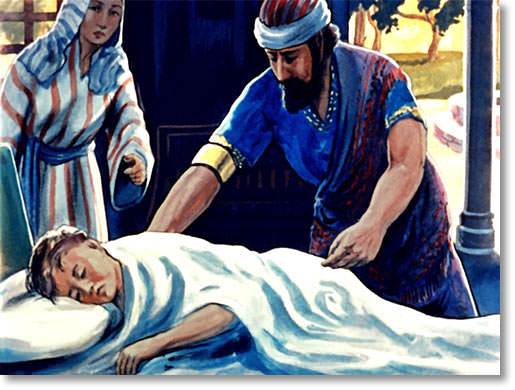 ---
In an earlier story we heard about the four fishermen of Capernaum who became friends of Jesus.
There lived in the same town a little boy named Reuben, whose father was a rich nobleman. One morning, when it was time to get up, Reuben felt very tired and hot, and had such a pain in his head. Poor little Reuben was very ill indeed.
Now the nobleman had heard how Jesus was going about the land helping to make people well and happy. He knew that when Jesus had been staying at Capernaum He had healed many poor people who were ill. As the nobleman saw his little son getting worse and worse he thought, "I wonder if Jesus will come and heal Reuben. I must go and find Him."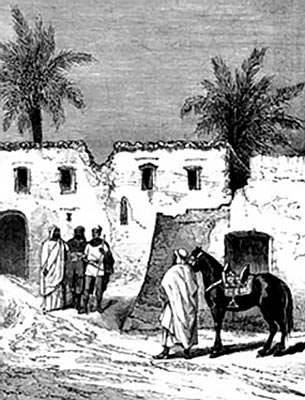 He crept softly out of Reuben's room into the bright sunshine in the courtyard. He called to a servant to bring him a horse and soon he was riding away to find Jesus. As he rode through the town he asked everyone, "Do you know where Jesus is?" And at last someone said, "Yes, Jesus is at Cana."
Away rode the nobleman, for he knew that Cana was miles away. It was nearly evening when he got there, but he soon found Jesus talking to some people in the marketplace.
The nobleman pushed his way through the crowd until he was near enough to speak to Jesus. He knelt on the ground and held out his hands to Him.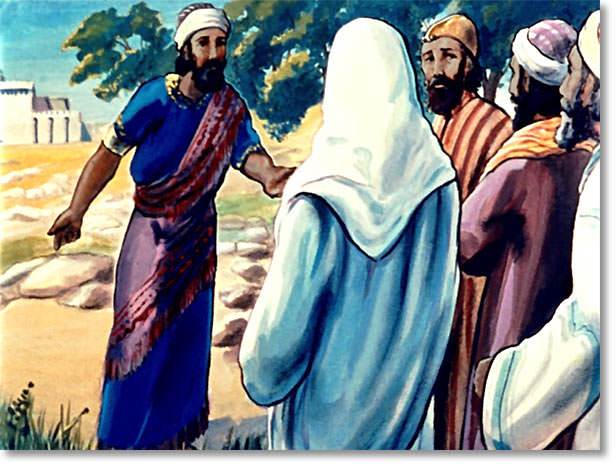 "Do please come and heal my little son," he cried. "He is very ill and at the point of death. Sir, come down before it is too late."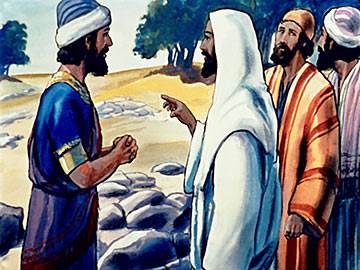 Jesus looked at him kindly for a moment, then said gently, "Go back to your house. Your little son lives."
The nobleman's face lit up with joy, for he knew that Jesus had in some wonderful way healed little Reuben without even seeing him. Thanking Jesus gladly he started for home at once, and rode all night.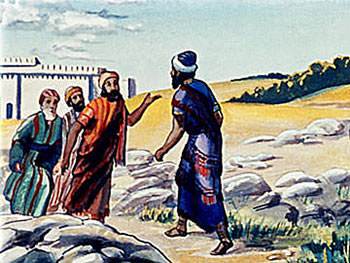 Early in the morning he saw some of his servants hurrying to meet him. "Your son is living," they cried excitedly.
"What time did he begin to get better?" asked the nobleman.
"About seven o'clock yesterday the fever left him," replied the servant.
"Why, that was just the time that I was talking to Jesus," said Reuben's father, as he hurried on.
When he reached home Reuben was sitting up and looking quite well. The nobleman told his little son how Jesus had made him well.
"How I wish I could thank Jesus," said Reuben. "I hope He will come soon, so that we can be His friends too."
---
(All the lessons in this series are based on Bible passages but with some imaginative scenarios added.)
Originally published by Ernest Manning's Radio Sunday School Mission