presents "Know Your Bible" Level 4
Originally published by Ernest Manning's Radio Sunday School Mission
All the lessons in this series are based on Bible passages but with some imaginative scenarios added.
This lesson is based on the Scripture passage on this linked page.

presents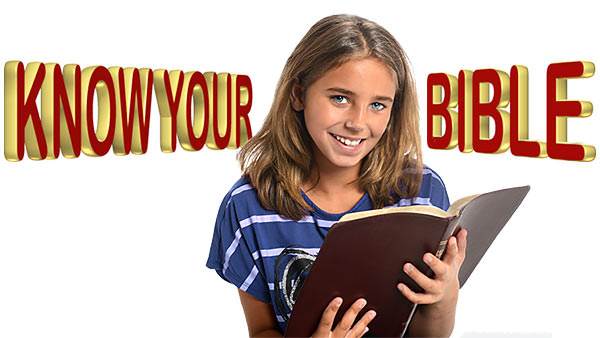 Level 4
Lesson 10: The First Christmas Night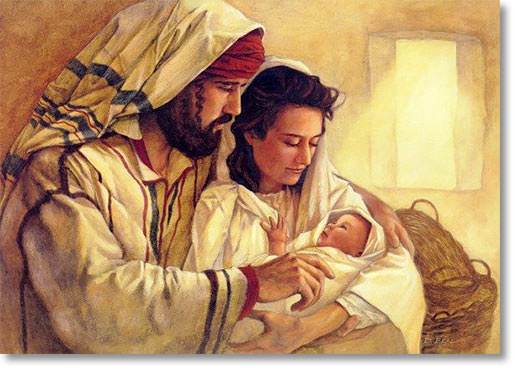 ---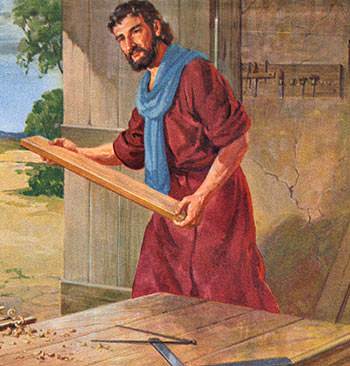 Mary and Joseph lived in a little white house with a flat roof. There was a workshop at the side, where Joseph sawed and hammered, and made tables and stools and all kinds of things out of wood. He was strong and kind, and looked after Mary.
While he worked in his carpenter's shop, Mary made the house bright and clean. She sang as she cooked and swept. She laughed with the children as they played outside her door. She smiled to the people as they passed down the street. She was very happy because she knew that by-and-by something wonderful was going to happen.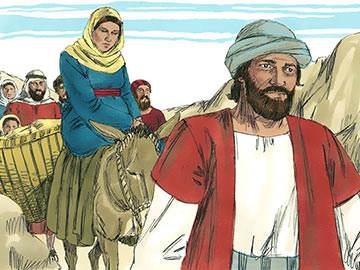 One day Joseph and Mary had to go on a long, long journey. Mary rode on a donkey, and held a bundle of soft white things. Joseph walked by her side and carried a basket of food and a bottle of water. All day the little donkey went trit trot, trit trot, trit trot, along the road, until night came and the stars twinkled in the dark sky.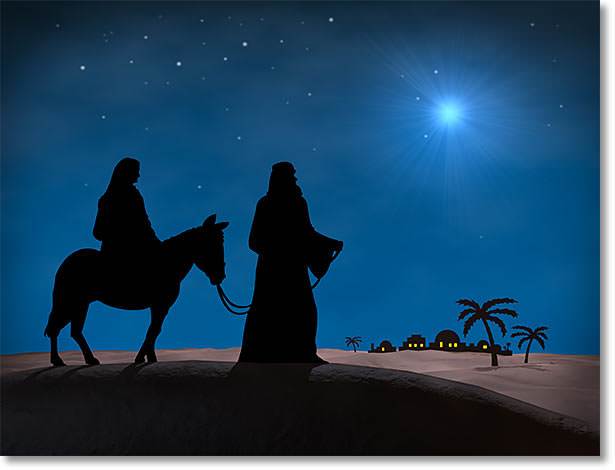 Mary was very tired, but when she looked up at the shining stars she smiled to herself because she knew of the wonderful thing that would soon happen.
By-and-by the donkey's hoofs clattered through a little town, but every house at which they stopped was full.
"No room," said one. "No room," said another. "No room," said everyone.
Then someone said, "My stable is empty except for the oxen, and there is fresh straw and hay."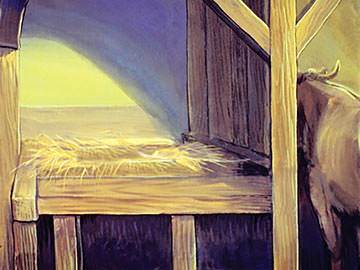 Mary was so tired that she was glad to find even a stable in which to rest. Joseph tied up the tired donkey, and made a warm bed of straw for Mary. It was dark inside the stable, but by the light of a little lamp Mary could just see a manger full of hay, and the oxen lying in a corner.
When all was dark and still, God sent His wonderful gift to Mary—a little baby Son. She wrapped Him in soft white clothes and laid Him on the hay in the manger, and Joseph took care of them both.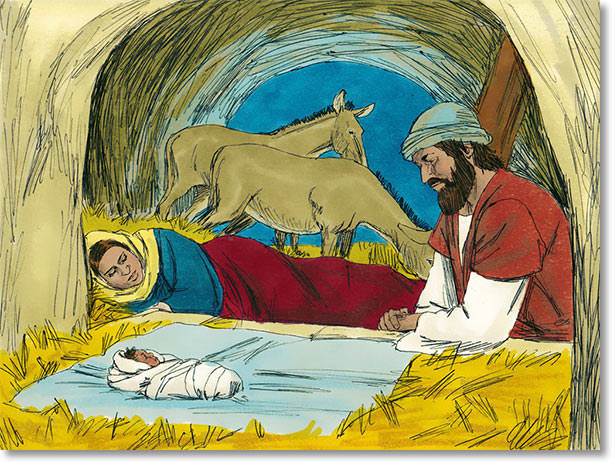 There was no one to see the Babe except the little grey donkey and the oxen, but Mary knew that one day everyone would be glad that Jesus was born on Christmas night.
---
(All the lessons in this series are based on Bible passages but with some imaginative scenarios added.)
Originally published by Ernest Manning's Radio Sunday School Mission