presents "Know Your Bible" Level 3
Originally published by Ernest Manning's Radio Sunday School Mission
All the lessons in this series are based on Bible passages but with some imaginative scenarios added.
This lesson is based on the Scripture passage on this linked page.

presents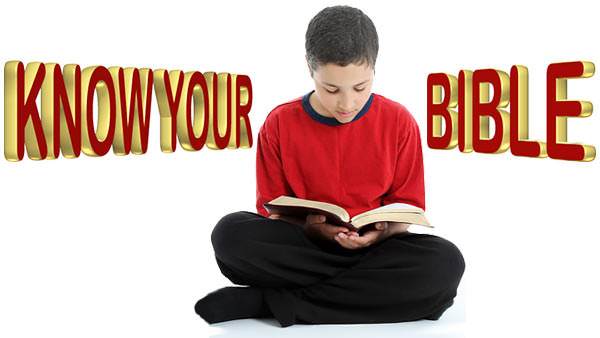 Level 3
Lesson 7: Moses goes to Midian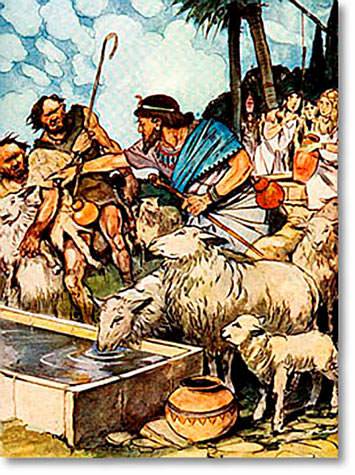 ---
We often hear about shepherds in the Bible. This story is about seven girls who looked after their father's sheep—shepherdesses. They lived in a lonely and quiet land called Midian. They had tents for houses, and every day they took their father's flock to find pasture.

At midday they led their flocks to the well. Now the well was covered with a large, flat, round stone, and the custom was to wait until all the shepherds had gathered, and then one would lift off the stone.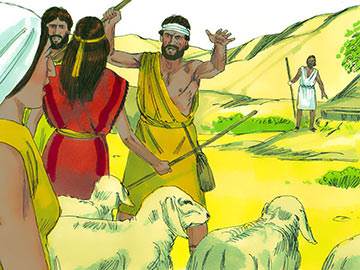 One day they came to the well, drew water in their pitchers after the stone was lifted, and filled the troughs to water the flocks.
But some rude shepherds came up, and drove them away, and began to get water for their own flocks.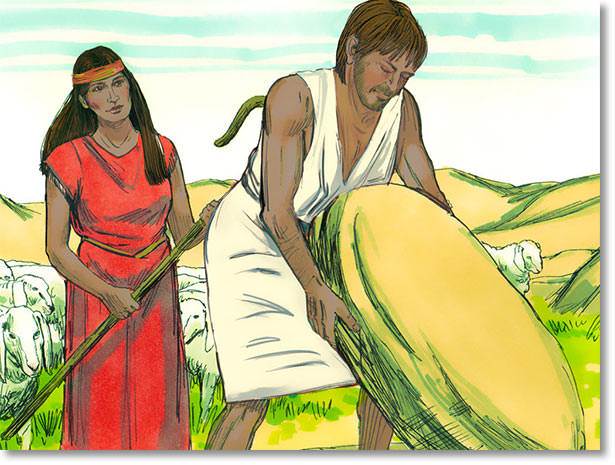 A stranger was sitting near the well, and when he saw the rude, rough shepherds he came up and drew water himself for the seven shepherdesses to help them. The shepherds must have been ashamed, for they let the stranger go on with the work.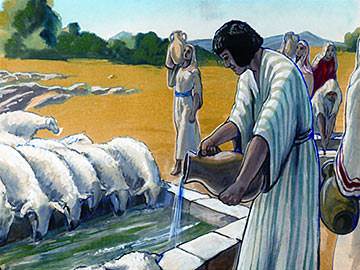 The troughs were filled and re-filled until all the sheep had enough.
When the shepherdesses went back to their tent home, their father said, "How is it that you are home so soon today?" They said, "An Egyptian saved us from the rough shepherds and he also drew water for us, enough for all the flock."
The father said, "Where is he? Why have you left the man? Call him that he may have supper with us."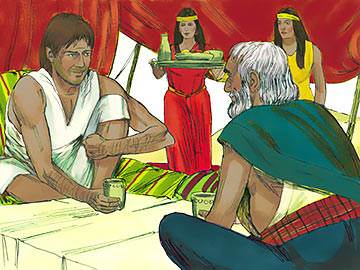 So the girls got the stranger, and he had supper in their father's tent. They learned that his name was Moses. He was the very same man you read about last time, who had been put in the basket in the rushes. His sister was Miriam, and the princess had made him her son.
But now he had come to the land of Midian. He married one of the seven shepherdesses and became a shepherd himself. After a while he and his wife had a little son of their own who grew and played happily among the tents and flocks.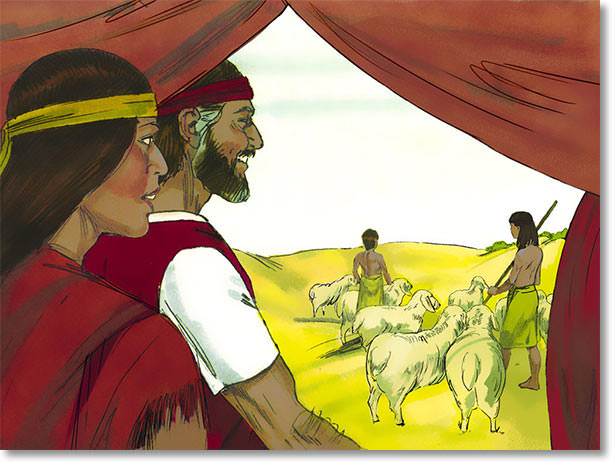 ---
(All the lessons in this series are based on Bible passages but with some imaginative scenarios added.)
Originally published by Ernest Manning's Radio Sunday School Mission