presents "Know Your Bible" Level 1
Originally published by Ernest Manning's Radio Sunday School Mission
All the lessons in this series are based on Bible passages but with some imaginative scenarios added.
This lesson is based on the Scripture passages on this linked page.

presents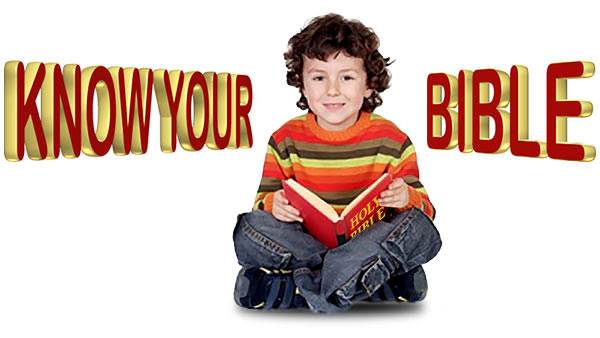 Level 1
Lesson 2: Working Together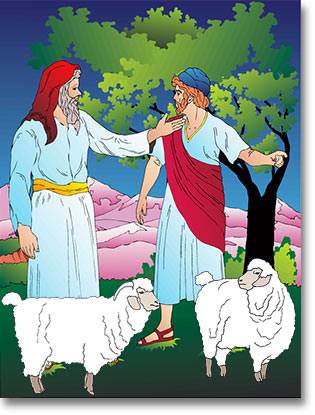 ---
Abraham and Lot were shepherds. Abraham was Lot's uncle. Lot lived with his uncle Abraham in a big tent home. When Abraham took down his tent and moved to a new place Lot went, too.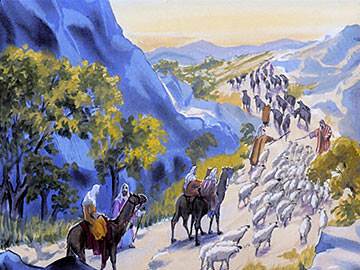 Even though he lived in a tent home Abraham was very rich. He had much silver and gold. He had many flocks of sheep. He had hundreds of cows and goats and camels. He had a great many servants to take care of the sheep and the cows, and to watch the goats and camels.
Abraham was a very great man.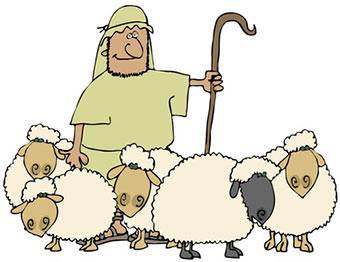 Lot was rich, too. He, too, had hundreds of sheep, cows, goats and camels. He, too, had a great many servants.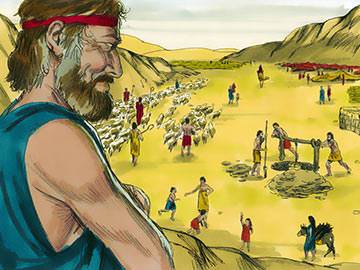 Each day the servants of Abraham and the servants of Lot took their flocks of sheep out to find grass. And then trouble began. For both Lot's servants and Abraham's servants tried to get the place where the best grass grew for their sheep. Both Lot's servants and Abraham's servants wanted to be first at the wells where they got water for their sheep.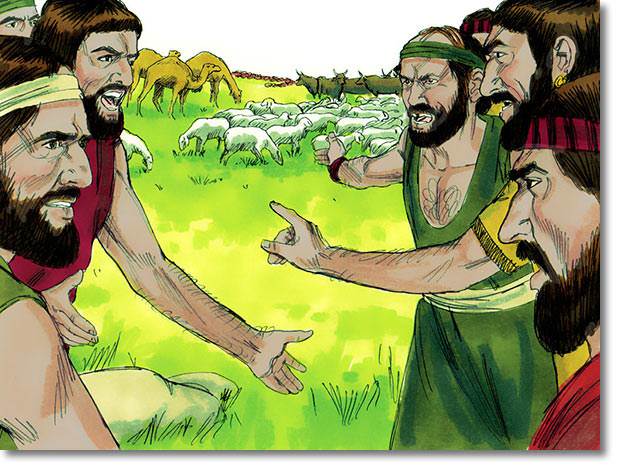 "We were here first," Lot's servants would cry angrily.
"Our master is greater than yours, so we have a right to the place," Abraham's servants would answer.
And so the servants quarreled among themselves. They could not work together happily at all.
One day Abraham was out walking. He heard the loud and angry voices. He listened. He could hear the servants quarreling. And Abraham was sorry. He did not want his servants and Lot's servants to fight among themselves.
Abraham went to find Lot. He took him up on a hill where they could see all the land around them.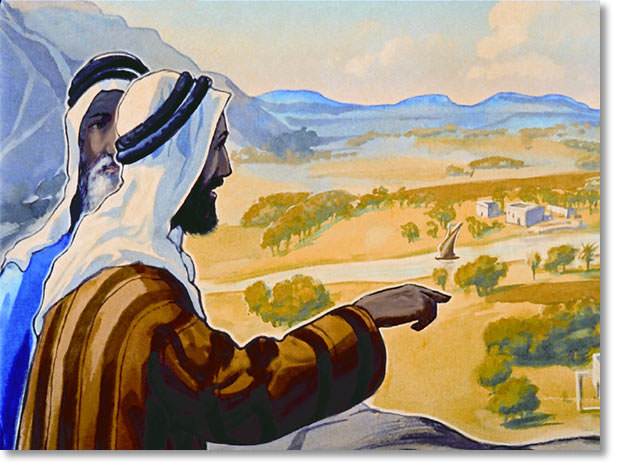 Then Abraham said to Lot, "There must be no quarreling between you and me, and between your servants and my servants. Do you see the whole land here before us? There is room for all of us to live and work without quarreling. There is grass for your sheep and mine. There is water for all.
"So now," said Abraham, "we must make a plan so our servants will not quarrel. You can choose whatever part of the land you like for your servants and for your sheep. And I will take what is left. Take whichever part you like."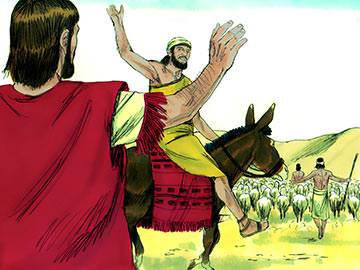 Lot stood by Abraham and looked at all the country before them. Then he said, "I will go to the east." So Lot took his tents and gathered together his flocks and herds and moved to the east.
Abraham was happy because he had put an end to the quarreling. And God was pleased with Abraham, too.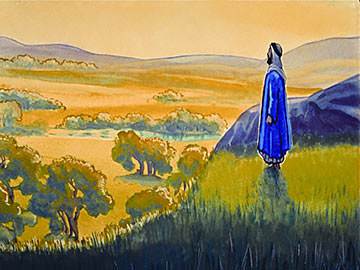 One day after Lot had left him, God spoke to Abraham and said,"Lift up your eyes and look. As far as you can see, north and south and east and west, I will give the land to you and to your people forever."
---
(All the lessons in this series are based on Bible passages but with some imaginative scenarios added.)
Originally published by Ernest Manning's Radio Sunday School Mission