presents "Know Your Bible" Level 1
Originally published by Ernest Manning's Radio Sunday School Mission
All the lessons in this series are based on Bible passages but with some imaginative scenarios added.
This lesson is based on the Scripture passage on this linked page.

presents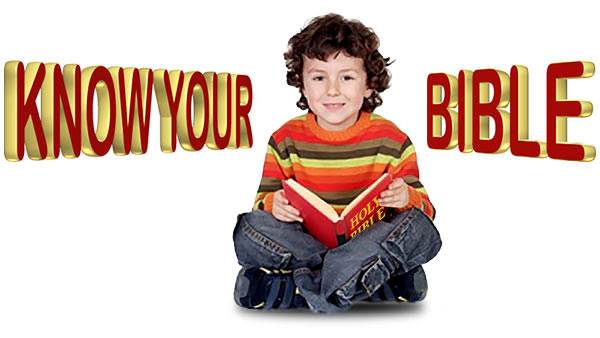 Level 1
Lesson 10: God Provides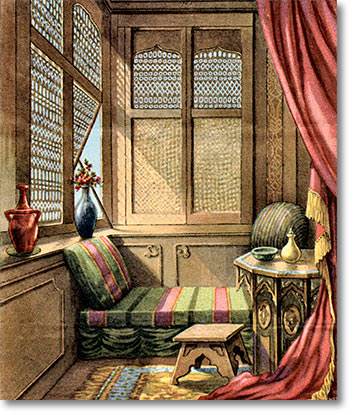 ---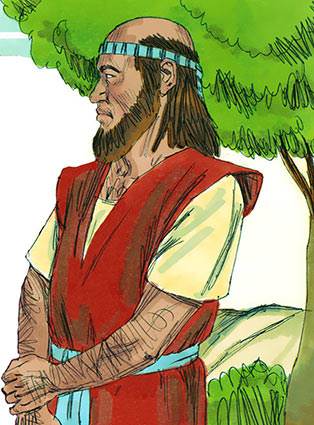 There was once a man who was away from home most of the time. His name was Elisha. Elisha was a special friend of God. The reason that Elisha could not stay at home was because he traveled about from one place to another helping people. He went to carry messages that God gave him. Elisha traveled alone, except for one servant, Gehazi. Gehazi went everywhere with him, and was his helper.
Often in the morning Elisha did not know where he would sleep that night. When he ate breakfast he did not know where he would eat supper. Elisha cared more about helping people than about eating and sleeping. He was always ready to go where anybody needed him. No matter how tired he was, he would start the moment he knew somebody was in trouble.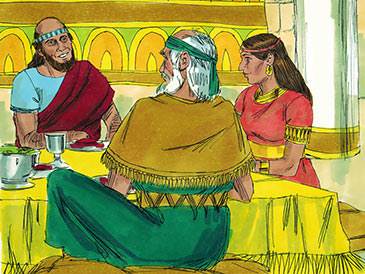 Now, it happened that one day Elisha came to a rich woman's house. She asked Elisha to come in and have something to eat. He was glad to do so. When he had eaten he felt rested and went on his journey.
Often after this Elisha stopped at the rich woman's house and ate and rested. It was very pleasant to have a place like this where he might go. When he was traveling he tried to get to her house at dinner time or at supper time. He was sure of a welcome there.
One day the rich woman said to her husband, "I can see that this is a real friend of God who passes by us so often. Let us make a little room on the roof, and let us set for him there a bed, and a table, and a chair, and a lamp. Then when he comes to us he can go in there."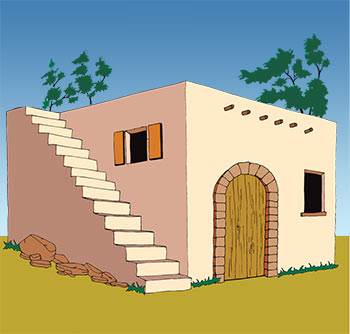 The roof of the rich woman's house was not pointed. It was flat, like a floor. There was a wall around it. Stairs led up from the ground to the roof. These stairs were outdoors, so that anyone could get up to the roof without going into the house.
The rich woman had a room built on this flat roof. It was only a little room, but it was large enough for one man. In it there were four things—a bed, table, chair, and a lamp.
The next time Elisha came to the rich woman's house he stopped as usual and ate. After he had eaten she took him outdoors, and up the outside stairs. Up, up they went, until they reached the roof. Elisha wondered why the rich woman was taking him there. She led him to the corner, where the little room was built. She opened the door and Elisha looked in. There he saw a bed, table, chair and a lamp.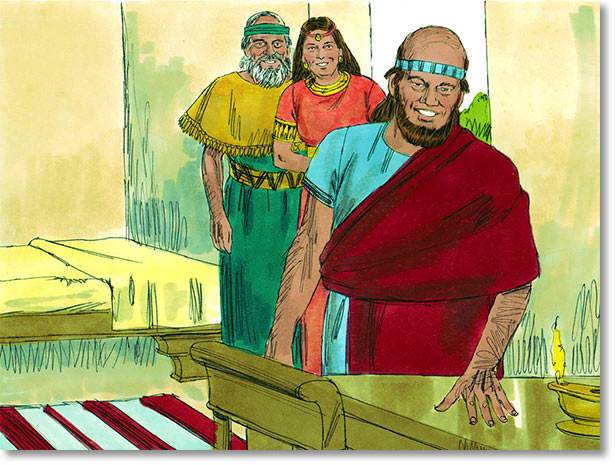 "It is for you," the rich woman said. Oh, how pleased Elisha was! It made him happy to know that somebody was taking care of him.
Now whenever he came to the rich woman's house he went up the outside stairs to the little room on the roof—his own little room. Sometimes he sat in the chair and rested. When it grew dark he lit the lamp on the table. If he came past at night, he knew that a bed was waiting there for him.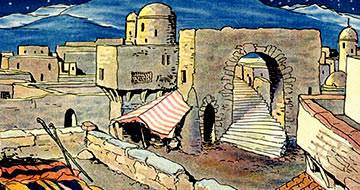 It was cool on the roof for the winds blew there. It was quiet, for it was above the street. At night he could step out of his door and watch the stars. In the morning he could see the sun shining on the white roofs of the houses.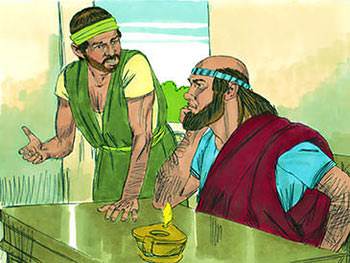 Sometimes he ate supper with the rich woman before he went up to his little room. When he was very tired he climbed the stairs without her knowing it, and Gehazi, his servant, waited upon him.
When he was traveling about helping people he would often think of his little room on the roof. He would think of the chair where he could sit and rest. He would think of the lamp on the table, which he could light. He would think of the bed waiting for him when night came. When he was hot he would think of the cool winds that blew over the roof where his little room was. He remembered how at night God's stars kept watch.
Elisha never forgot who thought of the little room, with its bed, table, chair and lamp. It was pleasant to know that the good woman was showing her love to him, who only a little while ago was a stranger.
---
(All the lessons in this series are based on Bible passages but with some imaginative scenarios added.)
Originally published by Ernest Manning's Radio Sunday School Mission