Used with permission: Character by Character compiled by Selwyn Hughes and Trevor Partridge. Copyright © CWR (www.cwr.org.uk).
---
Scripture passages referenced and linked in this lesson are written out for your convenience on this page.
---
For other stories about Moses, see these lessons in audio-visual format:

presents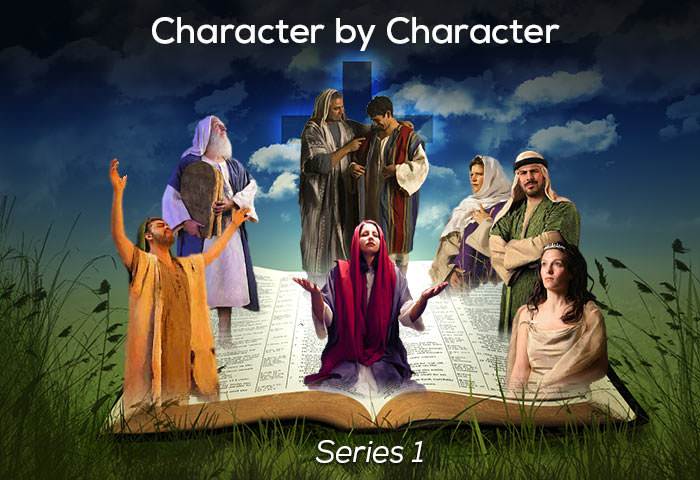 Lesson 7: Moses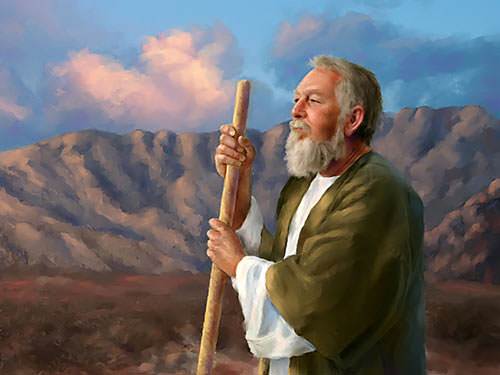 Scripture passages referenced and linked in this lesson are written out for your convenience on this page.
Moses: "Drawn forth" or "extraction"
Moses the murderer
Exodus chapter 2 (click the link to read the passages)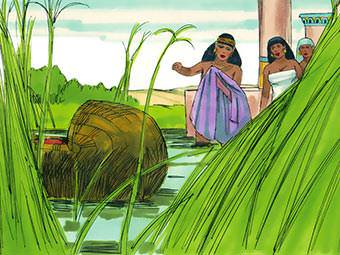 Moses was born under the sentence of death—an edict given by the Pharaoh who ruled at that time. He was placed by his mother in an ark of bulrushes, however, cast upon the waters of the Nile and eventually saved by Pharaoh's daughter. Moses' sister, who was watching nearby, suggested a nurse for Moses—his real mother, Jochebed. Though educated and brought up in Pharaoh's household, Moses learned from his true mother of his real identity and family history.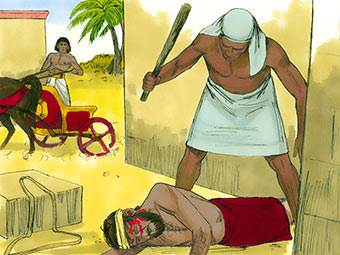 At the age of forty, seeing an Egyptian striking a Hebrew, he turns on the oppressor and kills him. Now the die is cast, and Moses has committed himself to the task of relieving the hard lot of his fellow Israelites.
For thought and contemplation:
It was natural that Moses should want to do something for the relief of his kinsmen, but it was an act done in the pride of his own strength. Moses was too strong. God can only entrust His power to men who are humbled and emptied and conscious, not of their power, but of their helplessness.
"…This is the word of the Lord to Zerubbabel: 'Not by might nor by power, but by my Spirit,' says the Lord Almighty." (Zech. 4:6, NIV)
Moses the mumbler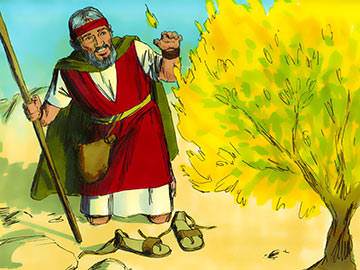 Moses' life can be divided into three 40-year periods: (1) 40 years in Pharaoh's palace (Acts 7:23); (2) 40 years in Midian (acts 7:29-30); and (3) 40 years in the wilderness (Acts 7:36). At the end of Moses' time in Midian, God called and commissioned him to lead Israel out of bondage. Moses' initial response to this call is to offer one excuse after another. First: "Who am I, that I should go?" (Ex. 3:11, NIV). Second: "What shall I say Your name is?" (3:13). Third: "What if they do not believe me?" (4:1, NIV). Fourth: "I have never been eloquent…I am slow of speech and tongue" (4:10, NIV). Even after God answered his excuses, Moses still asks that someone else should be sent instead (4:13).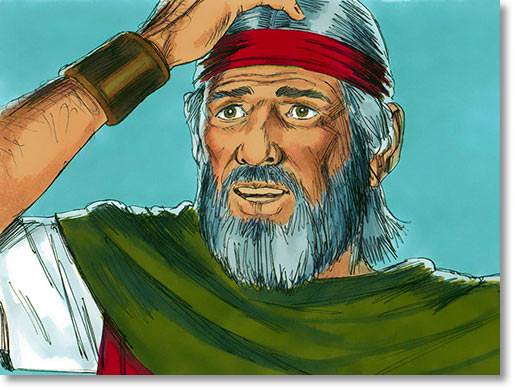 For thought and contemplation:
When God prepares us and calls us to a specific task, it is pointless to fall back on excuses—for one of God's principles is that where His finger points the way, His hand will be open to supply our every need. Never forget that the task ahead of us is never as great as the power behind us.
"But God chose the foolish things of the world to shame the wise; God chose the weak things of the world to shame the strong. He chose the lowly things of this world and the despised things…to nullify the things that are." (1 Cor. 1:27-28, NIV)
Moses the messenger
Exodus chapter 5; 6:1-12; chapters 7 – 11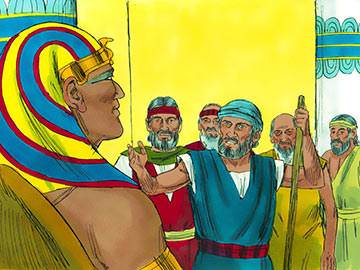 After receiving God's call, Moses and Aaron return to Egypt and, on God's behalf, issue the command to Pharaoh: "Let my people go". Pharaoh responds by increasing the workload of the children of Israel. Again the Lord reassures Moses that despite the obstacles, He will do what He has promised (see the seven "I wills" in Ex. 6:6-8). The contest between God and Pharaoh becomes extremely fierce, and the nation is beset with ten serious plagues. These plagues were not just the result of God's wrath, but were designed to reveal God's power and holiness (9:16), His judgment upon the gods of Egypt (12:12), to uphold and honour Israel (8:22-23), and as a testimony to future generations (10:1-2).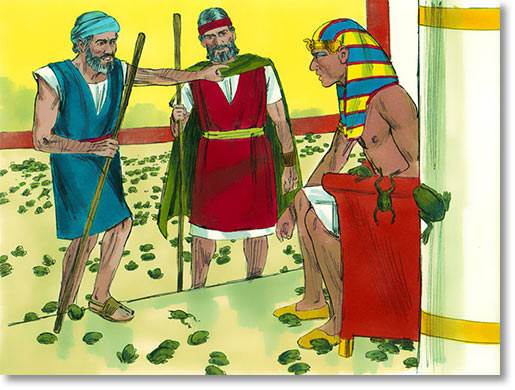 ---
Plagues sent under Moses' leadership
Purpose 1: To show Israel their true God.
Purpose 2: To show Egypt their false gods.

1. Water into blood — OSIRIS — Exodus 7:20
2. A frog invasion — HEKT — 8:6
3. Lice — SEB — 8:17
4. Flies — HATKOK — 8:24
5. Cattle disease — APIS — 9:6
6. Boils — TYPHON — 9:10
7. Hail with fire — SHU — 9:24
8. Locusts — SERAPIA — 10:13
9. Three-day darkness — RA — 10:22
10. Death of firstborn — ALL gods — 12:29
---
For thought and contemplation:
How easily we forget that when God decrees a thing, no matter who or what stands against Him, His purposes are always fulfilled. Has God decreed something in your life? Then be encouraged, for even though the timing of His purposes may not coincide with yours, He will most certainly bring them to pass.
"God is not a man, that he should lie, nor a son of man, that he should change his mind. Does he speak and then not act? Does he promise and not fulfil?" (Num. 23:19, NIV)
Moses the marcher
The death of the firstborn in Egypt and the institution of the Passover mark the end of Pharaoh's resistance to God's commands, and Moses and the nation take the first steps on their exodus from Egypt. No sooner have the children of Israel left Egypt than Pharaoh and the Egyptians say to themselves: "What have we done? We have let the Israelites go and have lost their services!" (Ex. 14:5, NIV). Pharaoh pursues them with his horses and chariots, and catches up with them at the Red Sea. Miraculously God opens up the Red Sea, and when Israel is safely across He causes the waters to return and drown the armies of Pharaoh.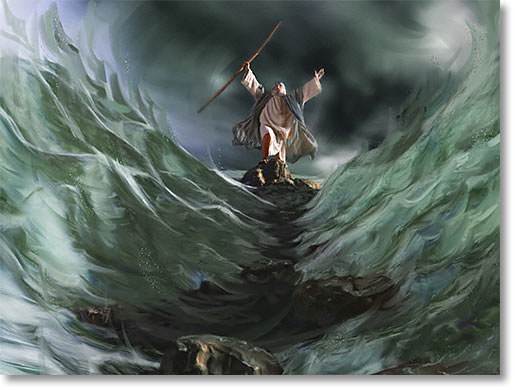 For thought and contemplation:
Are you facing a 'Red Sea' experience at this moment—difficulties ahead, danger behind? Then remember God's word through Moses: "Stand firm, and see the salvation of the Lord" (14:13, RSV). Stop struggling, stop striving—and EXPECT A MIRACLE!
"Jesus looked at them and said, 'With man this is impossible, but with God all things are possible.'" (Matt. 19:26, NIV)
Moses the mediator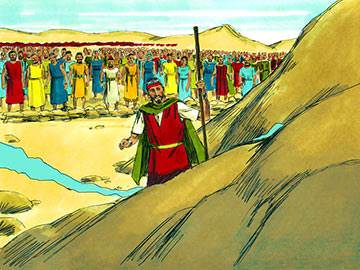 After the marvellous deliverance from Egypt and the opening up of the Red Sea, the children of Israel begin their pilgrimage toward the Promised Land with optimism and hope. Three days later, however, they find themselves dying of thirst, and are filled with indignation when they discover that the water at Marah is impure. Moses intercedes before God and he is shown how to make the water pure. Later, they complain that they have no food, but once again, Moses intercedes for them before God which results in the miraculous supply of manna. While at Rephidim, they complain because they have no water. Moses, in anger, strikes the rock. Finally Jethro, Moses' father-in-law, persuades Moses to delegate some of his responsibilities.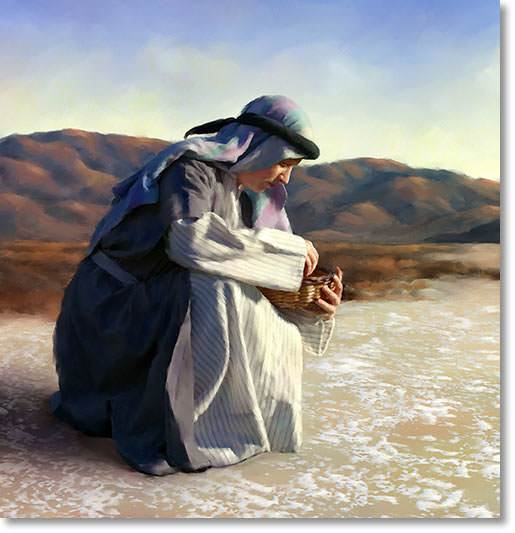 For thought and contemplation:
How did Moses, who was described as being the meekest man on earth, become so irritable and lose his temper? There may be a clue in the fact that Jethro suggested Moses might be doing too much and that he should delegate some of his responsibilities. Is God saying something through this to you?
"The end of a matter is better than its beginning, and patience is better than pride. Do not be quickly provoked in your spirit, for anger resides in the lap of fools." (Ecclesiastes 7:8-9, NIV)
Moses the minister
Exodus chapter 19; 20:1-21, 32:1 – 34:28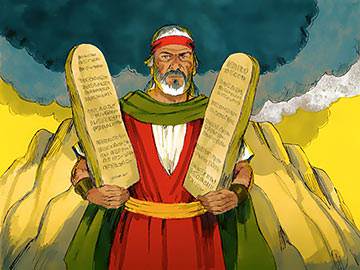 Without doubt the greatest event in Moses' life was receiving from God the Ten Commandments—the laws which were to inspire and shape the moral and religious life of mankind. While Moses is on the mountaintop with God, the children of Israel slip into idolatry. Moses is so angry that he breaks the two tablets containing the law. He later intercedes for the people and ascends again to Sinai where he receives a new copy of the Law. Moses then instructs the children of Israel to build and assemble the Tabernacle, a portable building in which God would dwell and have fellowship with His people.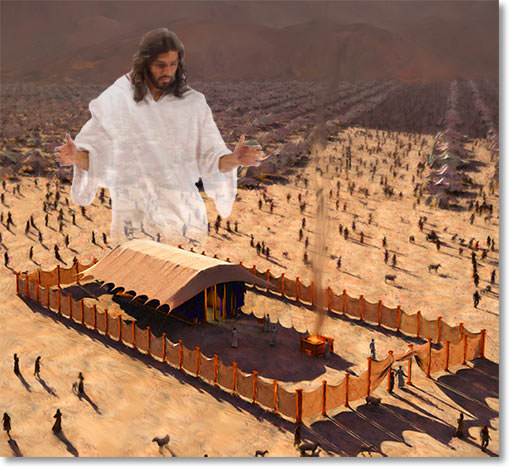 For thought and contemplation:
As you reflect on the beauty and wonder of the ancient tabernacle today, let your thoughts focus also on the Son of God, who tabernacled (John 1:14) among us, took on our flesh, ate with tax collectors and sinners, and was swift to forgive.
"…Now the dwelling of God is with men, and he will live with them. They will be his people, and God himself will be with them and be their God." (Rev. 21:3, NIV)
Mission unfulfilled
Numbers chapter 20; 27:12-23; Deuteronomy chapters 31, 32, 34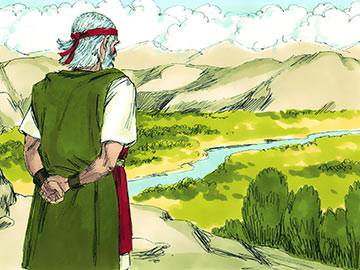 As a consequence of his sin (Numbers 20:1-12), Moses is forbidden to lead the children of Israel into the Promised Land, and eventually Joshua is chosen to be his successor. God allows Moses, however, to view the Promised Land from Mount Nebo. When, at the age of 120 years, Moses comes to die, a great and final honour is bestowed upon Him. No human hands bore the dead lawgiver and prophet to his grave; God buried him, and "to this day no one knows where his grave is" (Deut. 34:6, NIV). That is a fitting crown to such a life, for the memory of Moses lives on, not in a sepulchre, but in the hearts of men.
For thought and contemplation:
Although Moses, because of his sin, was forbidden to enter the Promised Land, he did eventually arrive there—in company with Elijah on the Mount of Transfiguration! The Law kept him out, but Grace—as expressed in Jesus—brought him in!
"For what the law was powerless to do…God did by sending his own Son in the likeness of sinful man…in order that the righteous requirements of the law might be fully met in us, who do not live according to the sinful nature but according to the Spirit." (Rom. 8:3-4, NIV)
The lesson to be learned from Moses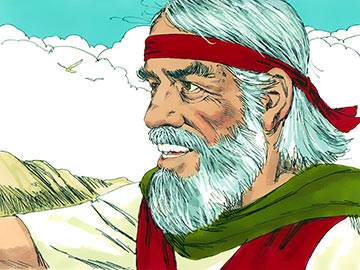 There is not a single character in the Old Testament who can bear comparison with Moses—his powerful reasoning with Pharaoh, his courageous journey through the wilderness, his amazing patience with the complaining, his magnanimity toward rivals, and his unfailing confidence in God's promises. One commentator says of him, "He is awesome and endearing, a maker of history and a friend of God". Perhaps the greatest lesson that comes out of his life is that we should pay as much attention to our strengths as we do to our weaknesses. Moses was noted for his meekness and humility (Number 12:3), but it was in this—an area of strength—that he was tempted and gave way. Because of that particular lapse, he was shut out of Canaan.
---
Used with permission: Character by Character compiled by Selwyn Hughes and Trevor Partridge. Copyright © CWR (www.cwr.org.uk).
---
For other stories about Moses, see these lessons in audio-visual format: