presents "Know Your Bible" Level 2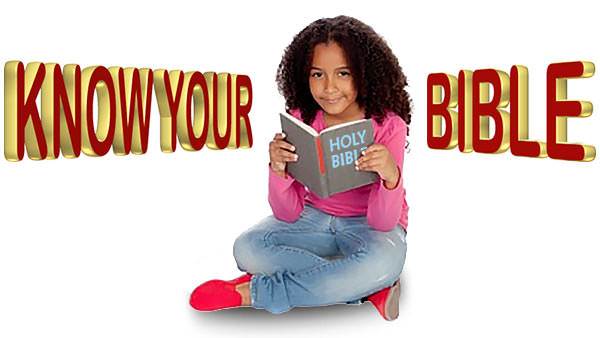 Level 2
Lesson 2: A Quarrel is Ended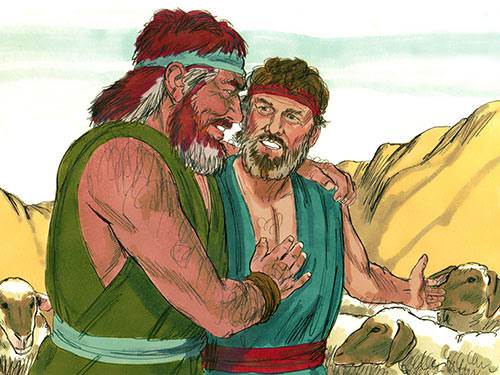 ---
SCRIPTURE PASSAGES
Genesis 27:41 - From that time on, Esau hated Jacob because their father had given Jacob the blessing. And Esau began to scheme: "I will soon be mourning my father's death. Then I will kill my brother, Jacob."
Genesis 28:5 - So Isaac sent Jacob away, and he went to Paddan-aram to stay with his uncle Laban, his mother's brother, the son of Bethuel the Aramean.
Genesis 31:17-19 - So Jacob put his wives and children on camels, 18 and he drove all his livestock in front of him. He packed all the belongings he had acquired in Paddan-aram and set out for the land of Canaan, where his father, Isaac, lived.
Genesis 32:13-21 - Jacob stayed where he was for the night. Then he selected these gifts from his possessions to present to his brother, Esau: 14 200 female goats, 20 male goats, 200 ewes, 20 rams, 15 30 female camels with their young, 40 cows, 10 bulls, 20 female donkeys, and 10 male donkeys. 16 He divided these animals into herds and assigned each to different servants. Then he told his servants, "Go ahead of me with the animals, but keep some distance between the herds." 17 He gave these instructions to the men leading the first group: "When my brother, Esau, meets you, he will ask, 'Whose servants are you? Where are you going? Who owns these animals?' 18 You must reply, 'They belong to your servant Jacob, but they are a gift for his master Esau. Look, he is coming right behind us.'" 19 Jacob gave the same instructions to the second and third herdsmen and to all who followed behind the herds: "You must say the same thing to Esau when you meet him. 20 And be sure to say, 'Look, your servant Jacob is right behind us.'" Jacob thought, "I will try to appease him by sending gifts ahead of me. When I see him in person, perhaps he will be friendly to me." 21 So the gifts were sent on ahead, while Jacob himself spent that night in the camp.
Genesis 33:1-17 - Then Jacob looked up and saw Esau coming with his 400 men. So he divided the children among Leah, Rachel, and his two servant wives. 2 He put the servant wives and their children at the front, Leah and her children next, and Rachel and Joseph last. 3 Then Jacob went on ahead. As he approached his brother, he bowed to the ground seven times before him. 4 Then Esau ran to meet him and embraced him, threw his arms around his neck, and kissed him. And they both wept. 5 Then Esau looked at the women and children and asked, "Who are these people with you?" "These are the children God has graciously given to me, your servant," Jacob replied. 6 Then the servant wives came forward with their children and bowed before him. 7 Next came Leah with her children, and they bowed before him. Finally, Joseph and Rachel came forward and bowed before him. 8 "And what were all the flocks and herds I met as I came?" Esau asked. Jacob replied, "They are a gift, my lord, to ensure your friendship." 9 "My brother, I have plenty," Esau answered. "Keep what you have for yourself." 10 But Jacob insisted, "No, if I have found favor with you, please accept this gift from me. And what a relief to see your friendly smile. It is like seeing the face of God! 11 Please take this gift I have brought you, for God has been very gracious to me. I have more than enough." And because Jacob insisted, Esau finally accepted the gift. 12 "Well," Esau said, "let's be going. I will lead the way." 13 But Jacob replied, "You can see, my lord, that some of the children are very young, and the flocks and herds have their young, too. If they are driven too hard, even for one day, all the animals could die. 14 Please, my lord, go ahead of your servant. We will follow slowly, at a pace that is comfortable for the livestock and the children. I will meet you at Seir." 15 "All right," Esau said, "but at least let me assign some of my men to guide and protect you." Jacob responded, "That's not necessary. It's enough that you've received me warmly, my lord!" 16 So Esau turned around and started back to Seir that same day. 17 Jacob, on the other hand, traveled on to Succoth. There he built himself a house and made shelters for his livestock. That is why the place was named Succoth (which means "shelters").
(Holy Bible, New Living Translation ®, copyright © 1996, 2004 by Tyndale Charitable Trust. Used by permission of Tyndale House Publishers. All rights reserved.)
---