under a special agreement with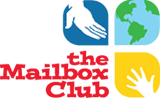 presents "New Life in Christ" Course 2

under a special agreement with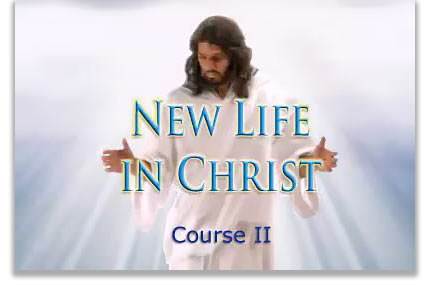 Lesson 3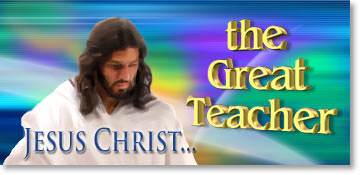 ---
Dear Friend,
In our first two lessons, we have come to know something of who the Lord Jesus is. He is the Christ, the promised Saviour, and He is the mighty God.
Jesus is also the greatest teacher who ever lived. There has never been a teacher like the Lord Jesus. Every word that He spoke is true. His words are the words of God. It was said of Him, "Never man spake like this man."
In this lesson we are going to study some of the things Jesus taught. We will be able to study only a few of His wonderful teachings.
Jesus Taught About: The Two Ways
Jesus taught that our life here is like a journey. Jesus said that the path of life divides into two ways: one is a broad road, and the other is a narrow road. We are free to choose the way we will take in life, but we should know where these two roads lead.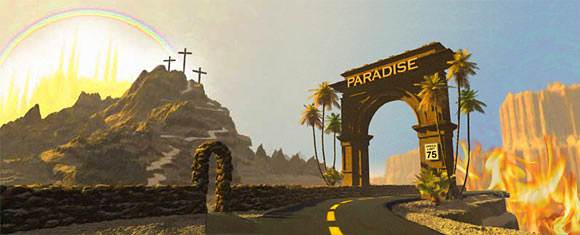 Jesus said that the broad road leads to destruction (hell), while the narrow road leads to Heaven. Jesus urged men to choose the narrow road. He said,
"Enter in at the strait gate: for wide is the gate, and broad is the way, that leads to destruction, and many there be which go in there at." Matthew 7:13
Jesus Taught About: Heaven and Hell
Jesus taught us that Heaven is a real place. It is a place which is prepared for those who love God. Jesus called it "My Father's house." He told His disciples,
"In My Father's house are many mansions: if it were not so, I would have told you." John 14:2

Jesus also taught that hell is a real place. He referred to it as "the fire that never shall be quenched." Jesus solemnly warned men of the consequences of sin.
Jesus Taught About: The Law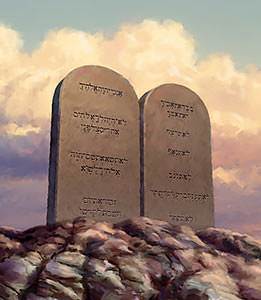 The Lord Jesus taught us that God's law was good and holy. Jesus said,
"Think not that I am come to destroy the law, or the prophets: I am not come to destroy, but to fulfil." Matthew 5:17
The Lord Jesus taught us that keeping God's laws is not simply a matter of obeying them outwardly, but we must keep them in our hearts. For example, the Bible says that if you hate somebody in your heart, you are a murderer in God's sight:
"Everyone who hates his fellow Christian is a murderer, and you know that no murderer has eternal life residing in him." 1 John 3:15 (NET Bible)
You might ask, "Has anyone ever kept the law perfectly?"
No, no one other than the Lord Jesus has ever kept God's laws perfectly. No one will ever be saved by keeping the law. The Bible says,
"By the works of the law shall no flesh be justified." Galatians 2:16b
"If no one will ever be saved by keeping the law, then why did God give us the law?"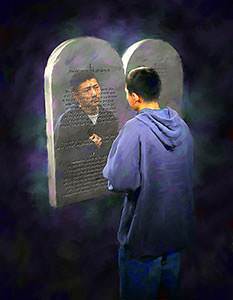 God gave us the law:
(1) that we might know what is right and wrong in God's sight, and
(2) that we might see that we are sinners and need a Saviour.
The Bible says,
"…the law was our school-master to bring us unto Christ…" Galatians 3:24
Right now, as you read the Ten Commandments, think about your life and see which commandments you have broken in word, thought, or deed.
Jesus Taught About: Repentance
The Lord Jesus made it clear that no one can be saved unless he repents. Jesus said,
"Unless you repent, you will all likewise perish." Luke 13:5
What is repentance? Repentance is a "turn-around"—a change of mind that leads to a change in conduct. It is turning to the Lord Jesus.
In Luke 15, the Lord Jesus told a story that illustrates what it means to repent. He told of a father who had two sons. The younger son came to his father and asked for his inheritance. The father did not want his son to leave home, but the son insisted, so the father gave him the money he was to inherit.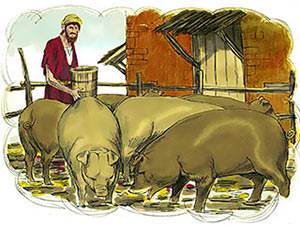 The son left and went into a far country where he wasted his money doing sinful things. A great famine came upon the country, and the son began to be in need. He became very hungry.
At last, he found a job, taking care of a herd of pigs. He was so hungry that he wanted to eat the husks he was feeding to the pigs. Then he began to think of the sinful way he had been living. He thought of the good things back at his father's house.
Finally, he said, "I will arise and go to my father and say to him, 'Father, I have sinned against heaven and against you. I am not worthy to be called your son. Just let me be one of your hired servants.'"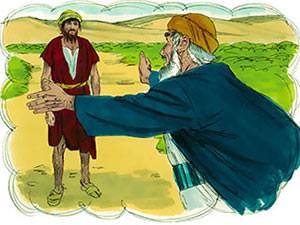 The son arose and went back to his father. When he was yet a great way off, his father saw him and ran to meet him. He put his arms about him and kissed him. He forgave his son freely and received him back into his home and commanded that a feast be prepared for him.
This is a beautiful picture of how God forgives us and receives us when we repent of our sins and come to him.
If a person has truly repented of his sins and been born again, there will be a change in his life. The Bible says,
"Therefore if any man be in Christ, he is a new creature: old things are passed away; behold, all things are become new." 2 Corinthians 5:17
Jesus Taught About: The New Birth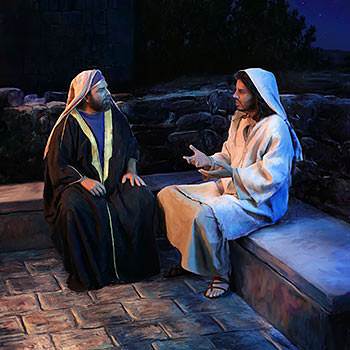 A man named Nicodemus came one night to talk to the Lord Jesus. This man was very religious. He attended the synagogue faithfully. He prayed much. He gave money regularly. He did many good deeds; yet he must have realized that something was missing in his life.
Nicodemus thought that perhaps Jesus could give him some new teaching that would help him. But Nicodemus needed more than new teaching—he needed to be born again into God's family. Jesus said to him,
"Truly, truly, I say unto you, Except a man be born again, he cannot see the kingdom of God." John 3:3
Nicodemus must have been shocked by Jesus' statement. Was he not a good moral man? Was he not very religious? Had he not given money for God's work? Was he not a teacher among the Jews? Yes, Nicodemus was all of these things, but he was not a child of God. Jesus said again,
"That which is born of the flesh is flesh; and that which is born of the Spirit is spirit. Marvel not that I said unto you, You must be born again." John 3:6, 7
This applies not only to Nicodemus but to every person. You, no matter who you are, must be born again.
Why must we be born again?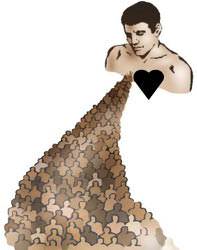 Because we are members of a sinful race that is condemned by God.
The first man, Adam, was created in the image of God. But Adam rebelled against God. He disobeyed God and he became a sinner. Because Adam was the head of the human race, he passed his sinful nature on to the whole human race.
Because we are sinners, we are condemned to eternal death which means to be separated from God forever, in the lake of fire. How terrible!
But there is good news in the Bible. The good news is that Jesus Christ, God's Son, died for our sins and rose again. He rose again to become the Head of a new race, the children of God. By our first birth, we became members of Adam's sinful family. When we receive Christ as our Saviour we become members of God's family. This is what it means to be born again.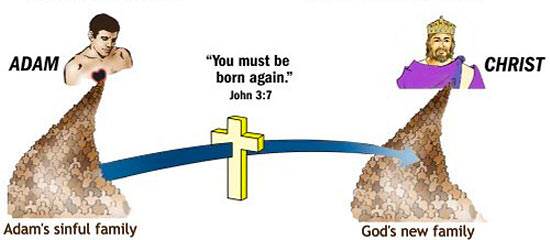 Jesus Taught About: Assurance of Salvation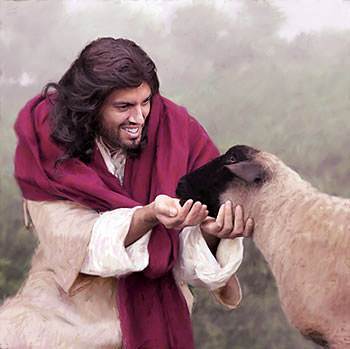 If you have been born into God's family, God wants you to know that you are saved. We can know that we are saved because God says so in His Word. Many believers do not have real assurance of their salvation because they are looking at their feelings instead of believing God's Word.
The Lord Jesus often referred to His believers as "sheep." He said,
"My sheep hear My voice, and I know them, and they follow Me: And I give unto them eternal life; and they shall never perish, neither shall any man pluck them out of My hand." John 10:27-28
What does Jesus say? He says that His sheep hear His voice and follow Him. Jesus says that He gives to them eternal life. He says that they shall NEVER perish. If we belong to the Lord Jesus, let us take Him at His word and say "I know that I am saved."
Jesus Taught About: Confessing the Lord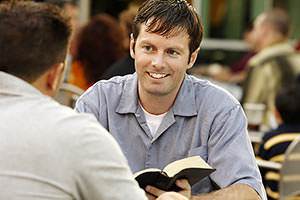 As soon as we know that we are saved, we should tell others that we have taken Christ as our Saviour. The Bible says,
"Let the redeemed of the Lord say so…" (Psalm 107:2).
In Mark chapter 5, we have the story of a man who was possessed of an evil spirit. Jesus cast the evil spirit out of the man and said to him, "Go home to your friends, and tell them what great things the Lord has done for you."
If you have received the Lord Jesus as your Saviour, the Lord wants you to tell your friends about it. A new Christian should begin immediately telling his friends, "I have taken Christ as my Saviour."
Jesus said that if we confess Him before men, He will confess us before His Father in Heaven; but if we are ashamed of Him, He will be ashamed of us when He comes again.
Jesus Taught About: The Holy Spirit
When Jesus was here on earth, He walked and talked with His disciples. The disciples enjoyed having Him as their teacher and their leader.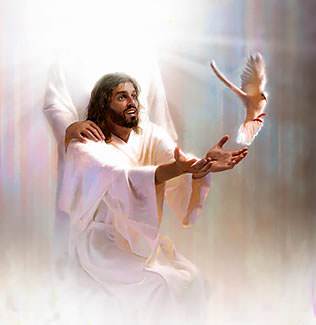 One day Jesus told them that He would soon be leaving them. This made them very sad, but Jesus comforted them with this wonderful promise:
"I will pray the Father, and He shall give you another Comforter, that He may abide with you forever; Even the Spirit of truth…you know Him; for He dwells with you, and shall be in you." John 14:16-17
This Comforter whom Jesus promised to send is the Holy Spirit. On the Day of Pentecost, fifty days after Jesus rose from the dead, the Lord Jesus sent the Holy Spirit to dwell in His disciples. From that time on, whenever a person is born again, the Holy Spirit comes to dwell in him immediately.
"Does every believer have the Holy Spirit dwelling in him?" Yes, he does. The Bible says,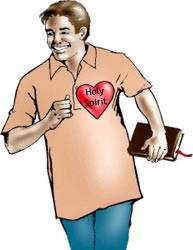 "If any man have not the Spirit of Christ, he is none of His." (Romans 8:9)
What does the Holy Spirit do? He teaches us about Christ, He guides us, He comforts us, He helps us pray, He gives us power to overcome sin, and He helps us to be more like the Lord Jesus. How thankful we should be that Jesus has sent the Holy Spirit to dwell in us.
Jesus Taught About: Forgiving Others
Jesus taught us that we must forgive others freely, even as God has forgiven us freely.
We have committed many, many sins against God. But God had mercy on us and forgave us of all our sins, thousands of sins. Since God has had such great mercy on us, we should forgive others of the few sins they commit against us. The Bible says,
"Be kind one to another, tenderhearted, forgiving one another, even as God for Christ's sake has forgiven you." Ephesians 4:32
Jesus Taught About: Loving Others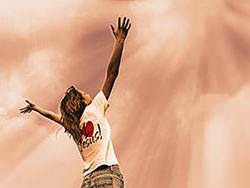 The Lord Jesus said that the greatest of all commandments is to love God with all our heart. Since Jesus is God, when we love Him, we are loving God.
The secret of a happy, fruitful Christian life is to love the Lord Jesus with all our heart. The more we love the Lord Jesus, the more we will enjoy Him.
Have you considered how much the Lord Jesus loves you? He loves you so much that He died on the cross for you. Because He loves us so much, the Lord Jesus wants us to love Him.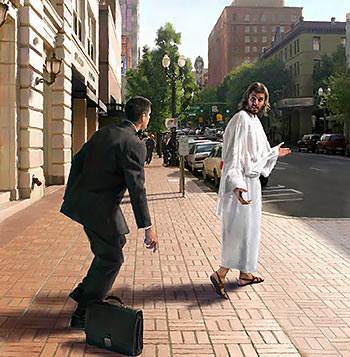 How do we show the Lord Jesus that we love Him? We show Him that we love Him by keeping His commandments. Jesus said,
"If you love Me, keep My commandments." John 14:15
There is a great reward in loving the Lord Jesus and keeping His commandments. If we love Him and keep His commandments, we will be loved of the Father, and Jesus will make His presence real to us. Jesus said,
"He who has My commandments, and keeps them, he it is that loves Me: and he who loves Me shall be loved of My Father, and I will love him, and will manifest Myself to him." John 14:21
---