under a special agreement with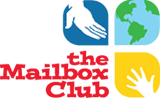 presents "New Life in Christ" Course 2

under a special agreement with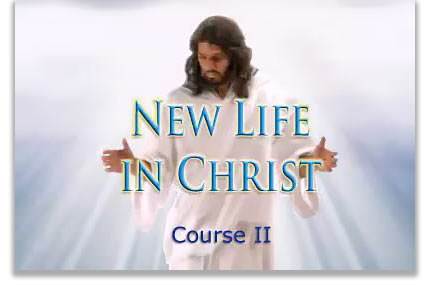 Lesson 12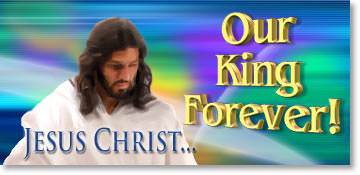 "…He is Lord of lords, and King of kings…" Revelation 17:14)
---
Dear Friend,
In the gospels, we see Christ as the suffering Savior—the One who died on the cross for our sins. In the Book of Revelation, God shows us a different picture of His Son. We see Him as the glorified Christ who sits at the right hand of God the Father.
Jesus Christ is King of Kings
When the Apostle John was on the island of Patmos, the glorified Christ appeared to Him. His face was brighter than the midday sun. His voice was as a thousand rushing rivers. His feet were as fine brass heated to a white heat. His eyes were as a flaming fire. (Revelation 1)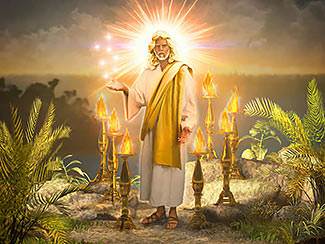 When John saw this mighty, glorified Christ, he fell at His feet as dead. Then the Lord Jesus laid His hand upon John and said,
"Fear not; I am the first and the last: I am He that lives, and was dead; and, behold, I am alive forevermore…" (Revelation 1:17-18)
This is the Lord Jesus Christ as He is today—He is King of kings and the Lord of lords! He is coming back to this earth, and He is coming soon! In this lesson, we want to see what His coming will mean to the believers and to the unbelievers.
The King is Coming to Destroy His Enemies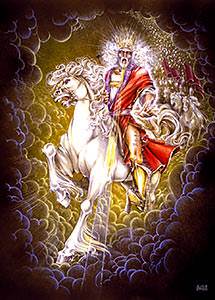 For those who have never accepted Christ as Savior and Lord, His coming will be a time of terror and judgment. Christ is coming to judge sin and to destroy His enemies. John wrote,
"Now I saw heaven opened, and behold, a white horse. And He who sat on him was called Faithful and True, and in righteousness He judges and makes war… And He has on His robe and on His thigh a name written: KING OF KINGS AND LORD OF LORDS." (Revelation 19:11, 16)
Wicked men will be so terrified when Christ comes that they will hide themselves in caves. They will call upon the rocks and mountains to fall on them to hide them from the face of Him who sits upon the throne and from His great wrath.
The Bible says that "the fearful" and the unbelievers and the wicked and all liars shall be thrown into the lake which burns with fire and brimstone.
Among "the fearful" are those who know they can be saved if they take Christ as their Savior, but they do not do so because they are afraid of what others may say. How terrible to be lost forever because of being "fearful."
The King is Coming to Take His Believers
For those of us who have trusted Christ as Savior, His coming will be a glorious time. He is coming to take us to be with Him forever!
First, we will go to Heaven with the Lord to be judged for what we have done after we were saved. Those who have faithfully served the Lord will receive wonderful rewards.
Later, we will return to this earth with the Lord Jesus when He comes in great power and glory to destroy His enemies and to set up His kingdom. We will reign with Him for 1,000 years. Then we will go to be with the Lord in Heaven forever!
What is Heaven Like?
Have you ever wondered what Heaven is like? Let us consider three things about Heaven:

Heaven is a city of beauty.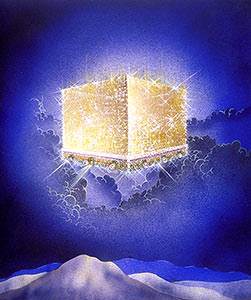 Heaven is more beautiful than we can ever imagine. The Apostle John said,
"And I John saw the holy city, new Jerusalem, coming down from God out of Heaven, prepared as a bride adorned for her husband." (Revelation 21:2)
The world has never seen a city like this one for the builder and maker of this city is God Himself. John describes it as having "the glory of God." John wrote,
"…her light was like a most precious stone, like a jasper stone, clear as crystal. Also she had a great and high wall with twelve gates, and twelve angels at the gates…The construction of its wall was of jasper; and the city was pure gold, like clear glass." (Revelation 21:11-12, 18)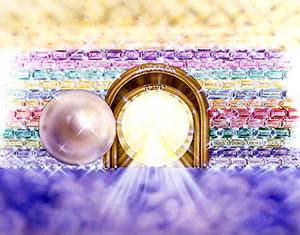 Just think! This city is made of pure gold, clear as glass. The foundations of the city are covered with all manner of precious stones. There are twelve gates, and each gate is a huge, beautiful pearl. Even the street of the city is pure gold!
This city has no need of the sun or the moon. God the Father and God the Son fill the city with light. The Bible says,
"…the glory of God illuminated it. The Lamb is its light." (Rev. 21:23)

Heaven is a city of abundance.
Many people have wondered about the size of the city of God. The Bible tells us that it is square and that it is approximately 1,500 miles in each direction. That is a lot of territory! Millions and millions of people will be there, yet no one will ever be hungry or lack anything. The Bible says,
"They shall neither hunger anymore nor thirst anymore…for the Lamb who is in the midst of the throne will shepherd them and lead them to living fountains of waters." (Revelation 7:16-17)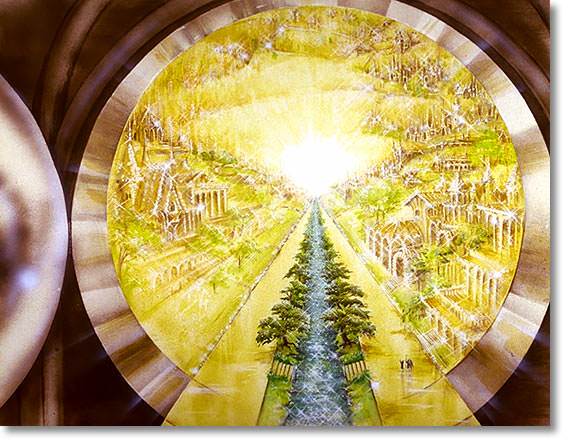 Heaven is a city of happiness.
The people who live in this city are happy. They love to sing songs of praise and thanksgiving to the Lord Jesus for what He did for them.
In Heaven there will be no sickness, no pain, no sorrow, no sin, and no death. All these things will be gone forever. The Bible says,
"And God will wipe away every tear from their eyes; there shall be no more death, nor sorrow, nor crying. There shall be no more pain, for the former things have passed away." (Revelation 21:4)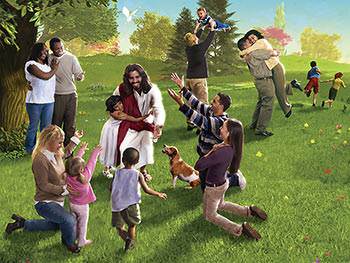 All our loved ones who trusted in Christ will be there. Some people wonder, "Will we know our loved ones in Heaven?" Yes, we will! We will know them and we will be with them forever. We will never have to say "Goodbye" to them again.
One of our greatest joys in Heaven will be meeting those we led to Christ. Think of how wonderful it will be if someone comes up to you in Heaven and says, "Do you remember the time you talked to me about Jesus? That was when I realized that I needed Him and I trusted Him as my Savior. I just want to thank you for telling me about the Lord Jesus so I could be here with Him in this beautiful place forever."
But the most wonderful thing about Heaven is this: God Himself will dwell with us. He will be our God, and we will be His people. Nothing will ever harm us or make us afraid. The Bible says,
"Behold, the tabernacle of God is with men, and He will dwell with them, and they shall be His people, and God Himself shall be with them, and be their God." (Revelation 21:3)
Who will Live in this City of our King?

The ones who live in the beautiful city of God are those whose names are written in the Lamb's Book of Life—that is, those who have received the Lord Jesus as their Savior.
In Heaven everyone loves and worships the Lord Jesus. You can walk the streets of Heaven a million years and you will never hear anything but words of worship and praise for Him. Since this is true, then those who do not love the Lord Jesus will have no part in this beautiful place.
What Will We Do in Heaven?
We will see

our King face to face. The Bible says,

"And they shall see His face."

We will sing

a new song—a song of praise to the Lord Jesus for what He did for us.

We will serve

our King. The Bible says,

"His servants shall serve Him."

We do not know exactly what this service will be, but we will enjoy it because we love Him.

We will reign

with our King. The Bible says that we shall reign with Him for ever and ever.

We will worship

our King. To worship the Lord means to adore and reverence Him because He is worthy.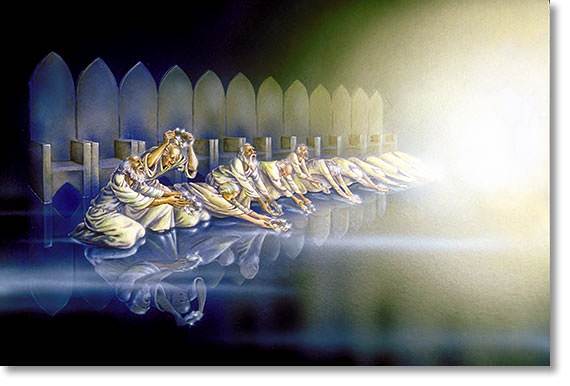 Jesus Christ is Worthy of All Worship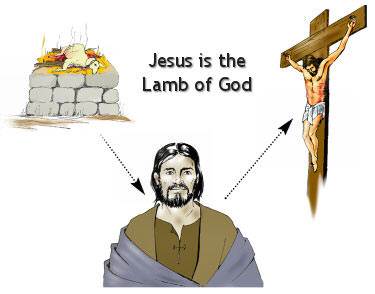 John saw the throne of God in Heaven. In the midst of that throne he saw "a Lamb as it had been slain." This is none other than the Lord Jesus Christ. The Lord Jesus has many titles, but none is more wonderful than the title "the Lamb of God."
What do we mean when we speak of Jesus as "the Lamb of God"? We mean that He died on the cross for our sins. The most precious truth in all the Bible is this: the Son of God loved us so much that He left Heaven and became a man so He could die for our sins. It is no wonder that all in Heaven love and worship Him.
The Bible says,
"To Him who loved us and washed us from our sins in His own blood…to Him be glory and dominion forever and ever." (Revelation 1:5-6)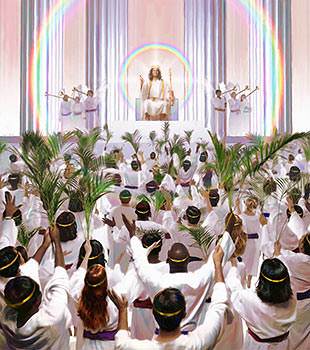 People from every tribe, language and nation in the world will gather around the throne of the Lord Jesus to sing His praises. The Bible says,
"And they sang a new song, saying: You are worthy…for You were slain, and have redeemed us to God by Your blood out of every tribe and tongue and people and nation, and have made us kings and priests to our God…" (Revelation 5:9-10)
John saw angels around the throne of the Lord Jesus. The number of them was so great that they could not be counted. They were worshipping the Lord Jesus saying,
"Worthy is the Lamb who was slain to receive power and riches and wisdom, and strength and honor and glory and blessing!" (Revelation 5:12)
Then John describes another scene in Heaven. This time he heard every creature in Heaven and earth worshipping the Lord Jesus saying,
"Blessing and honor and glory and power be to Him who sits on the throne, and to the Lamb forever and ever!" (Revelation 5:13)
Some day, with the millions of redeemed people, we will gather around the throne of the Lord Jesus to praise and worship Him. Our King is worthy of all worship!
The King is Coming!
Yes, the King is coming, and He is coming soon! The Lord Jesus said, "Behold, I come quickly…" (Revelation 22:12)
Soon we will be with our King forever! The trials and problems of this life will last only a short time—they will actually add to our glory in Heaven. The Bible says,
"For our present troubles are quite small and won't last very long. Yet they produce for us an immeasurably great glory that will last forever!" (2 Corinthians 4:17)
The sorrows and sufferings of this world are as nothing compared to the glory we will have one day. Paul the Apostle wrote,
"For I consider that the sufferings of this present time are not worthy to be compared with the glory which shall be revealed in us." (Romans 8:18)
How glorious is our future! We cannot even imagine how wonderful Heaven will be! The Bible says,
"Eye has not see, nor ear heard, nor have entered into the heart of man the things which God has prepared for those who love Him." (1 Corinthians 2:9)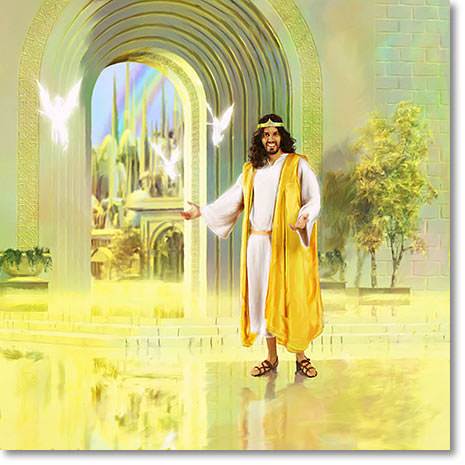 May the glories of Heaven so fill our minds that we will be joyful in the trials and sorrows of this life. May Christ's love so fill our hearts that we will live for Him. And may the hope of His coming so purify us that we will be ready when He comes. "Even so, come Lord Jesus!"
---