presents
"All About Me—the Big #1" series

presents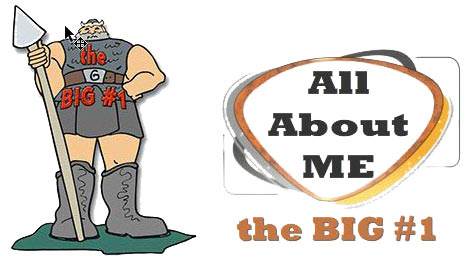 Lesson 16: One Body in Christ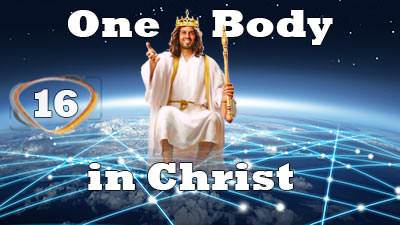 If the Lordship of Christ really took place, it would change things in six areas:
1. In my personal life.
2. In husband and wife relationships.
3. In family relationships.
4. In employer and employee relationships.
5. In the assembly/church.
6. Between the assemblies/churches.
Thus far we have talked at length on how these truths would affect the first four relationships. We now want to apply them to the last two.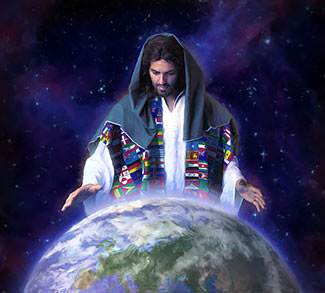 The Church is the Body of Christ worldwide. This Body is made up of blood-bought people who have their names written in the Lamb's Book of Life because they have placed their faith in Jesus Christ as Saviour. The Bible teaches us that Jesus Christ was to be our Lord and Saviour. The sad thing is that many who have accepted Christ as Saviour have not made Him Lord; and therefore, we are lacking oneness in the Body of Christ.
The Body of Christ is to be one and Jesus Christ is to be Lord and all of us are to be His servants to bring glory to Him. Jesus said,
"By this shall all men know that you are my disciples, if you love one another." John 13:35
It is the lack of Lordship that makes us so divided and holds back a mighty moving of the Spirit of God.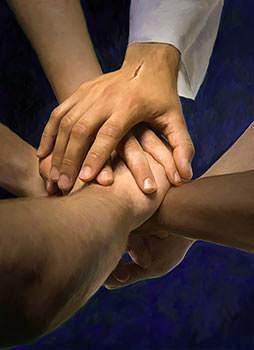 Note the areas of our oneness. I have heard many sermons on our distinctives but very few on our oneness. It would almost give one to believe there are those in leadership who do not want oneness of spirit. They speak of the mystical church as if brick and mortar are real, and people are mystical.
The wonderful thing is that Christ knows His bride; and when Jesus comes, He will gather His Body to Himself and the brick and mortar will be left behind. When we get to heaven the Lordship of Christ will be in control and there will be unity. Maybe we should ask ourselves what is keeping us so divided on earth.
The Bible tells us that there are seven mighty bonds which unite all true believers—those who have been born again of the Spirit of God:
"There is one Body, and one Spirit, even as you are called in one hope of your calling; One Lord, one faith, one baptism, One God and Father of all, Who is above all, and through all, and in you all." Ephesians 4:4-6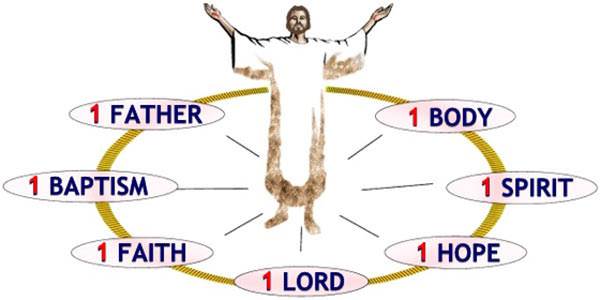 Let us consider each of these.
There is One Body
Every person who has received Jesus Christ as Lord and Saviour is a member of the Body of Christ. Christ has only one Body, and all believers are members of His one Body. Regardless of the colour of a person's skin, regardless of his race or nationality, regardless of his social standing, regardless of whether he is rich or poor, if he is a child of God he is a member of the Body of Christ and one with those of us who have been born again. The Bible says,
"For as we have many members in one body...so we, being many, are one Body in Christ, and every one members one of another." Romans 12:4-5
There is One Spirit
Every believer has the Holy Spirit dwelling in him. Because the Holy Spirit is one Spirit, He makes us one with all other believers. The Bible says,
"...he that is joined unto the Lord is one spirit." 1 Corinthians 6:17
There is One Hope
Every believer has the same hope—the hope of being with the Lord forever in glory. This hope is certain because Christ is living in us by His Spirit. The Bible says,
"When Christ, who is our life, shall appear, then shall you also appear with Him in glory." Colossians 3:4
There is One Lord
There is only one Lord, the Lord Jesus Christ. All who serve Him are serving the same Lord and are one in Him.
There is One Faith
True believers may differ on many matters of Scripture interpretation, but there is one faith which they all have in common—the faith that Jesus Christ is the Son of God and that He died for their sins and rose again from the grave. This is the faith through which every child of God is saved. The Bible says,
"For you are all the children of God by faith in Christ Jesus." Galatians 3:26
There is One Baptism
Every believer has been baptized into the Body of Christ. This is not the work of man, but the sovereign work of the Holy Spirit by which all who believe on the Saviour are made members of His Body. The Bible says,
"For by one Spirit are we all baptized into one Body..." 1 Corinthians 12:13a
There is One God and Father
There is only one God, the God and Father of our Lord Jesus Christ. All who have been born again are members of His family and have the same Heavenly Father.
---