on achieving

We have a gift for you to download, print and hang on your wall or put into a presentation book etc., as an award from David & Jonathan. The link for your award picture is at the bottom of this page.
But first, please read this important background about the two characters in the picture.
Who is David?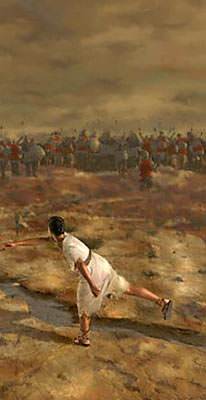 If you went out on the street and asked someone if they knew who David was in the Bible, they might say: "No." If they knew a little about the Bible, they might say: "Wasn't he the fellow who killed Goliath?" If they knew a little more about the Bible, they might say: "Wasn't he the one who wrote the 23rd Psalm?"
Further, if you were asked about who David was, you might say the shepherd boy, the one who had seven older brothers, the one who killed the mountain lion and the bear. Or you might say the one that God said was "a person after his own heart".
What does it mean to be "a person after God's own heart"? I like to think that he is one who loves the things that God loves, hates the things that God hates, chooses the things that God would choose and desires the things that God desires. In other words he has a heart that desires to please God. I'm sure this wasn't natural for David because he was born with a heart like the rest of us. He, however, had an encounter with God, and pursued after Him.
David was one who knew about the shed blood of the lambs and looked forward to the coming of the Lamb of God who would take away the sins of the world. When the Lord Jesus Christ came to earth, the angel (God's messenger) said, "He [Jesus Christ] would sit on the throne of David and rule over the house of Jacob forever" (Luke 1:32-33).
Who is David? God said in Acts 13:22, "I have found David, the son of Jesse, a man after mine own heart, who shall fulfill all my will." May God find many more modern-day "Davids."
When David slew Goliath he was invited to the White House of his day. It was there he met Jonathan the king's son and a friendship developed, and a covenant was made. We will talk about this some time soon.
Who is Goliath?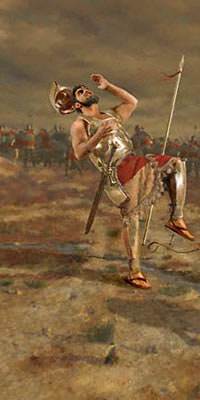 He was the giant who wanted to destroy David. He was David's enemy. He represented all that was bad or evil. David killed Goliath by God's help and evil did not have victory over him. If you want to know about "King Self" you could do the "All About Me — the Big #1" lessons some time.
Someone could look at you and say there goes a person that is always doing bad things or they could look at you and say there goes a person who is seeking to please God. These lessons that you are doing will help you to live for God if you want to. I want to live for God and be a person after God's own heart. I hope you do too.
If you keep doing these lessons we believe you will become like David as you learn to live for God. We have many more awards for you.
---
Here's your award picture!
Click the trophy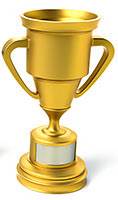 to open it.
(You need the free Adobe Reader to see it—go to this Adobe site first if you don't have a PDF reader installed in your computer.)
---
…of this description page. Keep the "description" page together with the picture as a reminder of the principle involved.
---
If you have any comments, problems or questions about these awards please email our . Thanks!