presents "Know Your Bible" Level 2
Originally published by Ernest Manning's Radio Sunday School Mission
All the lessons in this series are based on Bible passages but with some imaginative scenarios added.
This lesson is based on the Scripture passage on this linked page.

presents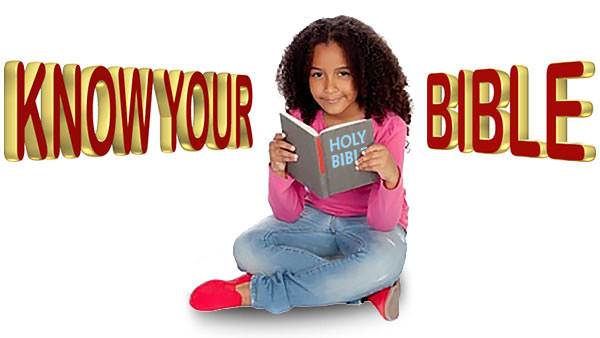 Level 2
Lesson 10: Princes Obey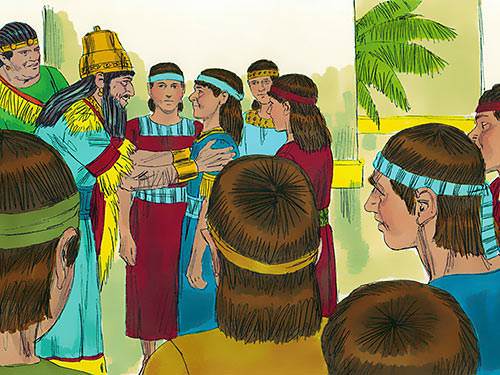 ---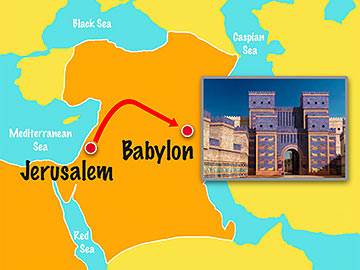 There were once four princes who were far away from their own homes. They were staying in the house of the king of another country. They were being trained to be the king's helpers. They went to school in the king's palace.
At home the fathers and mothers of these princes had taught them to eat good, plain food. They drank clear, fresh water. Before they ate they thanked the heavenly Father for their food. And so the four princes were straight and tall. They had rosy cheeks and bright eyes. They had eaten the kind of food that made them strong and well.
But here it was very different. The king sent food from his own table for those who were being trained to be helpers. The food was rich and sweet. There was wine instead of water to drink. Besides this, idols and not the heavenly Father had been thanked for the food.
Daniel and his friends had been taught by their parents that they should not eat such food.
Daniel said to the servant who had charge of them, "Please do not ask us to eat this food. Please let us have plain vegetables to eat and water to drink."
The servant loved Daniel. He wanted to please him. But he was afraid.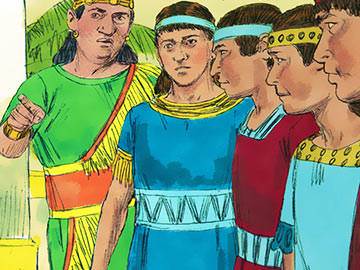 "The king has sent you this food from his own table," he said. "If you do not eat it I am afraid you will grow pale and thin. And then the king will punish me."
Daniel knew that good, plain food would never make anyone pale and thin. He knew the king's rich food would not help to keep them well.
"Try us for just ten days," he said to the servant. "For ten days let us have vegetables to eat and water to drink. If we do not then look as well as those who are eating the king's food we will do just as you say."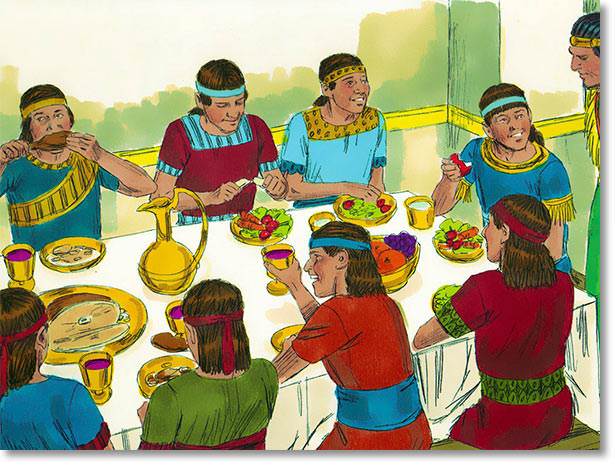 So the servant said he would try it for ten days. For ten days he brought them nothing to eat but good, fresh vegetables. He gave them water to drink instead of wine.
At the end of that time he looked carefully at all the young men. None of them looked so well as Daniel and his three friends. None of them had such bright eyes or such rosy cheeks.
Then the servant said to Daniel, "You may always have the kind of food you have been taught to eat."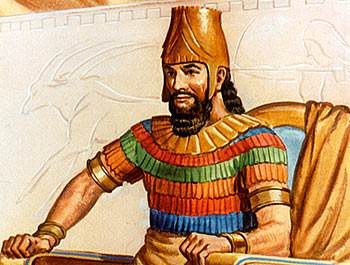 After a while the king sent for all the young men. He looked at them carefully. None were so straight and tall or strong and well as Daniel and his friends. The king asked them questions to find out what they had learned. None could answer so wisely or as well as the four princes.
The king was very much pleased with Daniel and his friends. They became his helpers and he trusted them with important work to do.
---
(All the lessons in this series are based on Bible passages but with some imaginative scenarios added.)
Originally published by Ernest Manning's Radio Sunday School Mission