The Program
Use of The Mailbox Club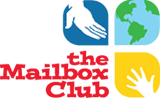 A majority of the lessons used by D&J come from materials originally copyrighted by The Mailbox Club and written by George Eager. Mr. Eager was a man uniquely gifted by God for this work. He began his ministry of writing Bible study lessons in the 1960s. He lived in Georgia, U.S.A. and founded The Mailbox Club Inc. which has well over 400 million lessons in print. John Mark Eager is now their Director.
David & Jonathan is most grateful to The Mailbox Club for providing us with these exceptional lessons under a special agreement which allows us to put these courses up on our website, making hundreds of life-changing lessons available to thousands of people across the world.
Vaughan Durston, our president, is also the national director of The Mailbox Club of Canada, under appointment of The Mailbox Club Inc.
We operate The Mailbox Club of Canada as a literature division of U.B. David & I'll B. Jonathan, Inc. under the direct personal supervision of Vaughan Durston. This division is set up for those who want to use the paper lessons in a class-teaching setting, or for those who would like to operate their own Mailbox Club.
We can be your source of supply—for materials only—for these situations. Materials include lessons, certificates, stars, record cards and related items needed for the proper maintenance of a Mailbox Club.
Individual lessons currently sell for 25¢ each (or 20¢ each in packages of 50 lessons). Booklet lessons sell for 50¢ per booklet. Shipping costs, if required, are extra.
Sampler lesson kits are also available. Each kit contains one sample lesson from each course, plus one sample certificate. Please contact Vaughan Durston for prices.
Please be aware that all the materials from The Mailbox Club of Canada are copyrighted and may not be reproduced. Also please note that the points system and awards offered in the D&J program are not available in this division.
If you wish to order materials from The Mailbox Club of Canada please go to their website.