under a special agreement with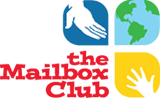 presents "Light from the Old Testament"

under a special agreement with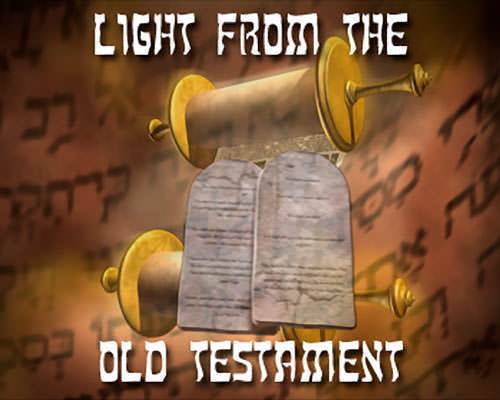 Lesson 1 (Part 3)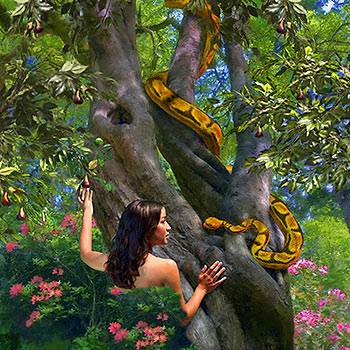 Soon after God created Adam and Eve and placed them in the Garden of Eden, Satan came to destroy God's handiwork. He did not boldly approach Adam to try to get him to disobey his Creator. Instead, he chose to deceive Eve. He told Eve that she would not die if she ate the forbidden fruit, but that she and Adam would be "as gods." Satan suggested that God was keeping back something good from them.
Adam was not deceived. He chose to disobey God. Since Adam was the responsible head of the first family, the Bible lays on him the blame for sin entering the world. God's Word says, "Wherefore, as by one man sin entered into the world…" (Romans 5:12)
God had told Adam and Eve that if they disobeyed Him, they would surely die. The immediate result of Adam's disobedience was death! What kind of death was it? It was spiritual death. We know that Adam did not die physically at once. He lived for hundreds of years after his act of disobedience. But he died spiritually.
In the Bible, death always means separation. We know what physical death is. It is the separation of the spirit from the body.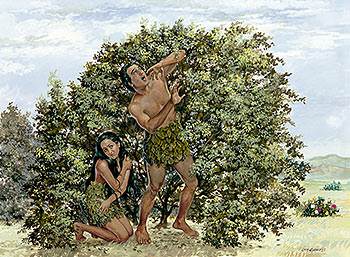 What is spiritual death? Spiritual death is the separation of man's spirit from God's Spirit. To be cut off from the life of God is to be dead spiritually.
The first thing Adam and Eve noticed after they had sinned was that they were naked. They were conscious that they were in a state utterly unsuited to God. They sewed fig leaves together to make aprons for themselves.
Adam and Eve's "fig leaves" are a type of man trying to make himself pleasing to God by his good works. But this was not acceptable to God.

God Himself made provision for Adam and Eve to be properly clothed for His presence. He clothed them with skins. Two innocent animals had to die to make the covering for two people who had sinned.
Those slain animals were a type of Christ who died for our sins. The animals' blood was shed for man's sin. The Bible says, "Without shedding of blood is no remission [forgiveness of sins]." (Hebrews 9:22)
---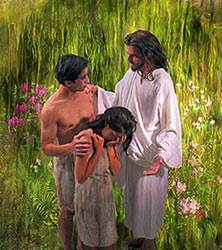 Sin always has terrible consequences. A holy and righteous God could not overlook the rebellion and disobedience of Adam and Eve. He could not pretend that nothing had happened.
That same day, in the cool of the evening, God came seeking Adam and Eve. They were not seeking God, but God was seeking them. Throughout the Bible, it is not the sinner who is seeking God, but God seeking poor, lost sinners, that He might bring them to Himself.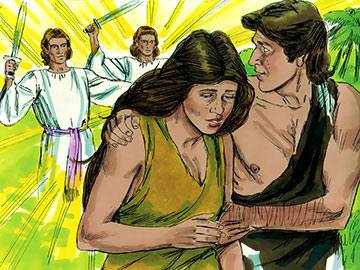 God loved Adam and Eve, but now sin had come between Himself and them. God pronounced His judgment upon them. They would have to leave the beautiful Garden of Eden. Hereafter, man would have to work hard to get his food from the ground. Eve would be subject to her husband and would bear children in sorrow and pain. The ground itself would be cursed because of their sin.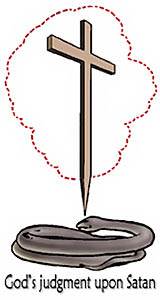 To the serpent who had been used by Satan to deceive Eve, God said, "Upon your belly shall you go, and dust you shall eat all the days of your life." To Satan himself, God said, "I will put enmity between you and the woman, and between your seed and her seed." (Genesis 3:14-15)
Then God gave the first promise concerning the coming Savior. God said, "It ['the seed of the woman'—Christ] shall bruise your head, and you shall bruise His heel." God was saying to Satan, "You will wound the coming Savior, but He will deliver a death-blow to you." This is the first promise in the Bible of the coming of the Lord Jesus, who would defeat Satan.
---