presents "Know Your Bible" Level 2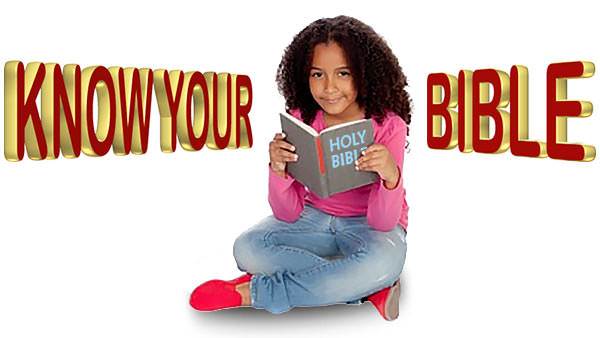 Level 2
Lesson 6: Two Friends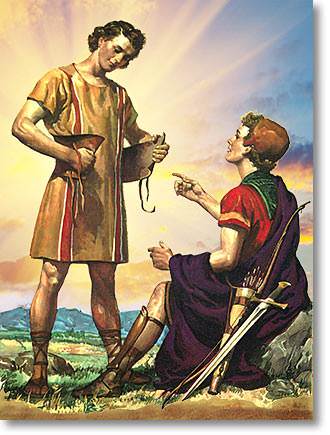 ---
SCRIPTURE PASSAGES
1 Samuel 16:14-23 - Now the Spirit of the Lord had left Saul, and the Lord sent a tormenting spirit that filled him with depression and fear. 15 Some of Saul's servants said to him, "A tormenting spirit from God is troubling you. 16 Let us find a good musician to play the harp whenever the tormenting spirit troubles you. He will play soothing music, and you will soon be well again." 17 "All right," Saul said. "Find me someone who plays well, and bring him here." 18 One of the servants said to Saul, "One of Jesse's sons from Bethlehem is a talented harp player. Not only that—he is a brave warrior, a man of war, and has good judgment. He is also a fine-looking young man, and the Lord is with him." 19 So Saul sent messengers to Jesse to say, "Send me your son David, the shepherd." 20 Jesse responded by sending David to Saul, along with a young goat, a donkey loaded with bread, and a wineskin full of wine. 21 So David went to Saul and began serving him. Saul loved David very much, and David became his armor bearer. 22 Then Saul sent word to Jesse asking, "Please let David remain in my service, for I am very pleased with him." 23 And whenever the tormenting spirit from God troubled Saul, David would play the harp. Then Saul would feel better, and the tormenting spirit would go away.
1 Samuel 17:50 - So David triumphed over the Philistine with only a sling and a stone, for he had no sword.
1 Samuel 17:55-58 - As Saul watched David go out to fight the Philistine, he asked Abner, the commander of his army, "Abner, whose son is this young man?" "I really don't know," Abner declared. 56 "Well, find out who he is!" the king told him. 57 As soon as David returned from killing Goliath, Abner brought him to Saul with the Philistine's head still in his hand. 58 "Tell me about your father, young man," Saul said. And David replied, "His name is Jesse, and we live in Bethlehem."
1 Samuel 18:1-4 - After David had finished talking with Saul, he met Jonathan, the king's son. There was an immediate bond of love between them, and they became the best of friends. 2 From that day on Saul kept David with him and wouldn't let him return home. 3 And Jonathan made a solemn pact with David, because he loved him as he loved himself. 4 Jonathan sealed the pact by taking off his robe and giving it to David, together with his tunic, sword, bow, and belt.
(Holy Bible, New Living Translation ®, copyright © 1996, 2004 by Tyndale Charitable Trust. Used by permission of Tyndale House Publishers. All rights reserved.)
---