presents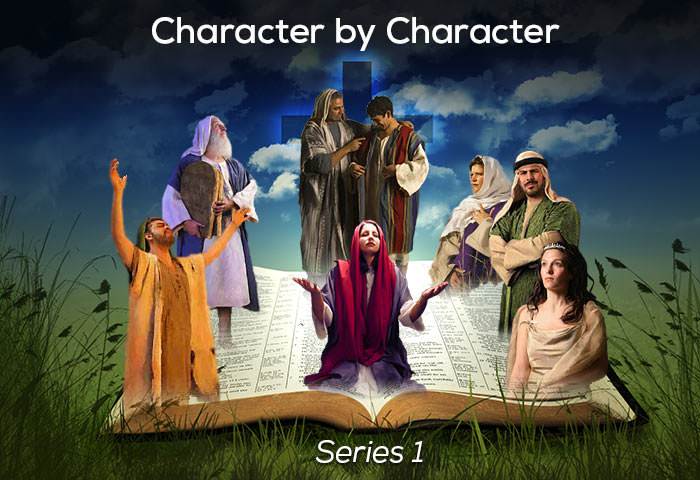 Lesson 14: Saul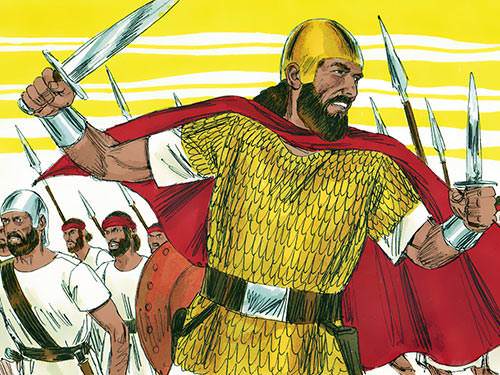 SCRIPTURES
All Scripture passages here are from the NET Bible; used by permission.
1 Samuel chapter 8
8:1 In his old age Samuel appointed his sons as judges over Israel. 8:2 The name of his firstborn son was Joel, and the name of his second son was Abijah. They were judges in Beer Sheba. 8:3 But his sons did not follow his ways. Instead, they made money dishonestly, accepted bribes, and perverted justice. 8:4 So all the elders of Israel gathered together and approached Samuel at Ramah. 8:5 They said to him, "Look, you are old, and your sons don't follow your ways. So now appoint over us a king to lead us, just like all the other nations have." 8:6 But this request displeased Samuel, for they said, "Give us a king to lead us." So Samuel prayed to the LORD. 8:7 The LORD said to Samuel, "Do everything the people request of you. For it is not you that they have rejected, but it is me that they have rejected as their king. 8:8 Just as they have done from the day that I brought them up from Egypt until this very day, they have rejected me and have served other gods. This is what they are also doing to you. 8:9 So now do as they say. But seriously warn them and make them aware of the policies of the king who will rule over them." 8:10 So Samuel spoke all the words of the LORD to the people who were asking him for a king. 8:11 He said, "Here are the policies of the king who will rule over you: He will conscript your sons and put them in his chariot forces and in his cavalry; they will run in front of his chariot. 8:12 He will appoint for himself leaders of thousands and leaders of fifties, as well as those who plow his ground, reap his harvest, and make his weapons of war and his chariot equipment. 8:13 He will take your daughters to be ointment makers, cooks, and bakers. 8:14 He will take your best fields and vineyards and give them to his own servants. 8:15 He will demand a tenth of your seed and of the produce of your vineyards and give it to his administrators and his servants. 8:16 He will take your male and female servants, as well as your best cattle and your donkeys, and assign them for his own use. 8:17 He will demand a tenth of your flocks, and you yourselves will be his servants. 8:18 In that day you will cry out because of your king whom you have chosen for yourselves, but the LORD won't answer you in that day." 8:19 But the people refused to heed Samuel's warning. Instead they said, "No! There will be a king over us! 8:20 We will be like all the other nations. Our king will judge us and lead us and fight our battles." 8:21 So Samuel listened to everything the people said and then reported it to the LORD. 8:22 The LORD said to Samuel, "Do as they say and install a king over them." Then Samuel said to the men of Israel, "Each of you go back to his own city."
Rom. 11:1 & Phil. 3:5
11:1 So I ask, God has not rejected his people, has he? Absolutely not! For I too am an Israelite, a descendant of Abraham, from the tribe of Benjamin.
(Phil. 3:5) 3:5 I was circumcised on the eighth day, from the people of Israel and the tribe of Benjamin, a Hebrew of Hebrews. I lived according to the law as a Pharisee.
1 Samuel 9:3, 7, 18, 21
9:3 The donkeys of Saul's father Kish wandered off, so Kish said to his son Saul, "Take one of the servants with you and go look for the donkeys."
9:7 So Saul said to his servant, "All right, we can go. But what can we bring the man, since the food in our bags is used up? We have no gift to take to the man of God. What do we have?"
9:18 As Saul approached Samuel in the middle of the gate, he said, "Please tell me where the seer's house is."
9:21 Saul replied, "Am I not a Benjaminite, from the smallest of Israel's tribes, and is not my family clan the smallest of all the tribes of Benjamin? Why do you speak to me in this way?"
1 Samuel chapter 10
10:1 Then Samuel took a small container of olive oil and poured it on Saul's head. Samuel kissed him and said, "The LORD has chosen you to lead his people Israel! You will rule over the LORD's people and you will deliver them from the power of the enemies who surround them. This will be your sign that the LORD has chosen you as leader over his inheritance. 10:2 When you leave me today, you will find two men near Rachel's tomb at Zelzah on Benjamin's border. They will say to you, 'The donkeys you have gone looking for have been found. Your father is no longer concerned about the donkeys but has become anxious about you two! He is asking, "What should I do about my son?"' 10:3 "As you continue on from there, you will come to the tall tree of Tabor. At that point three men who are going up to God at Bethel will meet you. One of them will be carrying three young goats, one of them will be carrying three round loaves of bread, and one of them will be carrying a container of wine. 10:4 They will ask you how you're doing and will give you two loaves of bread. You will accept them. 10:5 Afterward you will go to Gibeah of God, where there are Philistine officials. When you enter the town, you will meet a company of prophets coming down from the high place. They will have harps, tambourines, flutes, and lyres, and they will be prophesying. 10:6 Then the spirit of the LORD will rush upon you and you will prophesy with them. You will be changed into a different person. 10:7 "When these signs have taken place, do whatever your hand finds to do, for God will be with you. 10:8 You will go down to Gilgal before me. I am going to join you there to offer burnt offerings and to make peace offerings. You should wait for seven days, until I arrive and tell you what to do." 10:9 As Saul turned to leave Samuel, God changed his inmost person. All these signs happened on that very day. 10:10 When Saul and his servant arrived at Gibeah, a company of prophets was coming out to meet him. Then the spirit of God rushed upon Saul and he prophesied among them. 10:11 When everyone who had known him previously saw him prophesying with the prophets, the people all asked one another, "What on earth has happened to the son of Kish? Does even Saul belong with the prophets?" 10:12 A man who was from there replied, "And who is their father?" Therefore this became a proverb: "Is even Saul among the prophets?" 10:13 When Saul had finished prophesying, he went to the high place. 10:14 Saul's uncle asked him and his servant, "Where did you go?" Saul replied, "To look for the donkeys. But when we realized they were lost, we went to Samuel." 10:15 Saul's uncle said, "Tell me what Samuel said to you." 10:16 Saul said to his uncle, "He assured us that the donkeys had been found." But Saul did not tell him what Samuel had said about the matter of kingship. 10:17 Then Samuel called the people together before the LORD at Mizpah. 10:18 He said to the Israelites, "This is what the LORD God of Israel says, 'I brought Israel up from Egypt and I delivered you from the power of the Egyptians and from the power of all the kingdoms that oppressed you. 10:19 But today you have rejected your God who saves you from all your trouble and distress. You have said, "No! Appoint a king over us." Now take your positions before the LORD by your tribes and by your clans.'" 10:20 Then Samuel brought all the tribes of Israel near, and the tribe of Benjamin was chosen by lot. 10:21 Then he brought the tribe of Benjamin near by its families, and the family of Matri was chosen by lot. At last Saul son of Kish was chosen by lot. But when they looked for him, he was nowhere to be found. 10:22 So they inquired again of the LORD, "Has the man arrived here yet?" The LORD said, "He has hidden himself among the equipment." 10:23 So they ran and brought him from there. When he took his position among the people, he stood head and shoulders above them all. 10:24 Then Samuel said to all the people, "Do you see the one whom the LORD has chosen? Indeed, there is no one like him among all the people!" All the people shouted out, "Long live the king!" 10:25 Then Samuel talked to the people about how the kingship would work. He wrote it all down on a scroll and set it before the LORD. Then Samuel sent all the people away to their homes. 10:26 Even Saul went to his home in Gibeah. With him went some brave men whose hearts God had touched. 10:27 But some wicked men said, "How can this man save us?" They despised him and did not even bring him a gift. But Saul said nothing about it.
1 Samuel chapters 11 & 12
11:1 Nahash the Ammonite marched against Jabesh Gilead. All the men of Jabesh Gilead said to Nahash, "Make a treaty with us and we will serve you." 11:2 But Nahash the Ammonite said to them, "The only way I will make a treaty with you is if you let me gouge out the right eye of every one of you and in so doing humiliate all Israel!" 11:3 The elders of Jabesh said to him, "Leave us alone for seven days so that we can send messengers throughout the territory of Israel. If there is no one who can deliver us, we will come out voluntarily to you." 11:4 When the messengers went to Gibeah (where Saul lived) and informed the people of these matters, all the people wept loudly. 11:5 Now Saul was walking behind the oxen as he came from the field. Saul asked, "What has happened to the people? Why are they weeping?" So they told him about the men of Jabesh. 11:6 The Spirit of God rushed upon Saul when he heard these words, and he became very angry. 11:7 He took a pair of oxen and cut them up. Then he sent the pieces throughout the territory of Israel by the hand of messengers, who said, "Whoever does not go out after Saul and after Samuel should expect this to be done to his oxen!" Then the terror of the LORD fell on the people, and they went out as one army. 11:8 When Saul counted them at Bezek, the Israelites were 300,000 strong and the men of Judah numbered 30,000. 11:9 They said to the messengers who had come, "Here's what you should say to the men of Jabesh Gilead: 'Tomorrow deliverance will come to you when the sun is fully up.'" When the messengers went and told the men of Jabesh Gilead, they were happy. 11:10 The men of Jabesh said, "Tomorrow we will come out to you and you can do with us whatever you wish." 11:11 The next day Saul placed the people in three groups. They went to the Ammonite camp during the morning watch and struck them down until the hottest part of the day. The survivors scattered; no two of them remained together. 11:12 Then the people said to Samuel, "Who were the ones asking, 'Will Saul reign over us?' Hand over those men so we may execute them!" 11:13 But Saul said, "No one will be killed on this day. For today the LORD has given Israel a victory!" 11:14 Samuel said to the people, "Come on! Let's go to Gilgal and renew the kingship there." 11:15 So all the people went to Gilgal, where they established Saul as king in the LORD's presence. They offered up peace offerings there in the LORD's presence. Saul and all the Israelites were very happy.
(1 Sam. chapter 12) 12:1 Samuel said to all Israel, "I have done everything you requested. I have given you a king. 12:2 Now look! This king walks before you. As for me, I am old and gray, though my sons are here with you. I have walked before you from the time of my youth till the present day. 12:3 Here I am. Bring a charge against me before the LORD and before his chosen king. Whose ox have I taken? Whose donkey have I taken? Whom have I wronged? Whom have I oppressed? From whose hand have I taken a bribe so that I would overlook something? Tell me, and I will return it to you!" 12:4 They replied, "You have not wronged us or oppressed us. You have not taken anything from the hand of anyone." 12:5 He said to them, "The LORD is witness against you, and his chosen king is witness this day, that you have not found any reason to accuse me." They said, "He is witness!" 12:6 Samuel said to the people, "The LORD is the one who chose Moses and Aaron and who brought your ancestors up from the land of Egypt. 12:7 Now take your positions, so I may confront you before the LORD regarding all the LORD's just actions toward you and your ancestors. 12:8 When Jacob entered Egypt, your ancestors cried out to the LORD. The LORD sent Moses and Aaron, and they led your ancestors out of Egypt and settled them in this place. 12:9 "But they forgot the LORD their God, so he gave them into the hand of Sisera, the general in command of Hazor's army, and into the hand of the Philistines and into the hand of the king of Moab, and they fought against them. 12:10 Then they cried out to the LORD and admitted, 'We have sinned, for we have forsaken the LORD and have served the Baals and the images of Ashtoreth. Now deliver us from the hand of our enemies so that we may serve you.' 12:11 So the LORD sent Jerub-Baal, Barak, Jephthah, and Samuel, and he delivered you from the hand of the enemies all around you, and you were able to live securely. 12:12 "When you saw that King Nahash of the Ammonites was advancing against you, you said to me, 'No! A king will rule over us' – even though the LORD your God is your king! 12:13 Now look! Here is the king you have chosen – the one that you asked for! Look, the LORD has given you a king! 12:14 If you fear the LORD, serving him and obeying him and not rebelling against what he says, and if both you and the king who rules over you follow the LORD your God, all will be well. 12:15 But if you don't obey the LORD and rebel against what the LORD says, the hand of the LORD will be against both you and your king. 12:16 "So now, take your positions and watch this great thing that the LORD is about to do in your sight. 12:17 Is this not the time of the wheat harvest? I will call on the LORD so that he makes it thunder and rain. Realize and see what a great sin you have committed before the LORD by asking for a king for yourselves." 12:18 So Samuel called to the LORD, and the LORD made it thunder and rain that day. All the people were very afraid of both the LORD and Samuel. 12:19 All the people said to Samuel, "Pray to the LORD your God on behalf of us – your servants – so we won't die, for we have added to all our sins by asking for a king." 12:20 Then Samuel said to the people, "Don't be afraid. You have indeed sinned. However, don't turn aside from the LORD. Serve the LORD with all your heart. 12:21 You should not turn aside after empty things that can't profit and can't deliver, since they are empty. 12:22 The LORD will not abandon his people because he wants to uphold his great reputation. The LORD was pleased to make you his own people. 12:23 As far as I am concerned, far be it from me to sin against the LORD by ceasing to pray for you! I will instruct you in the way that is good and upright. 12:24 However, fear the LORD and serve him faithfully with all your heart. Just look at the great things he has done for you! 12:25 But if you continue to do evil, both you and your king will be swept away."
Prov. 16:7
16:7 When a person's ways are pleasing to the LORD, he even reconciles his enemies to himself.
1 Samuel 13:1-22
13:1 Saul was [thirty] years old when he began to reign; he ruled over Israel for [forty] years. 13:2 Saul selected for himself three thousand men from Israel. Two thousand of these were with Saul at Micmash and in the hill country of Bethel; the remaining thousand were with Jonathan at Gibeah in the territory of Benjamin. He sent all the rest of the people back home. 13:3 Jonathan attacked the Philistine outpost that was at Geba and the Philistines heard about it. Then Saul alerted all the land saying, "Let the Hebrews pay attention!" 13:4 All Israel heard this message, "Saul has attacked the Philistine outpost, and now Israel is repulsive to the Philistines!" So the people were summoned to join Saul at Gilgal. 13:5 For the battle with Israel the Philistines had amassed 3,000 chariots, 6,000 horsemen, and an army as numerous as the sand on the seashore. They went up and camped at Micmash, east of Beth Aven. 13:6 The men of Israel realized they had a problem because their army was hard pressed. So the army hid in caves, thickets, cliffs, strongholds, and cisterns. 13:7 Some of the Hebrews crossed over the Jordan River to the land of Gad and Gilead. But Saul stayed at Gilgal; the entire army that was with him was terrified. 13:8 He waited for seven days, the time period indicated by Samuel. But Samuel did not come to Gilgal, and the army began to abandon Saul. 13:9 So Saul said, "Bring me the burnt offering and the peace offerings." Then he offered a burnt offering. 13:10 Just when he had finished offering the burnt offering, Samuel appeared on the scene. Saul went out to meet him and to greet him. 13:11 But Samuel said, "What have you done?" Saul replied, "When I saw that the army had started to abandon me and that you didn't come at the appointed time and that the Philistines had assembled at Micmash, 13:12 I thought, 'Now the Philistines will come down on me at Gilgal and I have not sought the LORD's favor.' So I felt obligated to offer the burnt offering." 13:13 Then Samuel said to Saul, "You have made a foolish choice! You have not obeyed the commandment that the LORD your God gave you. Had you done that, the LORD would have established your kingdom over Israel forever! 13:14 But now your kingdom will not continue! The LORD has sought out for himself a man who is loyal to him and the LORD has appointed him to be leader over his people, for you have not obeyed what the LORD commanded you." 13:15 Then Samuel set out and went up from Gilgal to Gibeah in the territory of Benjamin. Saul mustered the army that remained with him; there were about six hundred men. 13:16 Saul, his son Jonathan, and the army that remained with them stayed in Gibeah in the territory of Benjamin, while the Philistines camped in Micmash. 13:17 Raiding bands went out from the camp of the Philistines in three groups. One band turned toward the road leading to Ophrah by the land of Shual; 13:18 another band turned toward the road leading to Beth Horon; and yet another band turned toward the road leading to the border that overlooks the valley of Zeboim in the direction of the desert. 13:19 A blacksmith could not be found in all the land of Israel, for the Philistines had said, "This will prevent the Hebrews from making swords and spears." 13:20 So all Israel had to go down to the Philistines in order to get their plowshares, cutting instruments, axes, and sickles sharpened. 13:21 They charged two-thirds of a shekel to sharpen plowshares and cutting instruments, and a third of a shekel to sharpen picks and axes, and to set ox goads. 13:22 So on the day of the battle no sword or spear was to be found in the hand of anyone in the army that was with Saul and Jonathan. No one but Saul and his son Jonathan had them.
1 Samuel 14:47-52 & chapter 15
14:47 After Saul had secured his royal position over Israel, he fought against all their enemies on all sides – the Moabites, Ammonites, Edomites, the kings of Zobah, and the Philistines. In every direction that he turned he was victorious. 14:48 He fought bravely, striking down the Amalekites and delivering Israel from the hand of its enemies. 14:49 The sons of Saul were Jonathan, Ishvi, and Malki-Shua. He had two daughters; the older one was named Merab and the younger Michal. 14:50 The name of Saul's wife was Ahinoam, the daughter of Ahimaaz. The name of the general in command of his army was Abner son of Ner, Saul's uncle. 14:51 Kish was the father of Saul, and Ner the father of Abner was the son of Abiel. 14:52 There was fierce war with the Philistines all the days of Saul. So whenever Saul saw anyone who was a warrior or a brave individual, he would conscript him.
(1 Samuel chapter 15) 15:1 Then Samuel said to Saul, "I was the one the LORD sent to anoint you as king over his people Israel. Now listen to what the LORD says. 15:2 Here is what the LORD of hosts says: 'I carefully observed how the Amalekites opposed Israel along the way when Israel came up from Egypt. 15:3 So go now and strike down the Amalekites. Destroy everything that they have. Don't spare them. Put them to death – man, woman, child, infant, ox, sheep, camel, and donkey alike.'" 15:4 So Saul assembled the army and mustered them at Telaim. There were 200,000 foot soldiers and 10,000 men of Judah. 15:5 Saul proceeded to the city of Amalek, where he set an ambush in the wadi. 15:6 Saul said to the Kenites, "Go on and leave! Go down from among the Amalekites! Otherwise I will sweep you away with them! After all, you were kind to all the Israelites when they came up from Egypt." So the Kenites withdrew from among the Amalekites. 15:7 Then Saul struck down the Amalekites all the way from Havilah to Shur, which is next to Egypt. 15:8 He captured King Agag of the Amalekites alive, but he executed all Agag's people with the sword. 15:9 However, Saul and the army spared Agag, along with the best of the flock, the cattle, the fatlings, and the lambs, as well as everything else that was of value. They were not willing to slaughter them. But they did slaughter everything that was despised and worthless. 15:10 Then the word of the LORD came to Samuel: 15:11 "I regret that I have made Saul king, for he has turned away from me and has not done what I told him to do." Samuel became angry and he cried out to the LORD all that night. 15:12 Then Samuel got up early to meet Saul the next morning. But Samuel was informed, "Saul has gone to Carmel where he is setting up a monument for himself. Then Samuel left and went down to Gilgal." 15:13 When Samuel came to him, Saul said to him, "May the LORD bless you! I have done what the LORD said." 15:14 Samuel replied, "If that is the case, then what is this sound of sheep in my ears and the sound of cattle that I hear?" 15:15 Saul said, "They were brought from the Amalekites; the army spared the best of the flocks and cattle to sacrifice to the LORD our God. But everything else we slaughtered." 15:16 Then Samuel said to Saul, "Wait a minute! Let me tell you what the LORD said to me last night." Saul said to him, "Tell me." 15:17 Samuel said, "Is it not true that when you were insignificant in your own eyes, you became head of the tribes of Israel? The LORD chose you as king over Israel. 15:18 The LORD sent you on a campaign saying, 'Go and exterminate those sinful Amalekites! Fight against them until you have destroyed them.' 15:19 Why haven't you obeyed the LORD? Instead you have greedily rushed upon the plunder! You have done what is wrong in the LORD's estimation." 15:20 Then Saul said to Samuel, "But I have obeyed the LORD! I went on the campaign the LORD sent me on. I brought back King Agag of the Amalekites after exterminating the Amalekites. 15:21 But the army took from the plunder some of the sheep and cattle – the best of what was to be slaughtered – to sacrifice to the LORD your God in Gilgal." 15:22 Then Samuel said, "Does the LORD take pleasure in burnt offerings and sacrifices as much as he does in obedience? Certainly, obedience is better than sacrifice; paying attention is better than the fat of rams. 15:23 For rebellion is like the sin of divination, and presumption is like the evil of idolatry. Because you have rejected the word of the LORD, he has rejected you as king." 15:24 Then Saul said to Samuel, "I have sinned, for I have disobeyed what the LORD commanded and what you said as well. For I was afraid of the army, and I followed their wishes. 15:25 Now please forgive my sin! Go back with me so I can worship the LORD." 15:26 Samuel said to Saul, "I will not go back with you, for you have rejected the word of the LORD, and the LORD has rejected you from being king over Israel!" 15:27 When Samuel turned to leave, Saul grabbed the edge of his robe and it tore. 15:28 Samuel said to him, "The LORD has torn the kingdom of Israel from you this day and has given it to one of your colleagues who is better than you! 15:29 The Preeminent One of Israel does not go back on his word or change his mind, for he is not a human being who changes his mind." 15:30 Saul again replied, "I have sinned. But please honor me before the elders of my people and before Israel. Go back with me so I may worship the LORD your God." 15:31 So Samuel followed Saul back, and Saul worshiped the LORD. 15:32 Then Samuel said, "Bring me King Agag of the Amalekites." So Agag came to him trembling, thinking to himself, "Surely death is bitter!" 15:33 Samuel said, "Just as your sword left women childless, so your mother will be the most bereaved among women!" Then Samuel hacked Agag to pieces there in Gilgal before the LORD. 15:34 Then Samuel went to Ramah, while Saul went up to his home in Gibeah of Saul. 15:35 Until the day he died Samuel did not see Saul again. Samuel did, however, mourn for Saul, but the LORD regretted that he had made Saul king over Israel.
1 Samuel 16:14-23, 18:1-12 & chapter 19
16:14 Now the Spirit of the LORD had turned away from Saul, and an evil spirit from the LORD tormented him. 16:15 Then Saul's servants said to him, "Look, an evil spirit from God is tormenting you!" 16:16 Let our lord instruct his servants who are here before you to look for a man who knows how to play the lyre. Then whenever the evil spirit from God comes upon you, he can play the lyre and you will feel better." 16:17 So Saul said to his servants, "Find me a man who plays well and bring him to me." 16:18 One of his attendants replied, "I have seen a son of Jesse in Bethlehem who knows how to play the lyre. He is a brave warrior and is articulate and handsome, for the LORD is with him." 16:19 So Saul sent messengers to Jesse and said, "Send me your son David, who is out with the sheep. 16:20 So Jesse took a donkey loaded with bread, a container of wine, and a young goat and sent them to Saul with his son David. 16:21 David came to Saul and stood before him. Saul liked him a great deal, and he became his armor bearer. 16:22 Then Saul sent word to Jesse saying, "Let David be my servant, for I really like him." 16:23 So whenever the spirit from God would come upon Saul, David would take his lyre and play it. This would bring relief to Saul and make him feel better. Then the evil spirit would leave him alone.
(1 Samuel 18:1-12) 18:1 When David had finished talking with Saul, Jonathan and David became bound together in close friendship. Jonathan loved David as much as he did his own life. 18:2 Saul retained David on that day and did not allow him to return to his father's house. 18:3 Jonathan made a covenant with David, for he loved him as much as he did his own life. 18:4 Jonathan took off the robe he was wearing and gave it to David, along with the rest of his gear, including his sword, his bow, and even his belt. 18:5 On every mission on which Saul sent him, David achieved success. So Saul appointed him over the men of war. This pleased not only all the army, but also Saul's servants. 18:6 When the men arrived after David returned from striking down the Philistine, the women from all the cities of Israel came out singing and dancing to meet King Saul. They were happy as they played their tambourines and three-stringed instruments. 18:7 The women who were playing the music sang, "Saul has struck down his thousands, but David his tens of thousands!" 18:8 This made Saul very angry. The statement displeased him and he thought, "They have attributed to David tens of thousands, but to me they have attributed only thousands. What does he lack, except the kingdom?" 18:9 So Saul was keeping an eye on David from that day onward. 18:10 The next day an evil spirit from God rushed upon Saul and he prophesied within his house. Now David was playing the lyre that day. There was a spear in Saul's hand, 18:11 and Saul threw the spear, thinking, "I'll nail David to the wall!" But David escaped from him on two different occasions. 18:12 So Saul feared David, because the LORD was with him but had departed from Saul.
(1 Samuel chapter 19) 19:1 Then Saul told his son Jonathan and all his servants to kill David. But Saul's son Jonathan liked David very much. 19:2 So Jonathan told David, "My father Saul is trying to kill you. So be careful tomorrow morning. Find a hiding place and stay in seclusion. 19:3 I will go out and stand beside my father in the field where you are. I will speak about you to my father. When I find out what the problem is, I will let you know." 19:4 So Jonathan spoke on David's behalf to his father Saul. He said to him, "The king should not sin against his servant David, for he has not sinned against you. On the contrary, his actions have been very beneficial for you. 19:5 He risked his life when he struck down the Philistine and the LORD gave all Israel a great victory. When you saw it, you were happy. So why would you sin against innocent blood by putting David to death for no reason?" 19:6 Saul accepted Jonathan's advice and took an oath, "As surely as the LORD lives, he will not be put to death." 19:7 Then Jonathan called David and told him all these things. Jonathan brought David to Saul, and he served him as he had done formerly. 19:8 Now once again there was war. So David went out to fight the Philistines. He defeated them thoroughly and they ran away from him. 19:9 Then an evil spirit from the LORD came upon Saul. He was sitting in his house with his spear in his hand, while David was playing the lyre. 19:10 Saul tried to nail David to the wall with the spear, but he escaped from Saul's presence and the spear drove into the wall. David escaped quickly that night. 19:11 Saul sent messengers to David's house to guard it and to kill him in the morning. Then David's wife Michal told him, "If you do not save yourself tonight, tomorrow you will be dead!" 19:12 So Michal lowered David through the window, and he ran away and escaped. 19:13 Then Michal took a household idol and put it on the bed. She put a quilt made of goat's hair over its head and then covered the idol with a garment. 19:14 When Saul sent messengers to arrest David, she said, "He's sick." 19:15 Then Saul sent the messengers back to see David, saying, "Bring him up to me on his bed so I can kill him." 19:16 When the messengers came, they found only the idol on the bed and the quilt made of goat's hair at its head. 19:17 Saul said to Michal, "Why have you deceived me this way by sending my enemy away? Now he has escaped!" Michal replied to Saul, "He said to me, 'Help me get away or else I will kill you!'" 19:18 Now David had run away and escaped. He went to Samuel in Ramah and told him everything that Saul had done to him. Then he and Samuel went and stayed at Naioth. 19:19 It was reported to Saul saying, "David is at Naioth in Ramah." 19:20 So Saul sent messengers to capture David. When they saw a company of prophets prophesying with Samuel standing there as their leader, the spirit of God came upon Saul's messengers, and they also prophesied. 19:21 When it was reported to Saul, he sent more messengers, but they prophesied too. So Saul sent messengers a third time, but they also prophesied. 19:22 Finally Saul himself went to Ramah. When he arrived at the large cistern that is in Secu, he asked, "Where are Samuel and David?" They said, "At Naioth in Ramah." 19:23 So Saul went to Naioth in Ramah. The Spirit of God came upon him as well, and he walked along prophesying until he came to Naioth in Ramah. 19:24 He even stripped off his clothes and prophesied before Samuel. He lay there naked all that day and night. (For that reason it is asked, "Is Saul also among the prophets?")
1 Sam. 22:1-2 & 23:13
22:1 So David left there and escaped to the cave of Adullam. When his brothers and the rest of his father's family learned about it, they went down there to him. 22:2 All those who were in trouble or owed someone money or were discontented gathered around him, and he became their leader. He had about four hundred men with him.
(1 Samuel 23:13) 23:13 So David and his men, who numbered about six hundred, set out and left Keilah; they moved around from one place to another. When told that David had escaped from Keilah, Saul called a halt to his expedition.
Romans 6:16
6:16 Do you not know that if you present yourselves as obedient slaves, you are slaves of the one you obey, either of sin resulting in death, or obedience resulting in righteousness?
1 Samuel chapters 26, 28 & 31
26:1 The Ziphites came to Saul at Gibeah and said, "Isn't David hiding on the hill of Hakilah near Jeshimon?" 26:2 So Saul arose and went down to the desert of Ziph, accompanied by three thousand select men of Israel, to look for David in the desert of Ziph. 26:3 Saul camped by the road on the hill of Hakilah near Jeshimon, but David was staying in the desert. When he realized that Saul had come to the desert to find him, 26:4 David sent scouts and verified that Saul had indeed arrived. 26:5 So David set out and went to the place where Saul was camped. David saw the place where Saul and Abner son of Ner, the general in command of his army, were sleeping. Now Saul was lying in the entrenchment, and the army was camped all around him. 26:6 David said to Ahimelech the Hittite and Abishai son of Zeruiah, Joab's brother, "Who will go down with me to Saul in the camp?" Abishai replied, "I will go down with you." 26:7 So David and Abishai approached the army at night and found Saul lying asleep in the entrenchment with his spear stuck in the ground by his head. Abner and the army were lying all around him. 26:8 Abishai said to David, "Today God has delivered your enemy into your hands. Now let me drive the spear right through him into the ground with one swift jab! A second jab won't be necessary!" 26:9 But David said to Abishai, "Don't kill him! Who can extend his hand against the LORD's chosen one and remain guiltless?" 26:10 David went on to say, "As the LORD lives, the LORD himself will strike him down. Either his day will come and he will die, or he will go down into battle and be swept away. 26:11 But may the LORD prevent me from extending my hand against the LORD's chosen one! Now take the spear by Saul's head and the jug of water, and let's get out of here!" 26:12 So David took the spear and the jug of water by Saul's head, and they got out of there. No one saw them or was aware of their presence or woke up. All of them were asleep, for the LORD had caused a deep sleep to fall on them. 26:13 Then David crossed to the other side and stood on the top of the hill some distance away; there was a considerable distance between them. 26:14 David called to the army and to Abner son of Ner, "Won't you answer, Abner?" Abner replied, "Who are you, that you have called to the king?" 26:15 David said to Abner, "Aren't you a man? After all, who is like you in Israel? Why then haven't you protected your lord the king? One of the soldiers came to kill your lord the king. 26:16 This failure on your part isn't good! As surely as the LORD lives, you people who have not protected your lord, the LORD's chosen one, are as good as dead! Now look where the king's spear and the jug of water that was by his head are!" 26:17 When Saul recognized David's voice, he said, "Is that your voice, my son David?" David replied, "Yes, it's my voice, my lord the king." 26:18 He went on to say, "Why is my lord chasing his servant? What have I done? What wrong have I done? 26:19 So let my lord the king now listen to the words of his servant. If the LORD has incited you against me, may he take delight in an offering. But if men have instigated this, may they be cursed before the LORD! For they have driven me away this day from being united with the LORD's inheritance, saying, 'Go on, serve other gods!' 26:20 Now don't let my blood fall to the ground away from the LORD's presence, for the king of Israel has gone out to look for a flea the way one looks for a partridge in the hill country." 26:21 Saul replied, "I have sinned. Come back, my son David. I won't harm you, for you treated my life with value this day. I have behaved foolishly and have made a very terrible mistake!" 26:22 David replied, "Here is the king's spear! Let one of your servants cross over and get it. 26:23 The LORD rewards each man for his integrity and loyalty. Even though today the LORD delivered you into my hand, I was not willing to extend my hand against the LORD's chosen one. 26:24 In the same way that I valued your life this day, may the LORD value my life and deliver me from all danger." 26:25 Saul replied to David, "May you be rewarded, my son David! You will without question be successful!" So David went on his way, and Saul returned to his place.
28:1 In those days the Philistines gathered their troops for war in order to fight Israel. Achish said to David, "You should fully understand that you and your men must go with me into the battle." 28:2 David replied to Achish, "That being the case, you will come to know what your servant can do!" Achish said to David, "Then I will make you my bodyguard from now on." 28:3 Now Samuel had died, and all Israel had lamented over him and had buried him in Ramah, his hometown. In the meantime Saul had removed the mediums and magicians from the land. 28:4 The Philistines assembled; they came and camped at Shunem. Saul mustered all Israel and camped at Gilboa. 28:5 When Saul saw the camp of the Philistines, he was absolutely terrified. 28:6 So Saul inquired of the LORD, but the LORD did not answer him – not by dreams nor by Urim nor by the prophets. 28:7 So Saul instructed his servants, "Find me a woman who is a medium, so that I may go to her and inquire of her." His servants replied to him, "There is a woman who is a medium in Endor." 28:8 So Saul disguised himself and put on other clothing and left, accompanied by two of his men. They came to the woman at night and said, "Use your ritual pit to conjure up for me the one I tell you." 28:9 But the woman said to him, "Look, you are aware of what Saul has done; he has removed the mediums and magicians from the land! Why are you trapping me so you can put me to death?" 28:10 But Saul swore an oath to her by the LORD, "As surely as the LORD lives, you will not incur guilt in this matter!" 28:11 The woman replied, "Who is it that I should bring up for you?" He said, "Bring up for me Samuel." 28:12 When the woman saw Samuel, she cried out loudly. The woman said to Saul, "Why have you deceived me? You are Saul!" 28:13 The king said to her, "Don't be afraid! What have you seen?" The woman replied to Saul, "I have seen one like a god coming up from the ground!" 28:14 He said to her, "What about his appearance?" She said, "An old man is coming up! He is wrapped in a robe!" Then Saul realized it was Samuel, and he bowed his face toward the ground and kneeled down. 28:15 Samuel said to Saul, "Why have you disturbed me by bringing me up?" Saul replied, "I am terribly troubled! The Philistines are fighting against me and God has turned away from me. He does not answer me – not by the prophets nor by dreams. So I have called on you to tell me what I should do." 28:16 Samuel said, "Why are you asking me, now that the LORD has turned away from you and has become your enemy? 28:17 The LORD has done exactly as I prophesied! The LORD has torn the kingdom from your hand and has given it to your neighbor David! 28:18 Since you did not obey the LORD and did not carry out his fierce anger against the Amalekites, the LORD has done this thing to you today. 28:19 The LORD will hand you and Israel over to the Philistines! Tomorrow both you and your sons will be with me. The LORD will also hand the army of Israel over to the Philistines!" 28:20 Saul quickly fell full length on the ground and was very afraid because of Samuel's words. He was completely drained of energy, not having eaten anything all that day and night. 28:21 When the woman came to Saul and saw how terrified he was, she said to him, "Your servant has done what you asked. I took my life into my own hands and did what you told me. 28:22 Now it's your turn to listen to your servant! Let me set before you a bit of bread so that you can eat. When you regain your strength, you can go on your way." 28:23 But he refused, saying, "I won't eat!" Both his servants and the woman urged him to eat, so he gave in. He got up from the ground and sat down on the bed. 28:24 Now the woman had a well-fed calf at her home that she quickly slaughtered. Taking some flour, she kneaded bread and baked it without leaven. 28:25 She brought it to Saul and his servants, and they ate. Then they arose and left that same night.
31:1 Now the Philistines were fighting against Israel. The men of Israel fled from the Philistines and many of them fell dead on Mount Gilboa. 31:2 The Philistines stayed right on the heels of Saul and his sons. They struck down Saul's sons Jonathan, Abinadab, and Malki-Shua. 31:3 Saul himself was in the thick of the battle; the archers spotted him and wounded him severely. 31:4 Saul said to his armor bearer, "Draw your sword and stab me with it! Otherwise these uncircumcised people will come, stab me, and torture me." But his armor bearer refused to do it, because he was very afraid. So Saul took his sword and fell on it. 31:5 When his armor bearer saw that Saul was dead, he also fell on his own sword and died with him. 31:6 So Saul, his three sons, his armor bearer, and all his men died together that day. 31:7 When the men of Israel who were in the valley and across the Jordan saw that the men of Israel had fled and that Saul and his sons were dead, they abandoned the cities and fled. The Philistines came and occupied them. 31:8 The next day, when the Philistines came to strip loot from the corpses, they discovered Saul and his three sons lying dead on Mount Gilboa. 31:9 They cut off Saul's head and stripped him of his armor. They sent messengers to announce the news in the temple of their idols and among their people throughout the surrounding land of the Philistines. 31:10 They placed Saul's armor in the temple of the Ashtoreths and hung his corpse on the city wall of Beth Shan. 31:11 When the residents of Jabesh Gilead heard what the Philistines had done to Saul, 31:12 all their warriors set out and traveled throughout the night. They took Saul's corpse and the corpses of his sons from the city wall of Beth Shan and went to Jabesh, where they burned them. 31:13 They took the bones and buried them under the tamarisk tree at Jabesh; then they fasted for seven days.
Lev. 19:31
19:31 Do not turn to the spirits of the dead and do not seek familiar spirits to become unclean by them. I am the LORD your God.
1 Sam. 2:8; Job 9:6; Psa. 104:5
2:8 …The foundations of the earth belong to the LORD, and he has placed the world on them.
(Job 9:6) …he who shakes the earth out of its place so that its pillars tremble…
(Psa. 104:5) He established the earth on its foundations; it will never be upended.
Job 26:11; Job 37:18
The pillars of the heavens tremble and are amazed at his rebuke.
(Job 37:18) …will you, with him, spread out the clouds, solid as a mirror of molten metal?…
Gen. 1:6-7; Psa. 24:2
God said, "Let there be an expanse in the midst of the waters and let it separate water from water. 1:7 So God made the expanse and separated the water under the expanse from the water above it. It was so.
(Psa. 24:2) For he set its foundation upon the seas, and established it upon the ocean currents.
Gen. 7:11 & 8:2
In the six hundredth year of Noah's life, in the second month, on the seventeenth day of the month – on that day all the fountains of the great deep burst open and the flood-gates of the heavens were opened.
(Gen. 8:2) The fountains of the deep and the flood-gates of heaven were closed, and the rain stopped falling from the sky.
Psa. 19:4 & 6
19:4 Yet its voice echoes throughout the earth; its words carry to the distant horizon. In the sky he has pitched a tent for the sun. …19:6 It emerges from the distant horizon, and goes from one end of the sky to the other; nothing can escape its heat.
Num. 16:30-33; Isa. 14:9 & 15
16:30 But if the LORD does something entirely new, and the earth opens its mouth and swallows them up along with all that they have, and they go down alive to the grave, then you will know that these men have despised the LORD!" 16:31 When he had finished speaking all these words, the ground that was under them split open, 16:32 and the earth opened its mouth and swallowed them, along with their households, and all Korah's men, and all their goods. 16:33 They and all that they had went down alive into the pit, and the earth closed over them. So they perished from among the community.
(Isa. 14:9 & 15) 14:9 Sheol below is stirred up about you, ready to meet you when you arrive. It rouses the spirits of the dead for you, all the former leaders of the earth; it makes all the former kings of the nations rise from their thrones. …14:15 But you were brought down to Sheol, to the remote slopes of the pit.